Meet Najeeb who converted his traveller vans into ambulances and has also been serving the frontline warriors
May 14, 2021, 11:17 p.m.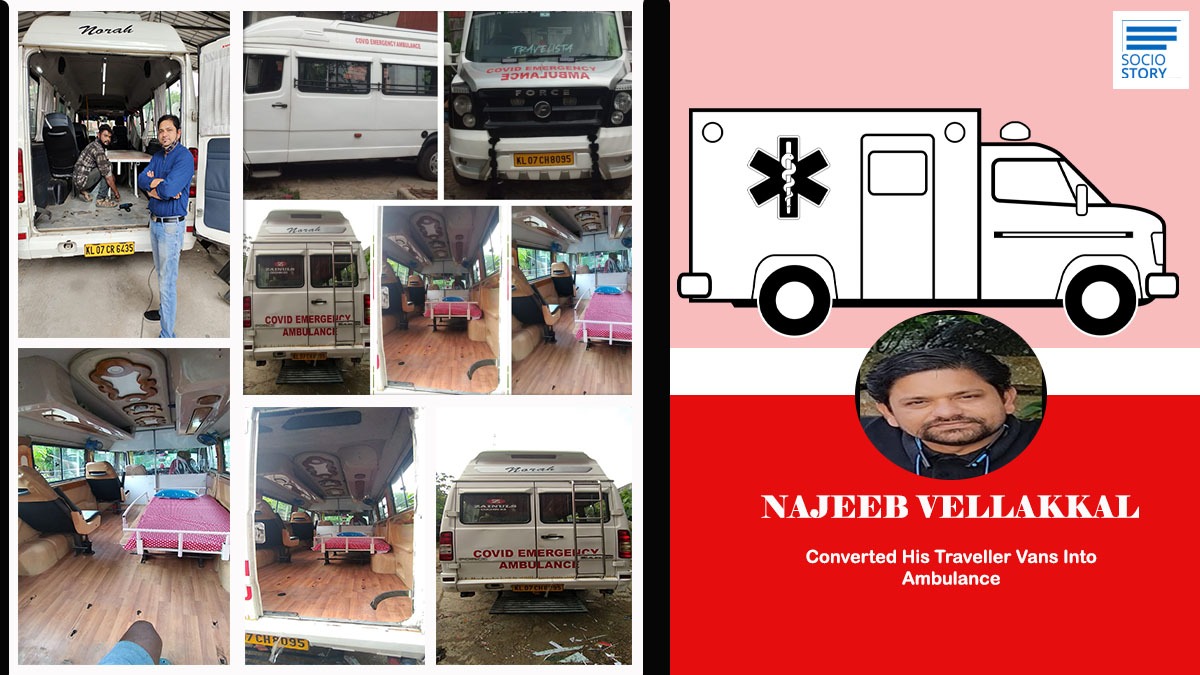 By:Reshma Jain
While the second wave of the covid pandemic has gripped India leading to loss of many lives, a few Samaritans are braving the odds to serve humanity in its worst crisis. As a matter of gratitude to these Covid heroes, Socio Story brings the story of Najeeb Vellakkal who converted his traveller van into an ambulance to ferry people from their homes to hospitals/covid care centers amid the surge in the Covid cases and shortage of ambulances.
Around two weeks back when one of Najeeb's employees from Palakkad was severely ill due to Covid, he had to be rushed to the hospital. Since the hospitals turned down the request to admit him, and instead suggested taking him back home, there was chaos. They were unable to find a vehicle to drop the covid positive employee back to his hometown. This incident disturbed Najeeb and an idea struck him. Without any delay, he converted one of his 15 traveller vans into an ambulance and drove back his employee home.
On speaking about converting the traveller van into an ambulance, Najeeb said that he had removed all the seats except the long one in the back. The driver's cabin was separated using a plastic sheet and a PPE kit was given to the driver. The patient was then dropped to his home and this incident made Najeeb to give a thought on converting other vehicles as well.
Najeeb who is based in Kochi found it difficult to digest the fact that there might be hundreds of such helpless people in need of ambulance services. So, he posted this video (the ambulance service) on social media which went viral and calls kept pouring in. "I started a new venture last year as I was into travel and transport business but it was badly impacted due to the pandemic. Hence, I started with a heavy vehicles modification workshop with a team of 10-15 employees. The second wave hit this business as well and all my traveler vans and buses were lying in the garage. So why not use them," wondered Najeeb.
After the first vehicle was converted into an ambulance for Covid patients with the required permissions, Najeeb and his wife Sonam tried reaching out to the officials to get permissions for the conversion of other vans into Covid emergency ambulances. "We got the hard copy permit from the district administration and we have converted the second traveler as well. The charges of ambulances have been kept minimal, enough to pay the driver and for the fuel. For the poor, the service is free. We are yet to plan the conversion of other vans as the price to convert it into an ambulance with required facilities costs around Rs 35,000. The vehicle, apart from removal of the seats, needs to be added with stretchers, oxygen facility, cabinet partition, PPE kits for driver and it also required regular sanitization," said 34-year-old Sonam, an architect by profession.
"Fortunately, my drivers supported me by extending their service to take this initiative. People and our well-wishers have also been supporting us in their own ways," added Najeeb.
The husband-wife duo who have been serving the frontline workers with food and other essentials plan to convert their buses into Covid observation centers to help people who are in dire need of beds, provided they get the permission from the officials.
Important : If you are making an impact in the world, Please send us your story at : manoj@sociostory.in and we will try to cover you.