Meet Nayab Midha who uses poetry as a tool to bring positive changes among people
Sept. 16, 2020, 12:30 p.m.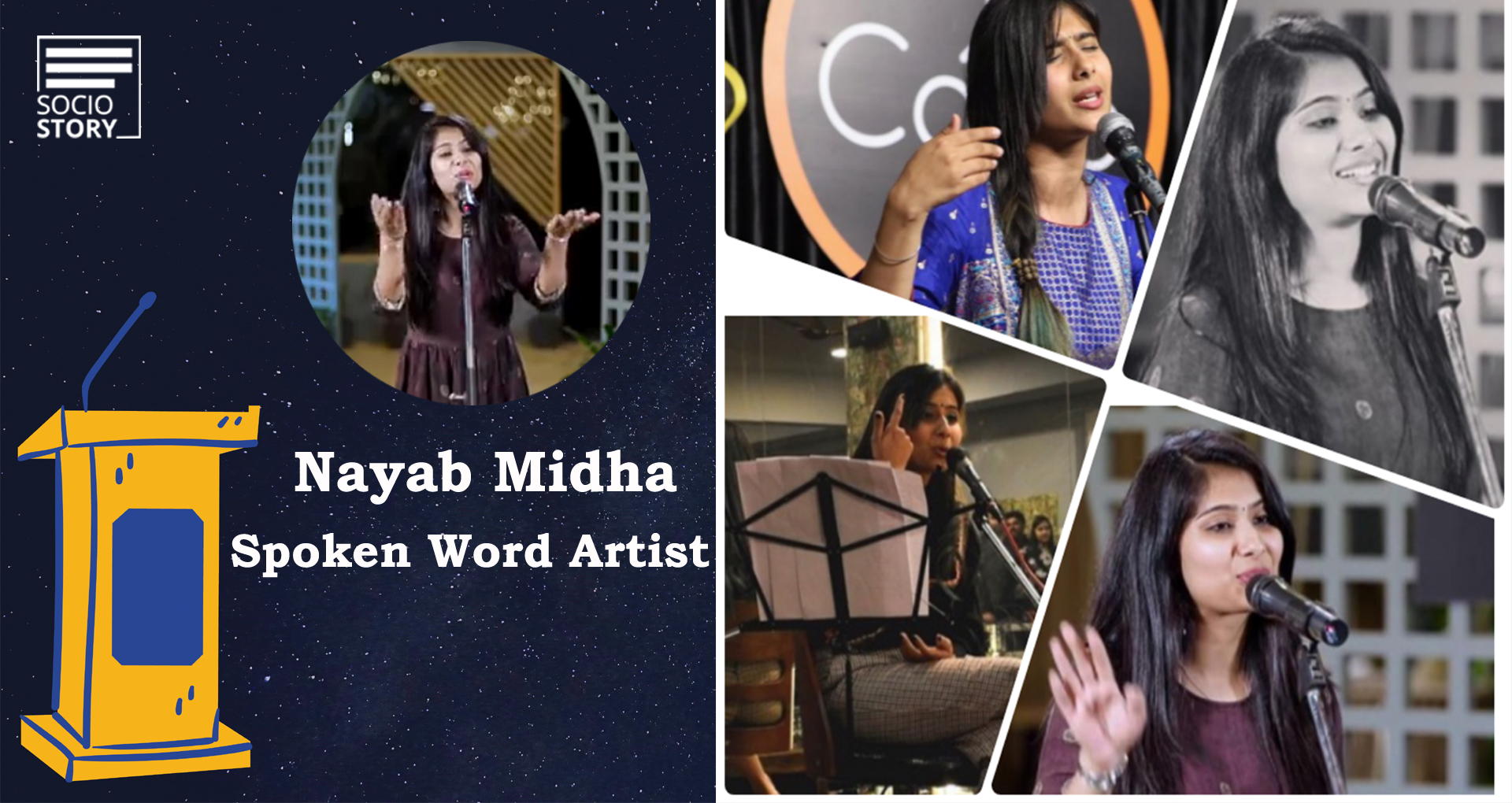 By:Reshma Jain
If poetry is the rhythmical creation of beauty in words, then Nayab Midha, a young poet proves it right. Hailing from Sri Ganganagar, Rajasthan, Nayab uses the power of words to recite towards positive changes in the society. From choosing the right words, connotations, style and structure to her expressions, poetic voice, Nayab's words become guides to the feelings that lie between the lines. A few lines from one of her work which garnered excellent views is 'TUM KHUBSOORAT HO' (You are Beautiful):
"Tum Khoobsurat ho,
Ye baat khud se sau dafaa kaho
Chalte waqt, Rukte waqt
Bethte waqt, Uthte waqt,
Haste waqt, Rote waqt,
Khud ko aayine me dekhte waqt,
Sote waqt, Jagte waqt
Chilate waqt, Muskurate waqt
Har waqt
Dusro ki aankho me apni jhalak dekhte waqt,
bina ye soche ki woh tumahre baare me kya soch raha hai.
Har waqt
Khud se bekhauf kaho
Tum Khoobsurat ho"
Speaking to Socio Story, Nayab, shares that she always had a problem with the mental lockdown she used to feel with the kind of restrictions that were in built in her mind. "I am a water child (an imaginative dreamer), I crave to feel free and flow free. That's when my journals entered and I started talking to papers and my poetry started to flow," says the 23-year-old poet.
On being asked what are the genres she chooses to recite poetry, Nayab, said, "There is no particular genre, I try to write what I genuinely feel or observe and reach at a solution. I do not stick to particular themes, but yes, I do take responsibility for the power of words and try to recite for positive changes."
Nayab's journey started with a poem called 'Aadat' which revolves around the fact on how we succumb to our habits and do not outgrow them. A lot of people appreciated it and that is when Nayab realised her penchant in poetry. She started walking in the direction but the real magic happened when "Tum Khoobsurat Ho" released on social media and had crossed 13M+ views (till date). This piece is against body shaming and has impacted a lot of lives positively.
"I was overwhelmed when I received messages of people appreciating this piece of poetry and how it made them feel positive about their body. The most beautiful part was the comment section of it when thousands of people tagged each other and spread a message that 'they are beautiful'. This is the most beautiful experience of my life," added the poet who has been writing poetry from the past 10 years and reciting from four years.
A poetry piece called 'Ishq Behisab Ho' was released in this February which talks about how we should not hurry to get married but rather know the person before, talk a lot, learn about them before you tie the knot,
"Poetry is a really powerful tool, without even letting you know it penetrates to your soul and fixes it up," added the water child.
"Tum khubsurat ho
Ye baat khud se sau dafaa kaho
Har waqt kaho
Kehte raho ki tum khoobsurat ho
Tab tak kaho
Tum Khoobsurat ho," concludes Nayab Midha.
Important : If you are making an impact in the world, Please send us your story at : manoj@sociostory.in and we will try to cover you.