Meet Neha Singh whose creativity sparks a message from a vibrant colour palette
May 21, 2022, 11 a.m.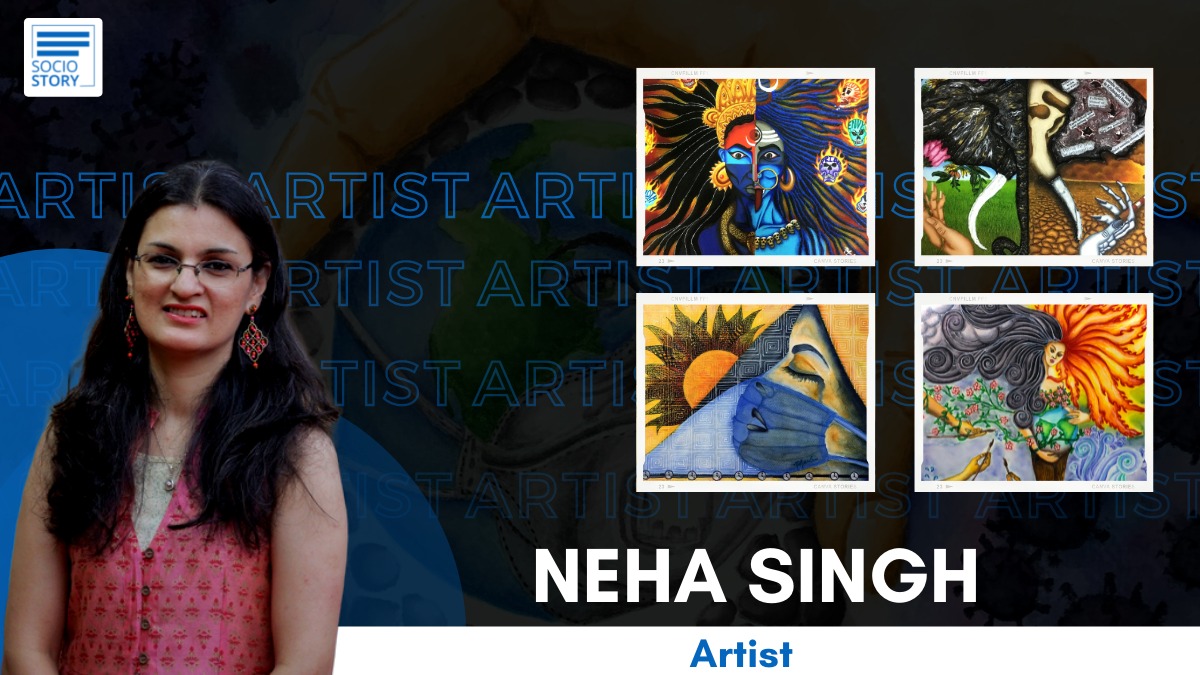 By: Reshma Jain
'A picture is worth a thousand words', goes an adage. To add to it, there is also a phrase which goes, 'A picture paints a thousand words. When I first saw the display of the pictures (artworks) by a talented artist at Dys Art gallery in Siripuram, I had no words to express my appreciation. While her pictures required no description in words, each of them reflected a deep meaning which ignited thoughts and ideas among people who visited the gallery. Be it the choice of colours or her themes, her aim has been to delve into the depths of this exquisite form of self-expression. Dys Art Gallery is a newly established platform for all kinds of artists in the district. Socio Story brings a vibrant story of Neha Singh, a self-taught talented artist from the city of Destiny.
Over the last 10 years, her muses have ranged from divinity, still life and landscapes in the initial years of her practice to her all-time favourite subject - dragons, then the Navrasas and the COVID-19 pandemic in the recent years. A few of her works which spread messages on environment conservation have been appreciated by a lot of people.
The artwork with the elephant's head (top second pic on the graphic) titled "Karuna – A Touch of Compassion" is based on the theme of pollution and environment conservation. It is an attempt to depict two sides of the same coin where one side shows how we are abusing our planet earth as well as Mother Nature, whereas the other side is a vision of what the same Mother Earth would look like when nature is allowed to flourish in its full glory. While one side shows how fortunate we are to have Mother Nature's blessings in the form of her beautiful and diverse flora and fauna, the other side opens our eyes to how we are destroying this beautiful gift by polluting our environment. This is an appeal to stop pollution and show "Karuna" (compassion) towards our magnificent planet and its captivating inhabitants by lending a hand in the conservation of our ecosystem before it's too late.
The artwork with a woman carrying planet earth in her womb (bottom second) is based on the theme "Nurturing Nature for a Better Future." It depicts a personified version of Mother Nature, endowed with all of her classical elements – air (or wind), fire, water, earth and ether (or space). While air and fire form the flowing locks of the female form of Mother Nature, the tree bark-like hind limbs, its roots and the vegetation adorning the figure symbolize the earth or land. Water is represented by the surging waves of the sea next to the land and the backdrop of the artwork forms ether or space. These elements, which form the basis of all living life and matter, are blessings that Mother Nature bestows upon the one and only habitable place we have in the universe – planet earth, depicted in the artwork as her offspring in her womb. Not only does she nourish and nurture our planet, she cares for us as well, thus making us all her children.
The artwork with planet earth between two hands 'Stay Home' was not just the mantra during the peak of the pandemic era but also became the new normal. In order to defeat this deadly virus, we need to unite not just as a community or a race but as a species and limit ourselves within the protective boundaries of our homes, for these are like impregnable fortresses that the virus cannot penetrate unless we step out and bring it in ourselves. We need to heal our planet and make her a safe haven not just for us but for all the other beautiful living beings that reside on it. There are many such artworks of Neha with a deeper meaning. Let us also have a look at her background and her journey into this creative field.
A Fashion Design graduate from NIFT, New Delhi, Neha Singh started her creative journey as a Garment Designer, but gradually made a paradigm shift towards Fine Arts. She is a self-taught artist and started practicing art in 2012. Although she specialises in oils as a medium, she has explored acrylics as well, specifically the liquid pouring technique. Apart from acrylic pouring, she has customised an artwork in acrylic paints in the year 2021 as well. She has also created cover pages for the Navy Wives Welfare Association (NWWA) newsletter as well as the cover page of a coffee table book for the same organisation.
Neha found her calling in art and decided to delve into the depths of this exquisite form of self-expression. She has been painting and creating original works of art from whatever inspires her at the spur of the moment. She likes to experiment with different techniques of painting, with an aim to create texture in her art pieces, thereby giving them a three-dimensional effect.
"I am extremely fascinated by colours, hence most of my artworks consist of a vibrant colour palette. Apart from oils and acrylics, I do try my hand with dry mediums like chalk pastels, charcoal and pencil colour every once in a while. I have tried my level best to hone my skills and expand my horizons. It is my endeavour to produce unique works of art with a tactile feel, which are not only realistic in nature, but also a visual and symbolic representation of the intangible. It is also my constant endeavour to send out a social message through my work," shared Neha, explaining further about her works.
Dragon Series - Her very first muse was the majestic mythical creature, the Dragon, and till date remains her ultimate source of inspiration. "I excavated the emotional archives of the subconscious human mind, with an endeavour to analyse the delirium building up inside it. I experimented with the new found technique of Acrylic Pouring and created a series of 7 abstract compositions, where the dragon became a metaphor for the rage within the human mind," expressed Neha.
Navrasa Series – This is her journey into the fascinating world of the nine emotions or Navrasas where she has attempted to depict 7 of the rasas through her art. I have resorted to a combination of direct as well as indirect portrayal for each rasa, with an attempt to use them symbolically to either convey or evoke an emotion with a moral or social message attached to it. She also explored some unconventional mediums and techniques like peel painting, melting crayons, hot glue gun etc.
Lockdown Saga - This was an extremely distressing time in the history of mankind, especially for those who revel in being out in the open. But the solitude of lockdown intensified her artistic energy and as she sat isolated from civilization, her own retrospective reflections found a release through her art.
This series began with two artworks as a tribute to COVID warriors, who were at the forefront of the combat zone of the COVID-19 invasion. The subsequent artworks are a reaffirmation of the fact that we need to stay home not just for ourselves, but the entire planet and only if we unite and do this together as one world can we win the battle. The final artwork of the series is her attempt to keep the faith as well as the hope alive, as there is light at the end of this seemingly endless tunnel.