Meet Nehha Bhatnagar who has enabled girls from the marginalized communities to realize the power of self-worth
Feb. 28, 2021, 9:46 p.m.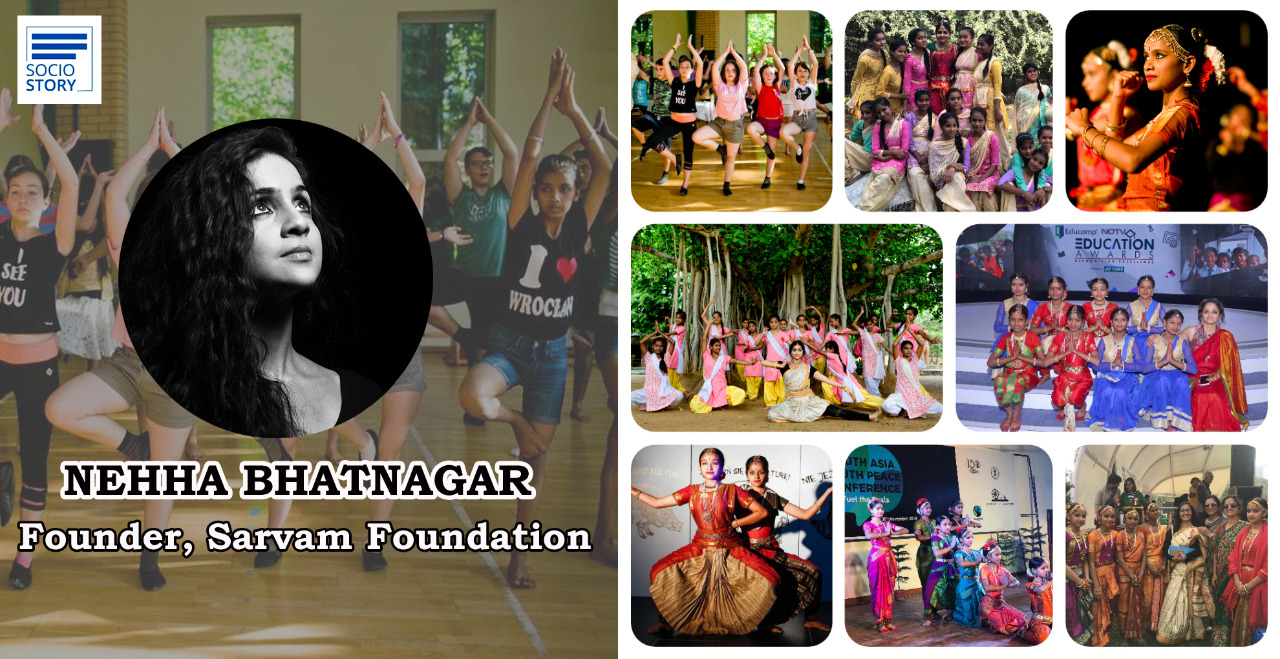 By:Reshma Jain
The sound of bells, the beautifully decked up performers, the powerful expressions, the rhythmic steps that sets the stage vibrating - it's all so appealing, right? Yes, this is what makes Dance- a purely magical and a spectacular experience.
However, when Nehha Bhatnagar had seen only the well-connected, well-heeled, lineage-based artistes perform these art forms, she felt disconnected. "I myself never got many opportunities to showcase my talent as I did not come from a family or have the capacity for promoting myself. Never really beyond the elite, did this form reach much. I saw how unfortunate this was that talent only is not enough and that one must have enough money to be able to thrive in these art forms," shared 34-year-old Bhatnagar.
"Something stirred deep in me because I knew how healing these forms can be if done with the sole purpose of coming closer to oneself and the divine. Hence, I decided to take this healing to those that needed it the most- the marginalized girl child," expressed Bhatnagar.
So, to bridge the gap between Indian arts and audiences as well as to promote and nurture new talents amongst other things, Bhatnagar founded the Sarvam foundation in 2012.
To take ancient Indian arts through a professional and holistic system of education to the underprivileged girl child, the main focus is 'Sarvam Shakti'- founded under the Foundation in 2014. Sarvam Shakti is a unique education project for the marginalized girl child that believes in professional skill education through ancient performing arts and Yogic sciences, remedial academic education and wholesome supplementary nutrition. Shakti project also gives value education thereby shaping an all-rounder girl.
"But there is one thing that I simply loved about this mission", recalled Bhatnagar. "That is the change in the mindset of the families of these girls," she said. Bhatnagar shared that when classes for the first batch of Shakti girls were held, there were a lot of arguments with the father's of these girls who were migrant labourers from UP/ Bihar. However, after a year or two, she noticed the father's lined up outside the place where their dance classes were happening. They waited to pick up the girls after class.
"I asked them how they were waiting. The father's said that the girls make them so proud. One of them said that his daughter is the only person in their village to ever hold a passport and so he wants to support this form. The most interesting part was when one of them told me that he had underestimated the good that comes from having a daughter. He now knows his daughter will help the son be confident and shine too," said a proud Bhatnagar, a post-graduate in Political Science.
Sharing the impact that has been created, Bhatnagar added, "Girls are achievers - some are cultural secretaries in their government schools, some monitors and leaders. 20 of them have been to Europe for an art festival at least twice. They have appeared on National TV besides having done over 100+ shows. In 2017, there were only 20 girls and today, more than 220 girls in 2 states are part of the Shakti project. We are in the plans to expand the project in Bengaluru with 100 more girls. Most importantly, families have changed as have their societies to support girls dancing as they have proved themselves through talent and confidence."
Stating that it is tragic to see the deplorable state of affairs in a country with the richest possible cultural heritage, Bhatnagar, said, "Artistes like myself cannot earn in the form since we don't come from any support system of arts and have no access to connections. What is worse is that to learn these art forms, one has to have money. Shakti is one such project to truly bridge the gap by professionally training these girls to become teachers of these forms should they wish to or to become choreographers. As artistes, they can perform as a passion but not a profession until the governments step in to support."
Sharing one of the incidents, Bhatnagar said, "When Pinky came to us, she was mute and fearful of living where she did (in a one room squalor where her landlord would often come drunk and make passes at her mother). She couldn't even remember basic steps of Kathak or self-defence or yoga. Months passed and with much effort, she started attending classes regularly. Soon she started blossoming like a flower, one petal at a time. And when she went to Poland for a three weeks arts festival, she was the most sought-after dancer in the forms of European folk dances that she learnt. She now plans to open her own NGO one day," concluded Bhatnagar by saying that this is the difference that she would love to see in her lifetime.
Important : If you are making an impact in the world, Please send us your story at : manoj@sociostory.in and we will try to cover you.