Meet Niranjan Karagi who has developed 'pocket-friendly' water filter device
Feb. 8, 2021, 6:44 p.m.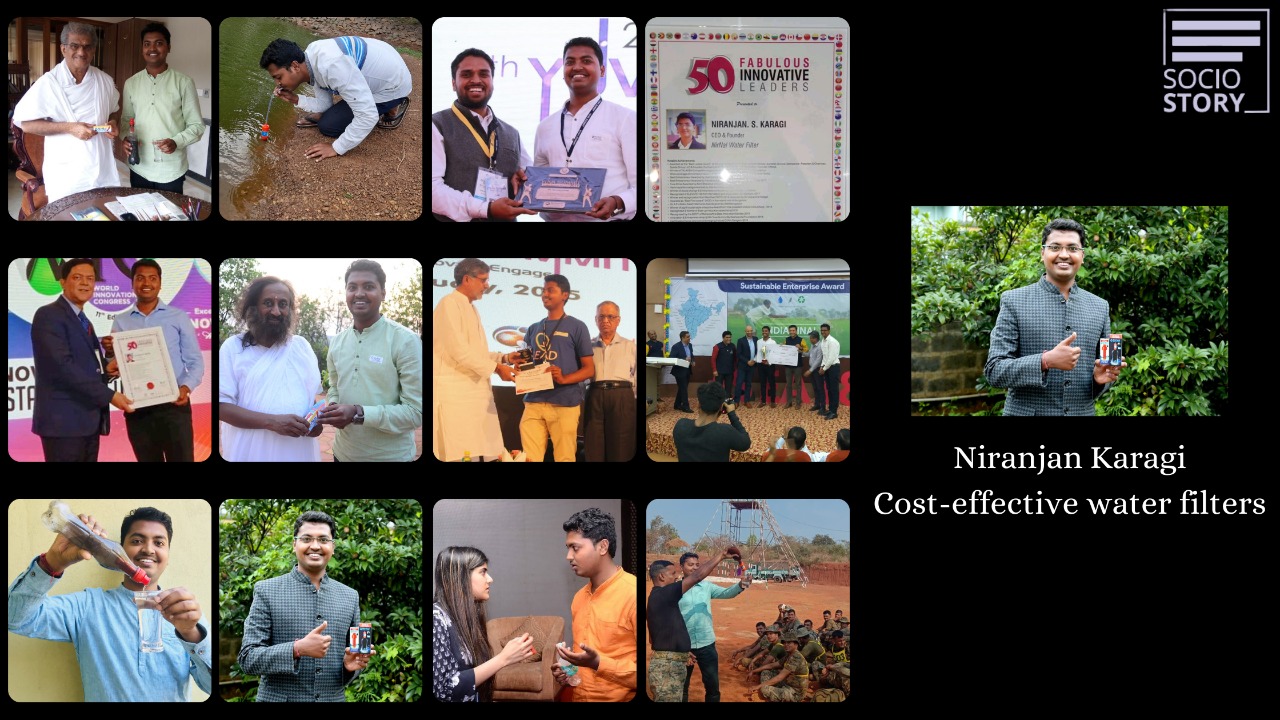 By:Reshma Jain
According to UNICEF, less than 50% of the population in India have access to safely managed drinking water. As per WHO, more than 2,000 people die every day in India due to lack of clean drinking water. WHO also states that at least 2 billion people use a drinking water source contaminated with faeces and by 2025, half of the world's population will be living in water-stressed areas. These statistics show that an urgent collective action is required as life cannot sustain without safe drinking water. So, here is an example of a young boy, who used his innovation in creating a water purifier which can fit into your pocket.
When Niranjan Karagi used to play along with his friends on the playground where kids of a nearby government school also used to play, little did he know that his keen observation will lead in innovating low-cost water filters. Yes, 25-year-old Karagi hailing from Belgaum, Karnataka, has been instrumental in developing cost-effective and high-quality water purifiers. But let us take a look into the journey which led to developing advanced portable water filter devices.
"Since we used to play for long hours, every now and then, the kids would naturally feel thirsty and would drink water from the tap. But it was when I was pursuing my Mechanical Engineering degree that I found a sad peculiarity. I saw that there was no filter in the school and the majority of the kids drank water from the tap that was connected to an overhead tank. Upon further inspection, I came to know that the tank had not been cleaned for a year, hence the colour of the water also changed. A cleaning would only happen once a year, at most twice. I was stirred, to say the least," shared Karagi.
He further said, "My first response was to donate a filter to the school. Upon inquiry, I found that most water filters in the market were expensive. Even if one was donated to the school, the school wouldn't be able to manage its maintenance cost alone. The expense of a water filter could never be borne by a government school, many of which are located in remote areas and which run on shoestring resources."
And then? Karagi brainstormed his ideas and began his research on water filtration. That was when the seeds of 'NirNal' were sown in 2016. In many places in India and across the world, safe or pure drinking water is a matter of concern. Hence, Karagi always wanted to revolutionize the idea of a cost-effective filter for those staying in rural areas and envisioned this social problem as an opportunity.
With a mission to ensure safe drinking water for all, Karagi experimented by fitting a water filter on PET bottles. In an effort to bridge the gap between affordability and access to safe drinking water, Karagi started to implement his ideas and put them into action. The reusable water bottle with integrated disposal filter, costing Rs 30, proved effective and there has been no looking back since then. In 2018, this social entrepreneur redesigned the portable water filter which had the capacity of purifying 100-300 litres of water and at the same time reduced chlorine and removed bacteria.
Stating that there is an urgent need to ensure people have access to clean water, Karagi who was awarded as 'Top 50 Fabulous Innovative Leader by World Innovation Congress', said that the availability of safe drinking water for all is a massive challenge in India. "People fall ill due to lack of clean water and spend a lot of money on health care, leading to financial crises. On the other hand, the global environmental challenges due to the ever increasing trend of bottled water use is disturbing. Hence, to strike a balance for the well-being of both people and environment, it requires immediate attention," shared Karagi by adding that India's water purifier market is expected to reach $4.1 bn. by the end of 2024 as compared to $1.1 bn in 2015, according to the report of the US-based Transparency Market Research (TMR).
On being asked about the reach of such water purifiers, Karagi who was awarded during Social change and Enterprises conducted by Azim Premji Foundation said, "During 2017 -2019, we supplied more than 2 lakh portable water filters including in Govt. schools, farmers and labourers in Northern Karnataka and Western Maharashtra. We also supplied 2000+ filters to Indian Army, CRPF Commandos and INS Vikramaditya. Recently, 5000+ filters were given to Assam Floods and Karnataka. We have also exported the filters to Africa, Singapore, Indonesia, Qatar, USA and many other neighbouring countries."
With easily available materials, the first prototype was successful and significant in creating a social impact. With the use of ingenious and inexpensive technology, Karagi was able to design other prototypes of filters including ultra-filtration unit, Arsenic, Iron and Fluoride removal ultra-filtration unit and portable ultra-filtration unit.
Speaking on the future plans, Karagi who had bagged the Dr. A P J Abdul Kalam Memorial Award, said, "We are already working on 6 different variants of the filter. But the goal is to filter sea water into potable drinking water."
A few of the tips pointed out by Karagi for sustainable water use include:
Fix Drips by replacing worn tap washers.
Incorporate water conservation into your landscaping.
Reduce the amount of water used by flush toilets.
Consider a water sense labelled shower head.
Install a rain barrel.
Important : If you are making an impact in the world, Please send us your story at : manoj@sociostory.in and we will try to cover you.