Meet powerhouse of talent Nishtha Dudeja, who despite odds, made India proud
July 7, 2022, 4:42 p.m.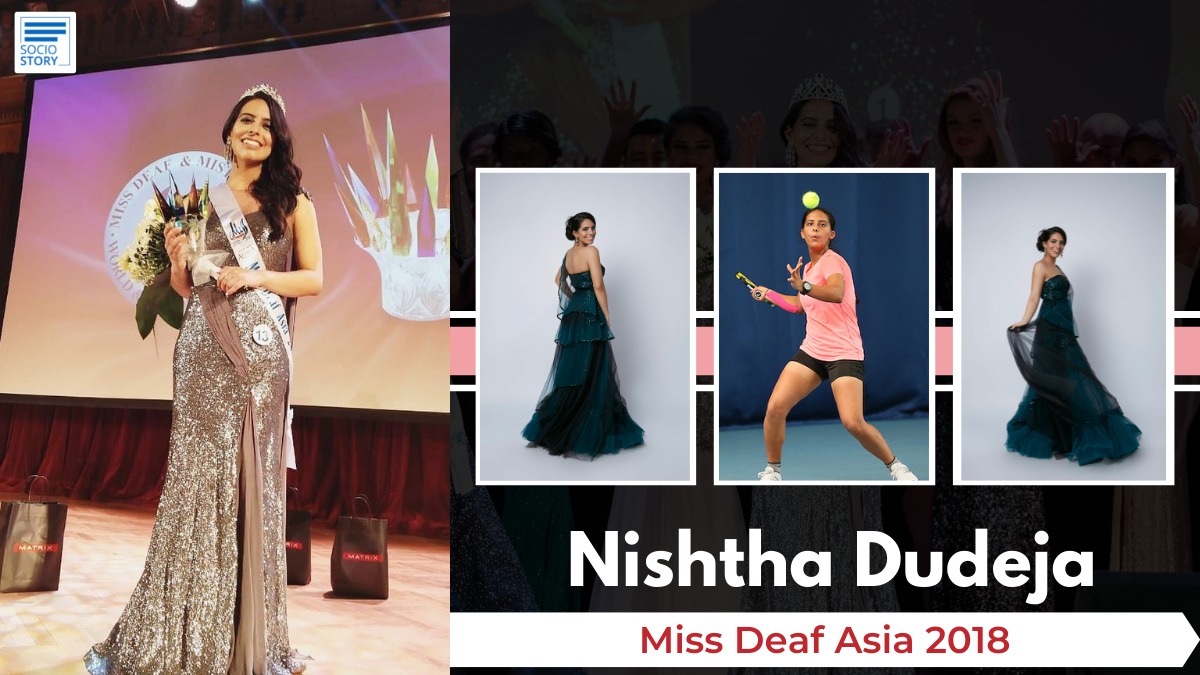 By: Reshma Jain
Everyone faces challenges in life. We have two options; either we surrender before the challenge or face it head on. For Nishtha Dudeja, who has faced difficulties of life with grit and determination, it has been a journey of struggles from the day of diagnosis of her hearing loss, to learning how to speak through rigorous sessions of speech therapy, to studying in a regular school, to topping the school in 12th Boards in Hindi and second in English by scoring 93% marks each and finally completing her graduation in Commerce from Sri Venkateswara College, Delhi University.
Despite the odds, Nishtha Dudeja stands as an exemplary woman who has made India proud. Socio Story brings to you the story of this Indian model and the winner of the Miss Deaf Asia 2018 Title. Dudeja is the first representative from India to win any title at Miss and Master Deaf World pageant since its inception.
As a child, Dudeja was sent to a regular school on the advice of her speech therapist. The children in the school were not sensitive and would tease her for wearing hearing aids. But Dudeja's parents had mentally prepared her for this. They told her that there was no difference between her and the other children except that she can hear with the help of hearing aids. They also advised her how to handle the children in the school. She would generally ignore the children who commented about her hearing loss but would react with force when they tried to touch her hearing aids.
When she reached college, her classmates were quite sensitive and she had a lot of fun in college, reminisced Dudeja. As a Judo player and a Tennis player, she faced some problems as sometimes she was not able to understand the instructions of her coach but her parents would guide her in such situations. Being in individual sports (and not in team sport) helped her and she won many medals in both Judo as well as Tennis. Moreover, she also represented India thrice in international games.
On being asked what can be done to provide opportunities to people with disabilities, Dudeja said, "The Government of India has initiated many schemes for providing opportunities to the persons with disabilities. For example, there are reservations in higher education as well as in jobs for such people. However, a lot is yet to be done as there is a lack of awareness among people. Many times, even the health authorities are not aware that people with hearing-impairment using hearing aids or cochlear implants are eligible for such benefits and they refuse to issue disability certificates. Those hearing-impaired who can hear with the help of hearing instruments, are eligible to get a driving licence, which is much needed to make them independent. We as citizens have an important role to play to create awareness and to empathise with such people."
Despite the efforts of the government, we are far behind the advanced countries of the world in this matter. For example, more than 80% of the hearing-impaired children dropout from their school before they reach matriculation, because of poor linguistic skills. Many people are not aware about the difficulties faced by the children who are born deaf. These children are not able to develop their speech even after using hearing aids unless they undergo rigorous speech therapy early in their childhood. If a child does not use hearing aids and does not start taking speech therapy within 7-8 years of his/her birth, (s)he may not be able to speak anytime during her/his life. Although we have a large population of differently abled people and there is reservation in higher education as well as in jobs, most of these seats remain vacant due to non-availability of suitable candidates. So a lot needs to be done for inclusive development which provides equal opportunities to the persons with disabilities.
Dudeja feels that early identification of disabilities, their technological solutions and awareness about such medical/ technological advancements can go a long way in empowering the persons with disabilities. Moreover, the affordability of such technological solutions is the key to their timely rehabilitation and empowerment. For example, the hearing aids, cochlear implants and speech therapy are too expensive to afford by even a middle-class person in India. So, the Government needs to take urgent steps to encourage start-ups which can offer affordable technological solutions.
Reminiscing about winning the title a few years ago, Dudeja said that she faced many challenges in this journey as she did not get any sponsor at any stage and she had to bear all the expenses whether it was outfits, photoshoot or video-shoot, air tickets, training for beauty pageant, dance classes or grooming classes.
"When it was my first day of Miss Deaf World's journey at Prague, I saw everyone communicating with the help of sign language. Since I was not fluent in sign language, I was not able to communicate much with them. But I learned some ASL in 1-2 days and I was able to communicate better with them. But I was still tensed that I might lose the competition because the beginning had not been great."
She further added, "But on the night of the finale, I thought and decided to give my best and leave the rest to God. So, I felt relaxed and that's why I was confident and happy during the performance. There were 20 beautiful girls from as many countries in the Finale. There was an intense competition as each and every girl was beautiful in their own way. Finally, I became Miss Deaf Asia 2018, winning the first title for our country at Miss and Mister Deaf World Pageant since its inception in 2001."
"I would like to create awareness among the differently- abled children and their parents about the issues faced by such children and the technological solutions available to mitigate these problems. I have been interacting with hearing impaired children and their parents to create awareness and to motivate them," concluded Dudeja.