Meet powerlifter Rishitaa Jain, the young powerhouse of India
July 23, 2021, 5:42 p.m.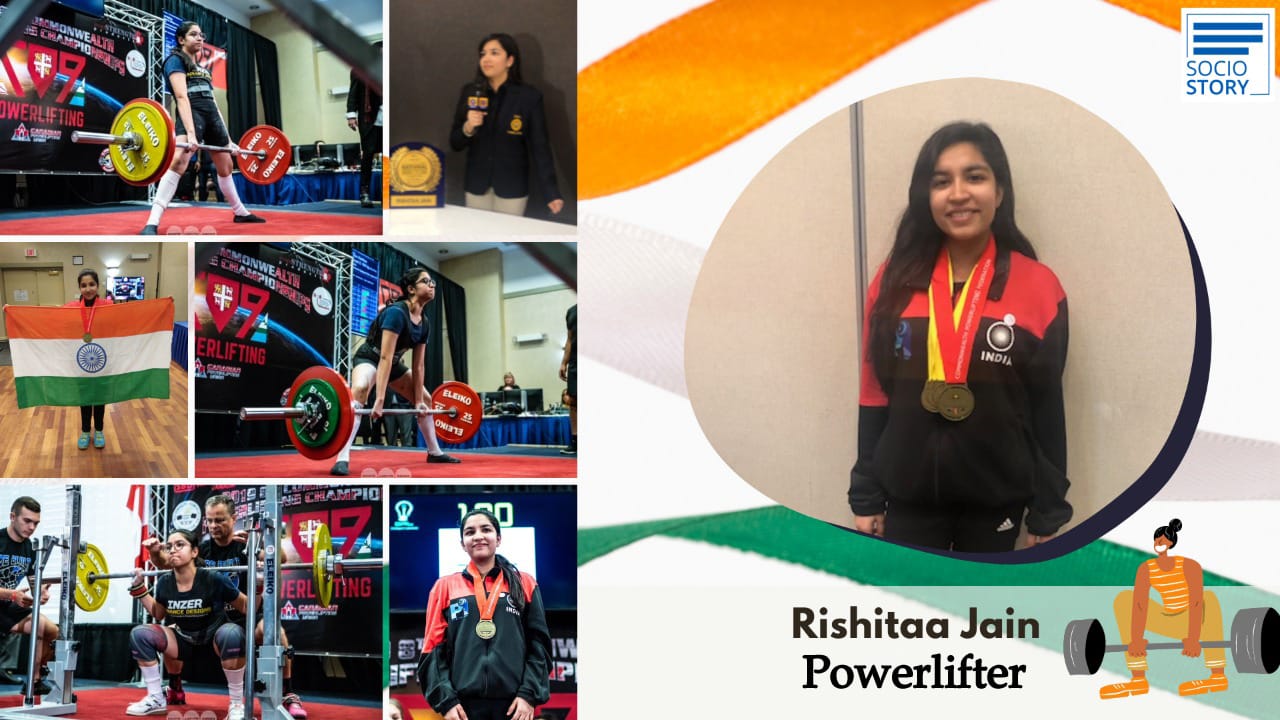 By:Reshma Jain
Powerlifting? But she is a GIRL! So, what if I am a girl, thought Rishitaa Jain. "If anyone says that 'I can't', I will simply say 'Watch me'," stated the young powerhouse of India. In a conversation with Socio Story, 18-year-old Rishitaa from Delhi shares her story and journey into powerlifting.
Thanks to the stereotypical mindset of the society, the term powerlifting has always been associated with boys/men. Hence, when Rishitaa thought about getting into this strength sport, people started to comment. I need not elaborate on it as we all know what all could be the possible points of discussion. Not bothering about what people would think, say, comment or judge, Rishitaa decided to chase her passion.
Sharing her journey into powerlifting, Rishitaa said that it was her father Rishi Jain who motivated and inspired her to join this sport. Rishitaa's father was into powerlifting from quite some time and when she turned 15, Rishitaa used to accompany her father to the gym. To maintain a fit lifestyle, Rishitaa started strength training in the gym. While she observed carefully on the equipments used in the gym, she often used to get fascinated with her father lifting heavy weights.
"I was awestruck when I saw my father doing the deadlift exercise. I liked the way the powerlifting exercises were performed and the next day, I approached my trainer- Javed Mehta who is an international powerlifter. My parents supported my interest in powerlifting and the journey thus began."
So, Rishitaa began her training under a professional in 2017 and it was in 2018 when this young powerlifter participated in the first state-level powerlifting match in Kanpur. Bravo! She won a bronze medal and soon went on to participate in other state-level and national-level competitions. The strong champ kept adding feathers to her cap by clinching gold, silver and bronze medals.
The most memorable moment, Rishitaa recalls, was when she won four gold medals at the Commonwealth Powerlifting Championship held in Canada in 2019. What an amazing feat by this vigorous champion who was the youngest representative in the Indian team! Indeed, the body achieves what the mind believes.
Professional powerlifter Rishitaa was very active in sports in her school. She was into gymnastics for a few years and was also a part of the school's football team. Sharing the challenges faced in this male-dominated sport, Rishitaa said, "First, a lot of people said that girls should not lift weights. Second, there was a lot of bullying in my school as my peers started making fun of the physical appearance of the body. They commented saying I will start looking like a man with broad shoulders and strong muscles. Third, there were people who told my parents that getting me married would be a herculean task. Although demotivation from people had an impact on my mental health, I am glad that I have made my country proud despite people demotivating me to take up this sport," said Rishitaa adding that her school teachers and the principal were very helpful and supportive all through.
Speaking further on her routine and diet, Rishitaa said, "I ensure there is a balance in academics as well as powerlifting training. I spend a few hours everyday for my exercises as well as yoga and the rest of the time for my studies and hobbies which include reading and writing. When it comes to diet, I was a foodie prior to my training period. However, I have tuned my mind to be mentally strong when I crave for something that I should not eat. Since I am a pure vegetarian, I rely completely on a plant-based and nutritious diet."
Having brought laurels to the country, Rishitaa said that playing sports has made her more confident, disciplined and determined. Sports have changed the way she perceives the world and nothing can be more important than thinking positive.
"I want to set an example and encourage girls to take up powerlifting and play other sports. I would also like to make my country proud by winning more medals on the global map. And I would like to play the Asian championship one day and make records in powerlifting," concluded the energetic international player by saying 'Do not sacrifice your dreams for anyone'.