Meet Prabhat Saxena who believes in the power of action to empower society in achieving self-confidence and independence by education
Feb. 21, 2021, 12:14 p.m.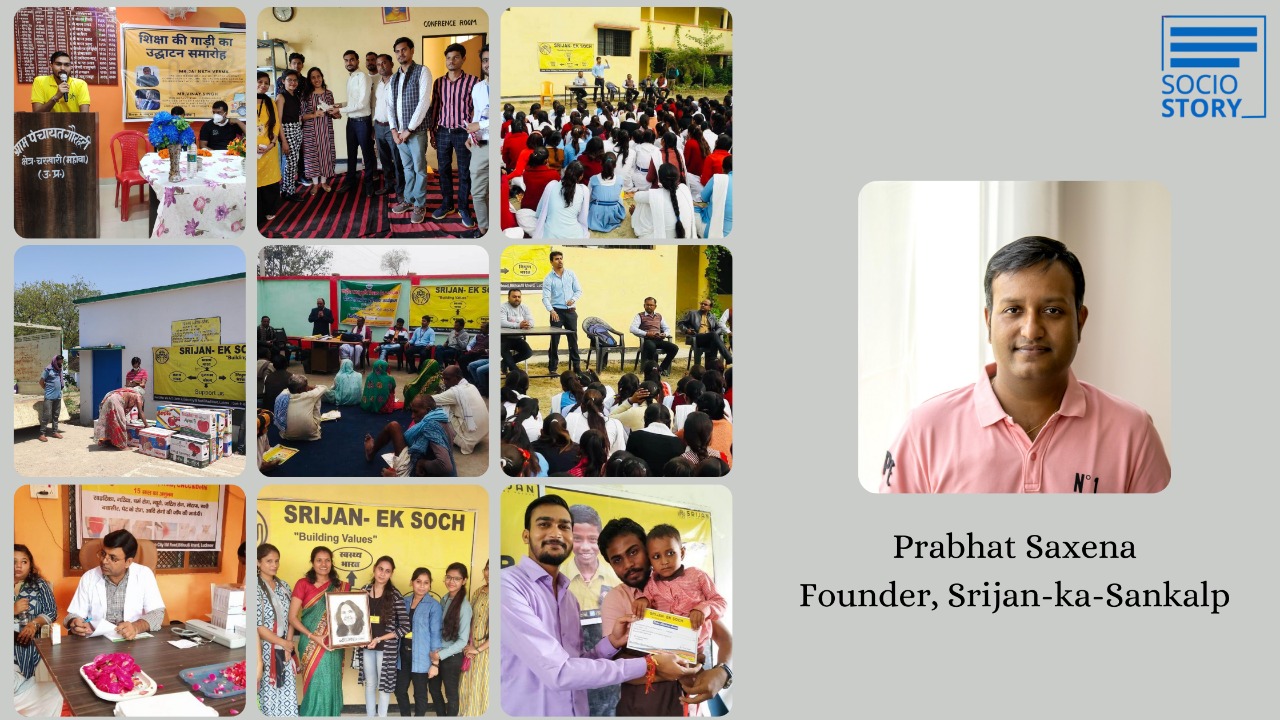 By:Reshma Jain
In this highly competitive and fast paced world, it is arduous, especially for students from the marginalised communities to cope both in terms of academics and extracurricular activities. Lack of guidance/exposure, lack of opportunities and financial burden on the family makes these children take a back seat.
When Prabhat Saxena was pursuing his education from Rath, a small town in UP, there were a lot of challenges that he had faced. Although a topper in his twelfth grade, lack of proper knowledge and guidance proved to be a deterrent in his pursuit for higher studies. However, his penchant for choosing a career in engineering brought him a seat in the IIT.
However, Prabhat felt out of place when he met fellow students who were far smarter and had exposure to extracurricular activities unlike students from villages and small towns. Soon after joining the IIT, he realized how difficult it is for small-town boys to seek admission in premier engineering colleges, academic institutions unless and until they have someone to guide them, motivate them and encourage them.
This very thought and his eagerness to do something for the underprivileged/poor children who have no proper means and support to pursue their dreams and propel their academic career, prompted him to start his own NGO – 'Srijan Ek Soch' at his home town way back in 2004. Srijan Ek Soch works to establish a sustainable governance model towards holistic development of rural villages in the field of education, health awareness and skill development. Since then, there has been no looking back. In the past 15 years, Srijan Ek Soch has evolved into 'Srijan Ka Sankalp', transforming the lives of thousands of children, students in his hometown and surrounding areas.
Saxena said, "Srijan is a non-governmental organization engaged in providing quality education to the underprivileged children of the society, especially those living in remote villages and small towns of the country where access to quality and higher education is still a far cry."
"Acute poverty and inability of the poor parents living in the villages and small towns are forcing children to stay away from schools, even as the government has been doing its bit to fund the cost of primary education in the country," added Saxena by saying that he is determined to replicate the success of his NGO at a pan-India level.
Saxena further said that they build on the values of holistic development of society rather than individuals. "Our aim is to select and develop villages in rural India. We aim to build an "Aatmanirbhar India" by working with villagers of all ages and gender," shared the social entrepreneur while briefing on a few initiatives taken by the NGO.
Saksham Bharat: As a part of the 'Saksham Bharat' initiative, they aim to reduce the delta in the quality of education between the urban 'smart' schools and the rural 'govt' schools by using the best digital and latest technologies such as smart class, free web-portal and personality development initiatives.
As schools in rural India were closed during the pandemic and kids couldn't afford expensive online education, Srijan team introduced first-of-its-kind "Shiksha ki Gaadi". These hi-tech mobile vans were fitted with smart TV and internet brought virtual schools to children of 15+ villages. The educational van not only imparted academic studies but also connected rural India to the world.
They also continued their 'Grahmeen Talent Search Examination' (GTSE) to identify potential/high calibre kids in rural areas and support them in building a bright future. This year, around 5000+ children appeared for the GTSE, satted a note.
Swasth Bharat: As a part of the 'Swasth Bharat' campaign, the NGO organizes blood donation camps, malaria awareness camps, diabetes awareness camps and health/heart check-up sessions to sensitise rural India on the importance of healthy living.
During the pandemic, the volunteers of the NGO supported almost 20,000+ labour families with ration kits. Masks and PPE kits were also distributed to the front-line warriors. During the peak of the pandemic, the NGO supported sanitization of almost 50+ villages in Bihar and UP. In collaboration with their partners, they also distributed almost 25,000+ cooked and uncooked meals to truck drivers on highways when the roadside eateries were closed.
Nipun Bharat: As a part of the 'Nipun Bharat' initiative, their focus is mainly to introduce new technologies and skills that are needed for the hour.
Stating that the presence of the NGO is in 6 states comprising 25 villages of the country, Saxena said that the future plan is to support more than 100 villages and one lakh kids across India. "Our mission is to continue our work towards a better and self-reliant India," concluded Saxena.
Important : If you are making an impact in the world, Please send us your story at : manoj@sociostory.in and we will try to cover you.