Meet Preetisha Mohapatra who is carrying forward the beautiful legacy of Odissi dance
April 5, 2022, 6:08 p.m.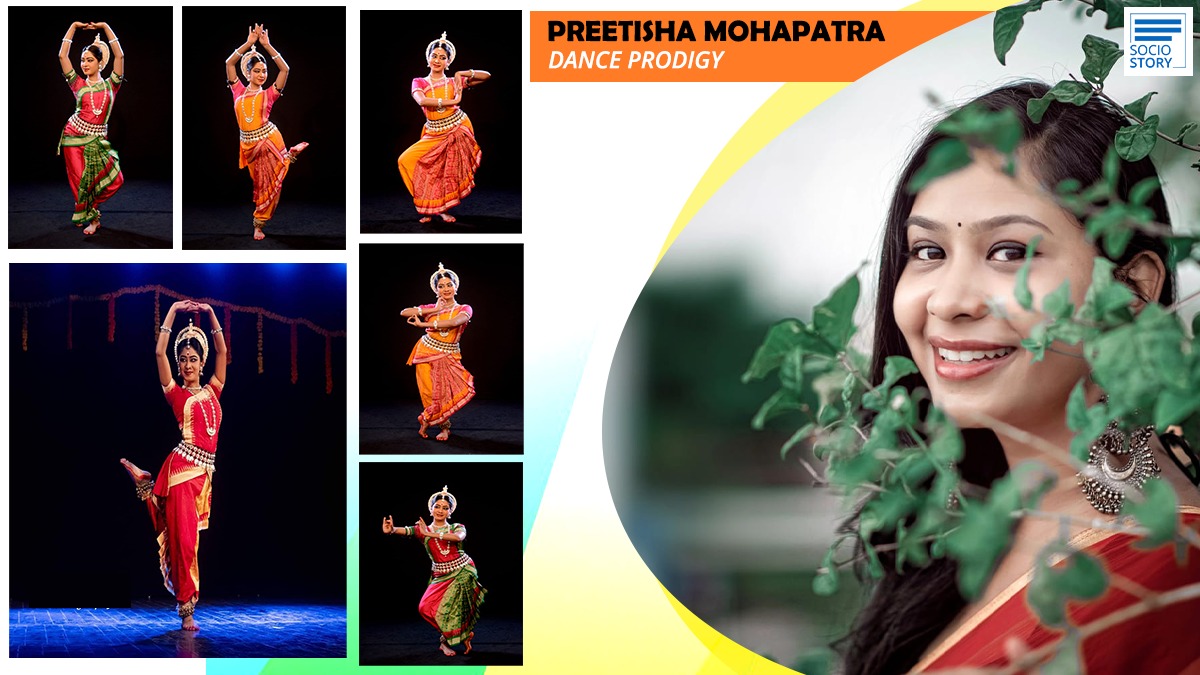 By:Reshma Jain
The beautiful mudras depicting mythology, the expressions depicting a real act without speaking, the beautiful dresses of dancers glazing in lights, beautiful ornaments and graceful positions- this is the flawless tradition of one of the oldest surviving dance forms of India called Odissi. Socio Story brings to you the story of a gifted solo dancer Preetisha Mohapatra from Odisha.
This talented dancer started her formal training in Odissi dance at an early age from her grandfather Guru Kelucharan Mohapatra, the founding father and principal architect of Odissi dance. An artistically stimulating ambience at home and encouragement of parents, Guru Ratikant Mohapatra and Sujata Mohapatra, who are leading exponents in the field of Odissi Dance, have made Preetisha imbibe the nuances of Odissi with absolute beauty and precision.
Reminiscing about her childhood days, Preetisha said, "When I was a child, I remember dancing in the evening aartis in our own house temple and was surrounded by all the dancers. My grandfather played the Manjira and I used to dance randomly to the tunes of his Manjira and aarti songs. This was a memorable part as I considered it my first dance in front of both god and guru."
On being asked about carving a niche in the field of dance, 22-year-old Preetisha said, "There is no such particular incident but a stream of incidents which has led me to choose this particular field. As I grew older, I came across dancers who are experts in Odissi dance. Their dedication and style of dancing always pushed me from inside to take up dance not only as my career but as a meditation which furthers my passion."
"Odissi is one of the principal classical dance styles of India which originated from Odisha. This dance is characterized by the square stance, 'Chowka' denoting lord Jagannath, the main deity of Odissi dance. Apart from Chowka, it also includes 3 more stances which are 'Samabhanga', 'Abhanga' and 'Tribhanga'," added Preetisha who is pursuing her Master's Degree in commerce in Birla Global University and simultaneously continuing her dance training at Srjan Odissi Nrityabasa under the able tutelage of her parents.
Indian classical dance is not only the quintessence of beauty and power but also an attraction to achieve divine power through it. It is a form of prayer and meditation which helps to maintain the peace of mind. It should be in the curriculum of children as it educates them and stimulates their concentration and creativity. The training a dancer goes through teaches discipline and patience which are the most important factors of human life. It not only helps in expressing the inner feelings but also gains physical fitness and retains control over the body, opines the young dancer. Preetisha expressed that she is very happy and fortunate to have a rare opportunity to perform in 'Nabagata Odissi Nritya Shilpi Samaroha' organised by Guru Kelucharan Mohapatra Odissi Research Centre, which is named after her grandfather.
Dancing is basically a non-verbal communication. It plays an important role in our interaction with others. Art has long been an important facet of many cultures and dancing is one that uses movement of the human body to share a message with the audience. "Personally, I see dance not only as a way of communication but also as a way of connecting and surrendering our soul to the almighty. Dance has always provided a form of social affirmation and a means of expressing national or tribal loyalty and power. It is also a part of religious ritual," expressed Preetisha who firmly believes that the idea of being grounded and connected to the roots of our tradition and culture should reach the young masses.
Preetisha plans to reach out to those people and children who are unable to follow their passion and are unable to transform their passion into profession due to lack of support both financially and morally. Through the knowledge of art and art forms, her main motive is helping them to explore new opportunities and strengthen their base knowledge of culture. Since Indian classical dance is based on mythology, it teaches the value of the rich literary and cultural heritage of India.
Preetisha who is a brilliant dancer has also inaugurated Odissi International festival 2010 and has performed in International Odissi festival, Puri beach festival, Mahesur Dasara festival, Konark festival, etc. With her focus and sincerity, she is all set to materialise her family aspirations and carry forward the beautiful legacy of Guru Kelucharan Mohapatra Gharana of Odissi dance.