Meet Priyadarshani Pawar- the Super Randonneur from India who completed the Paris-Brest-Paris circuit
Aug. 6, 2020, 5:37 p.m.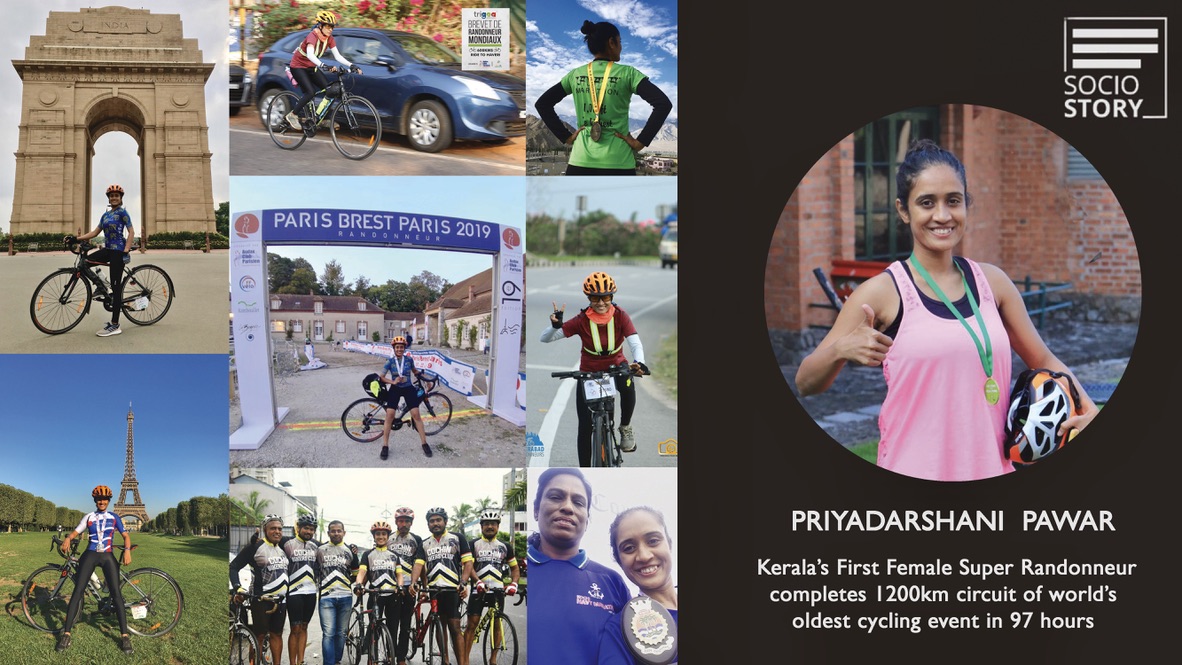 By:Reshma Jain
When Priyadarshani Pawar took up cycling for exercise in 2017, buying herself a second-hand mountain bicycle, little did she know that her love for cycling will lead her into a Super Randonneur. Priyadarshani who is one among the first three Indian women to complete the 1,200 km route at Paris Brest Paris-2019 in the history of the 128-year-old event (known as the Mecca of Randonneuring), shares her journey with Socio Story.
Priyadarshani began by participating in smaller rides conducted across Kochi where she resides; starting with a 15 km Women's day ride, and thereafter more, a 100 km (Brevet Populaire) being the maximum she attempted. It was then that she was introduced to the vast cycling community in Kochi, and became a part of the Cochin Bikers Club where she soon learnt about the world of Randonneuring.
A freelance apparel and graphics designer by profession and an ultra cyclist by passion, Priyadarshani Pawar became a randonneur in January 2018, after her first brevet. It was after earning her first Super Randonneur (SR) title in this sport, that she learnt about Paris Brest Paris (PBP) from fellow randonneurs. Held every 4 years, PBP is a 1,200 km ride that started in 1891 and predates the modern Olympic Games. It is the oldest cycling event in the world and is on almost every Randonneur's bucket list, seeing qualified randonneurs from all over the world participate.
"Just hearing about it, I was excited and it gave me that adrenaline rush that I would have whenever I thought of the next BRM (brevet) challenge. The more I learnt about it, the keener I was to go for it. PBP was due in 2019, and at that point I thought that I can grab this opportunity if I work for it and get qualified. I started preparing towards it although my experience as a randonneur was less, my josh was not," expressed Priyadarshani who is Kerala's First Female Super Randonneur.
It has been a short but very exciting journey for young ultracyclist Priyadarshani. From January 2018 when she started to August 2019, she had participated in a total of 8 BRMs (brevets), earning 2 SR titles and thereafter qualifying and participating in the Paris Brest Paris of 1,200 km. Each and every ride, she says, has been truly unique and memorable with great learning experiences. She has participated in brevets held at Kochi (200km & 400km rides), Visakhapatnam (300km ride), Hyderabad (400km ride), Coimbatore (600km ride), Pune (200km ride), Goa (600km ride) and Noida (300km ride).
Stating that PBP was an incredible journey, a dream come true, Priyadarshani said, "CHALLENGES GALORE! But at the end of it, my heart did soar! It was my first international cycling experience and I was proud to be a part of the Indian Contingent."
Overcoming the challenges in unfamiliar terrain and weather, Priyadarshani had almost come to the end of the PBP ride. But, she shares, "Around 89 hours through, I realised that I wouldn't be able to reach the finish in time, because of the distance yet to be covered, and that is when I broke down. I didn't want to believe that after coming so far, after putting in all the efforts in preparation for this event, after putting in my best foot forward on the pedal, I wouldn't be able to cross within the 90-hour limit. I was heartbroken! At that point of time, a fellow Indian PBP veteran took the time to speak to me and it boosted my morale. I thought to myself: 'come what may, I will not quit, I will pedal to that finish line'. A fellow cyclist had told me in French, 'Tout n'est pas perdue!' which means 'All is not lost'. And I repeated those words to myself, pedalled on and I did it in 97 hours. In the history of the 128 years of this event, we were the first Indian women to cross that line to complete the 1200 km route. That felt amazing! The next time I'm sure it will be within 90 hours," added the active young woman who also participated in the world's highest Marathon- the Ladakh Marathon in 2018.
"Cycling has truly been the best gift I could give myself, a real blessing that has had a very positive impact on my life. Hence, I try promoting it whenever I can by participating in fitness and awareness campaigns including go green initiatives," further said Priyadarshani who also loves many other activities like Yoga, dance, theatre, cinema, travel, environmental/ sustainable causes, photography, reading, gardening, etc.
As a female randonneur, Priyadarshani is proud to represent a class of women who are bringing about a change by being a part of this audax sport. At the moment there are comparatively very few women randonneurs. But that is set to change. Ms Divya Tate who heads Audax India Randonneurs has recently started a club - Audax India Women, consisting of women randonneurs from all over India. The goal of this bold endeavour is "50:50 by 2030" which means that it is aiming at seeing equal participation of women and men in this mixed-gender sport by the year 2030.
"I intend to keep pedalling and exploring new challenges and be part of initiatives related to cycling and the environment. Besides that, there's a lot more that I want to do and learn in various fields. My grandfather always says 'Kelyane hot ahe re, adhi keles pahije' (Marathi) which translates to 'Karne se sab hota hai re, pehle shuru toh Kar le'. I try to follow this mantra as much as I can. Like they say, 'Ultimately, it's all in the mind!', stated the Super Randonneur who is 31 years old.
"It's a wonderful world out here from which you have a lot to gain and it's never too late to venture out- Just remember that a journey of a thousand miles begins with a small first step or should I say the first pedal," signed off Priyadarshani.
Important : If you are making an impact in the world, Please send us your story at : manoj@sociostory.in and we will try to cover you.