Meet Priyakarao Dandi who has created a forum to engage the youth as architects of New India
July 1, 2022, 7:26 p.m.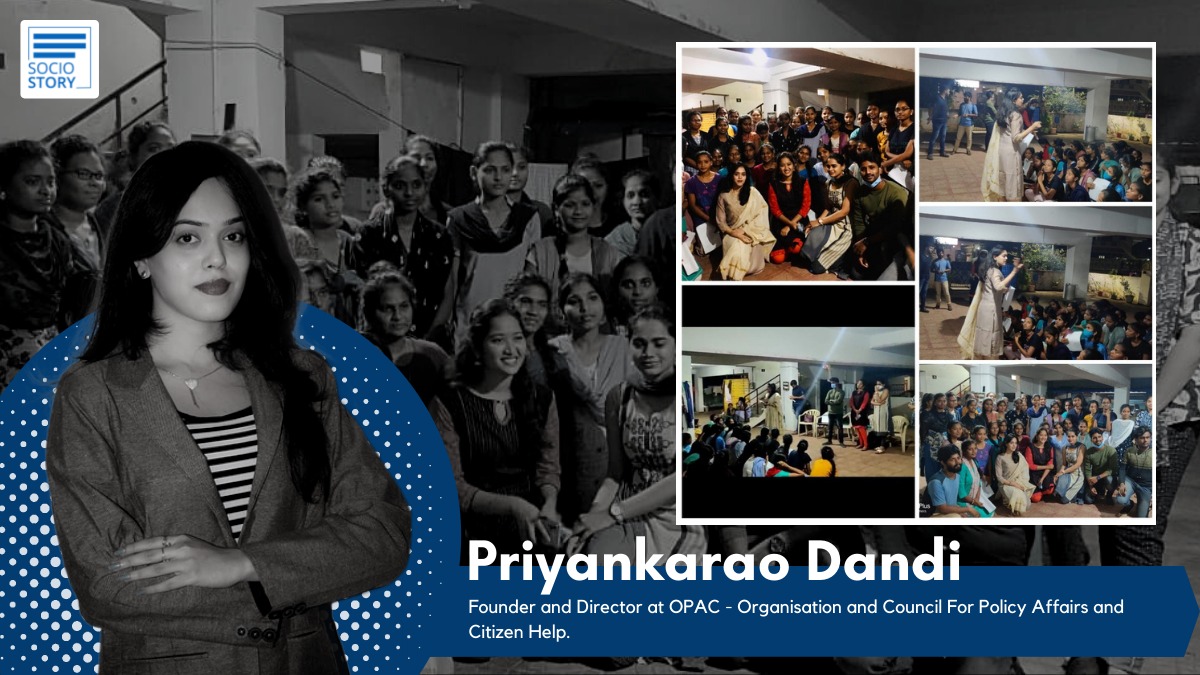 By: Reshma Jain
Politics, Policy and Public Leadership is a less chosen path. Doesn't it make it all the more necessary for us, i.e., the youngsters, to take it up? Politics is considered a dirty space but someone of us has to take up a broom and start cleaning it. Otherwise, its repercussions will impact the whole society, believes Priyankarao Dandi, a development enthusiast.
Even as a child, Priyankarao had an intense desire and passion for doing something for the country. She always believed that politics is a place for impact and policies are the tools of impact. And their intersection is where she wished to work. Therefore, that has transpired into starting a Sec 8 company called Organisation and Council for Policy Affairs and Citizen Help (OPAC) centred around the 3A's; namely Activism, Advocacy and Awareness.
"What saddens me is the extreme apathy of youth towards its social/political affairs, their lack of knowledge of basic concepts of Citizenship, Democracy, Voting and electoral processes. Also, the poor health of public discourse is spoiled by disinformation, misinformation and narrative building," shared 27-year-old Priyankarao who is inspired by her uncle Srinivas Rao and her French Sir at college Dr NR Jeevan Babu.
She further added, "So we are planning to build a community of passionate individuals and youngsters who can create employment, curate solutions and leave an impact. Many talented youngsters from small colleges and towns do not get the right platform or opportunities. Our aim is to identify such talent and channelize towards nation building."
The organisation is working on creating awareness on Constitutional and Legal Rights of women in various colleges and government hostels. A survey is being conducted to understand how women perceive and react to violence. They have also taught young girls some self-defence techniques and a 'Four R' formula has been given - Raise, React, Respond and Report.
An awareness session on 'Constitutional and legal rights of women in India' on the occasion of international day for elimination of violence against women was held recently in various colleges, Government women's hostel by Organization for Policy Affairs and Citizen help (OPAC) in collaboration with OMID charitable Trust. The women have also been enlightened on various grievance redressal mechanisms in case of rights violations and were told where to complain instances of blackmail, threats, eve teasing, sexual harassment, dowry etc.
Speaking on the role of OPAC, the young enthusiast said, "We have offered help in terms of legal advice, psychological counselling to the silent victims of online abuse and threat, domestic and sexual harassment. Youth Into Politics- Sessions\activities are being conducted to encourage the youth to become problem solvers. OPAC believes in creating socially and politically conscious citizens who become the leaders in their own fields and by encouraging them to take up an active interest in politics."
Highlighting on the other initiatives, she said that the OPAC Street Library Project which is in progress aims at installing book racks in public places, government schools, slums etc aimed at reviving the dying book reading culture.
Currently, Priyankarao is also working with Ex-CBI JD Lakshmi Narayana on a couple of similar projects of social impact. They are curating a 'Ready Reckoner' for many constitutional\legal problems that we may have but many a time do not know where to get it addressed. There are young women who wish to be a part of this movement and want to become leaders\entrepreneurs\activists etc and OPAC has been encouraging them.
OPAC in collaboration with JD Foundation is initiating a 'Citizen Report Card' for the district of Visakhapatnam. CRC provides a quantitative measure of user perceptions on the quality, efficiency and adequacy of different public services namely water and sanitation, transport, public transport, primary health and education, services in government offices etc. They can then be used by the local bodies to frame targeted policies and make systematic intervention through scientific solutions from experts. This CRC is a step towards creating citizen centric policies.
Organisation and Council For Policy Affairs and Citizen Help has offered girls to report or seek aid and legal advice, psychological or moral support for victims of abuse and violence, since most women and girls fear family, society, police and law.
As a student, Priyakarao was one of the top 10 finalists and one of the youngest in India to be selected for the Damodarshree National Award for Academic Excellence. A recipient of state and national level prizes from Central Bureau Of Investigation (CBI), Election Commission of India etc, Priyankarao aims at a future in the bureaucracy/politics that could shape the contours of policy and governance systems as she has always taken keen interest to indulge in public discourse and voice opinions on policy matters.