Meet Ricky Kej who encourages environmental consciousness through his music on sustainability
June 27, 2020, 4:23 p.m.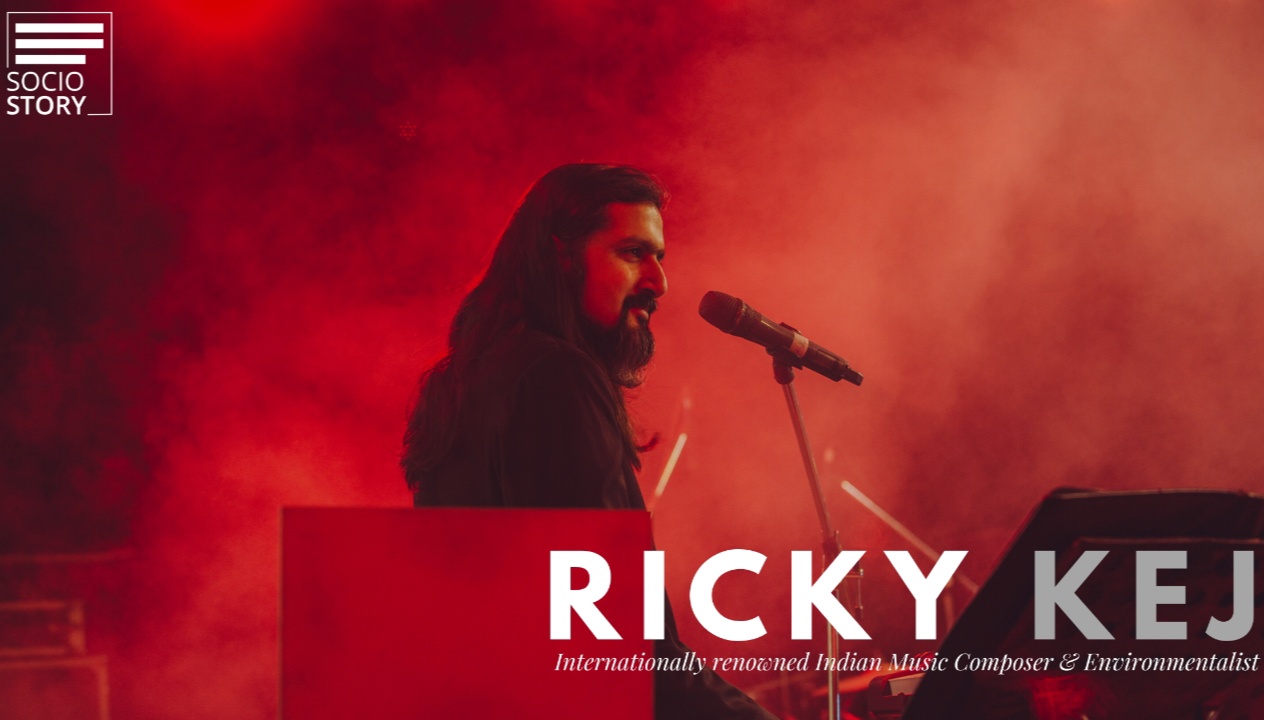 By:Reshma Jain
"The day I got my Degree in Dental Surgery (DDS), I gave the certificate to my Father, and I became a full-time musician. I did not practice Dentistry even for a single day because I wanted to make a difference in the world through music. And there was no looking back after that," stated Grammy Award Winner & US Billboard #1 artist, Ricky Kej who is an internationally renowned Indian Music Composer and Environmentalist.
It was through music that Ricky fell in love with the natural world. He found a deep connection between music and nature, and also realized that he loved hanging around with animals and within nature. From his high school days, Ricky was very serious about music and he had made up his mind to be a musician for the rest of his life. When Ricky said his Father about his penchant in music, his Father questioned, "How can music be a profession"? Finally, he reached a compromise - He would have to finish off a degree in dental surgery, and once he finished it, he could do whatever he wanted for the rest of his life. So he went to dental college for 5 years, and at the end of 5 years, he got himself a DDS degree. The day he got his degree, he gave the certificate to his Father and he became a full-time musician.
On being asked what made him create music on environment and sustainability, Ricky says, "Very early on in my career, I decided not to become a film composer. Since music in India is deeply integrated with Bollywood, I had to base my career abroad, even though my music is primarily Indian. I would compose for film only if the film is in alignment with my thoughts and philosophies, and is created with a singular purpose to make this world a better place. Making art just for the purpose of sales does not make sense to me."
Speaking to Socio Story on the occasion of Environment month (June), Ricky Kej, said, "Ever since I remember, I have been a musician. My ears have always been more important than my eyes. After I won the Grammy award in 2015, Prime Minister Narendra Modi invited my wife and me for a private meeting to his office. The meeting turned out to be an hour-long philosophical discussion. Modi knew that I was a strong conservationist and inspired me to dedicate my life and my music to the sole cause of environmental consciousness. This was the push I needed, and ever since then, all of my music has been about the environment and raising awareness on climate change."
Ricky has been continuously working on several projects. His last two online concerts in April and June 2020 was watched by an estimated 150 million viewers from around the world and the feedback was overwhelmingly positive. He performed another one on the June 21 in support of UNICEF and this was the biggest concert ever for children. Ricky also released a remix of the original theme that he composed for India''s first blue-chip natural history film, 'Wild Karnataka' which was narrated by David Attenborough and he recently released a music video for the 'Make A Mark' project along with Gold Medallist Olympians, Niccolo Campriani and Abhinav Bindra.
Stating a few lines on the Covid-19 pandemic, Ricky further said, "Pandemics such as these arise when we do not live in harmony with our environment. We should not forget the lessons we have learnt from this and we should not have to wait for another pandemic to realise that all species are interconnected and we have to take care of our environment in order for it to take care of us. Sustainable living and sustainable development is the key."
In an effort to inculcate environment education in kids, Ricky created' My Earth Songs' for children along with Grammy nominee Lonnie Park, Dominic D'Cruz and these songs have already appeared in over 5 million schoolbooks and was also recognised and honoured by the United Nations in Bonn, Germany for its innovation, creativity and outreach. "We do not inherit this world from our ancestors, we borrow it from our children. To create a more socially inclusive and environmentally conscious society, we have to start the conversation early, with children," he adds.

Ricky had won the Grammy award for his album 'Winds of Samsara'. Soon after that, his epic album 'Shanti Samsara' – World Music for Environmental consciousness took shape and was launched by our Prime Minister Narendra Modi and French President Francois Hollande in the presence of world leaders at the United Nations COP21 climate change conference in Paris. It features over 500 musicians from over 40 countries including India, United States, Australia, Turkey, Algeria, Senegal, Sweden, Korea, China, Vietnam, Tibet, Azerbaijan, etc, all coming together to celebrate the natural world, and raise awareness on climate change.
Since then, Ricky who is a strong advocate of the Sustainable Development Goals of the UN went on to performing music from this album thrice at the United Nations General Assembly, NY, among other prestigious venues all over the world and most recently at the United Nations Headquarters in Geneva, Switzerland.
Environmentalist Ricky made several trips to the remote parts of Andhra Pradesh to observe and learn first-hand from the tribal farmers about the Zero Budget Natural Farming (ZBNF) technique being followed there. He also musically collaborated with the tribal farmers to create a music video called 'One with Earth Song' to showcase this technique to the world. He launched this song along with then chief minister of AP, Chandrababu Naidu at the UN Headquarters in New York. He was also invited back to AP to address a gathering of over 9,500 farmers.
Stating on his plans to bring about a change in the world, Ricky who works closely with global organisations and serves as an ambassador and supporter for UNCCD, UNESCO - MGIEP, UNICEF India, Earth Day Network etc, said, "Music has the power to retain a message deep in the consciousness of a listener. Our audience will sing our songs, and keep humming them many times a day. One goal will catch their attention, followed by another, and another, becoming a topic for conversation that will build into a cause for action. I have performed to audiences consisting of world leaders, decision-makers and prominent dignitaries to urge them to create stronger policies to tackle environmental issues and health issues and I have performed to hundreds of thousands of the general public to raise awareness about these issues. I will continue to use my creativity to inspire dialogue and action."
Ricky who has won more than 100 music awards in over 20 countries, shares his message to people. "This pandemic has clearly shown us how fragile we are as a species and how interdependent we are. It has shown us beyond any doubt, that if we are faced with an imminent threat, we humans are capable of massive behavioural change, and that our leaders are capable of making strong decisions. We have to utilise this time to reflect on our relationship with our natural environment and put sustainability at the forefront of everything that we do. What we need is a change in consciousness and behaviour. We need to consume less, of everything. We have to vote for leaders who are environmentally conscious and we have to support businesses that are environmentally responsible. Conscious actions such as these will have a ripple effect and will contribute greatly to the well-being of our planet."
Important : If you are making an impact in the world, Please send us your story at : manoj@sociostory.in and we will try to cover you.