Meet Sailesh Singhal who envisions an inclusive India by Engaging, Empowering and Evolving Youth of India
Nov. 13, 2020, 4:42 p.m.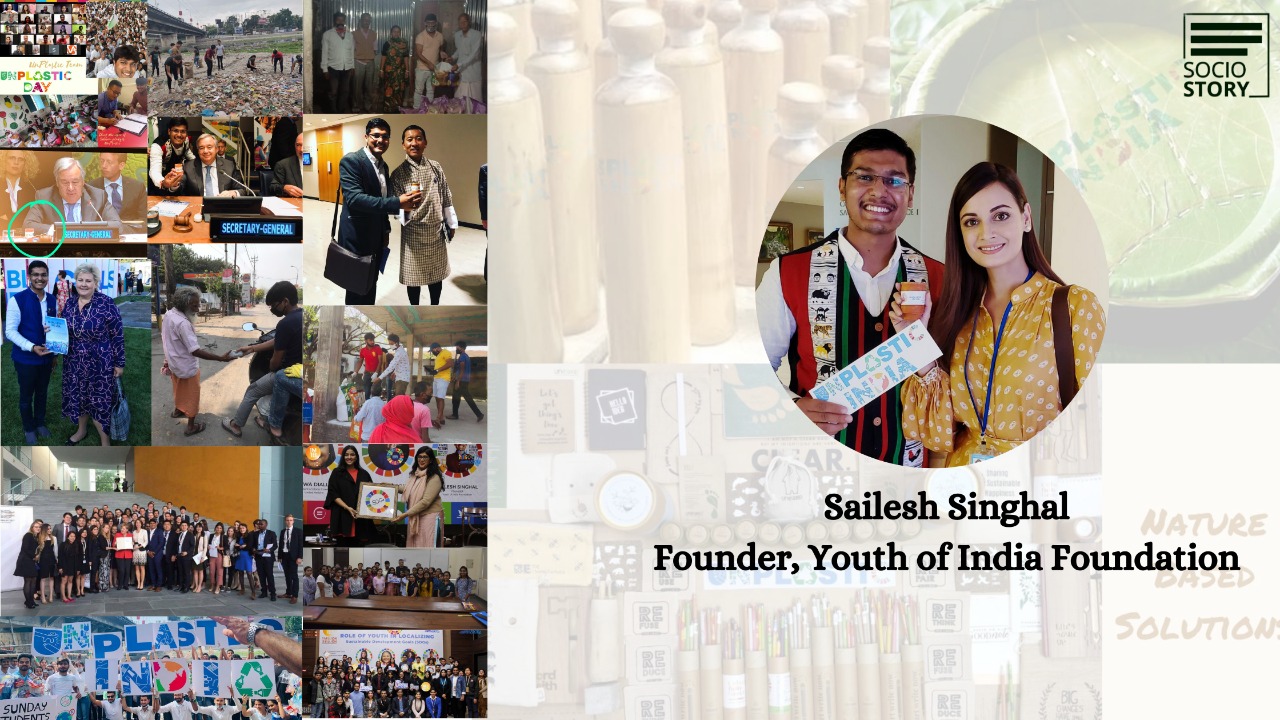 By:Reshma Jain
The journey started with a 'NO'; not in its literal sense but with the abbreviation 'New Opportunity'. In 2015, during the massive earthquake in Nepal; young people in Siliguri wanted to extend support to their neighbours. A group of young people initiated the 'Pocket Money Campaign', inviting students and young people to donate from their pocket money to support a cause.
The entire city then poured in for the support, where the young people contributed Rs.1,50,000 from their pockets with some letters stating, "Dear Sir/ Madam, I fought with my Mother to buy toffee for 2 Rs. and here I am contributing for a better Nepal."
The heart touching letters and the strength in collective work motivated the group of young people to serve people at large. Later, this campaign was recognized as one of the Top World's Best Campaign by United Nations MGCY (Major Group for Children and Youth) and was screened at a side event during the General Assembly. Thus, Youth of Siliguri was initiated.
Founded by Sailesh Singhal, the Youth of India Foundation is a youth led movement, evolved from the vision, successful and innovative campaigns hosted by Youth of Siliguri, since 2015. A law graduate, Singhal has served as the youngest district officer in the Ministry of Environment, Forest and Climate Change, Govt. of India. Currently, Sailesh has been one of the 60 fellows to be nominated by Government of Saudi Arabia to be part of the Y20 community and has earlier represented Indian voices in the official youth summit of G20 – Y20 summit on behalf of Government of India in Germany.
Sailesh initiated the 'UnPlastic India' campaign for which he was invited in the first-ever youth climate action summit during the United Nations General Assembly and called for Global UnPlastic day with the support of Head of States, Ministers of Environment, Ambassadors and many more.
The message of using sustainable and local solutions in being UnPlastic like Kulhads (an earthen glass) was recognized by Prime Ministers and Presidents of various countries, including United Nations Secretary General who had gracefully kept one of the Kulhads in the dice at a high-level meeting with the Environment Ministers of Member States during UN General Assembly.
Speaking to Socio Story, Singhal said, "We have realized the importance of sensitizing individuals in bringing sustainable change, thereby we distributed 100,001 households and requested each one of them to plant an additional tree. There were about 8,000 of them who planted an additional tree and took care of them. Nonetheless, our teams then pollinated in various parts of the country leading to creating various local chapters in India."
"Furthermore, our talk show called 'Youth Ki Baat' encouraged youth activists in the marginalized areas to share their sustainable stories. Therefore, we try to impact the nation through the empowerment of nation builders who are the Youth of India," added Singhal who is a global youth activist, community mobilizer and a strategist advocating for accountability, transparency and youth engagement in the development discourse.
Currently, Youth of India is present in 15 states and 8 countries, with a volunteer base of more than 1,00,000 youth across the country. YOI is one of the 174 organisations from across the world to be granted special accreditation by the 2020 United Nations conference - a movement initiated to localise Sustainable Development Goals through innovative campaigns and discussions.
Sharing the impact that has been created, Singhal said, "Campaigns like UnPlastic India have gathered more than 10,000 students in pledging to eliminate the usage of single-use plastic. We called for 'Global UnPlastic day' during the United Nations General Assembly and again during the preparatory meeting of the 2020 United Nations conference along with the representatives of all the member states' mission to the UN."
"We are going to launch a coalition of 100 universities, – India and abroad – in calling for Global Unplastic Day and further participate in United Nations dialogue on SDG 14 in Portugal as a CSO, with special accreditation to 2020 United Nations Conference," added the young activist.
In an effort to endorse inter- governmental, bi-partisan cooperation for egalitarian sustainability, Singhal has been promoting a cohesive framework for sustainable development. YOI works with marginalized young women and men in advancing SDGs from local to global level and works on sustainable solutions of making Great out of Waste.
Stating the future plans, Singhal said, "Youth of India now envisions towards an inclusive 2047, when India would celebrate its 100th Independence. Our mission is to accelerate the capacity and talent so that each young person brings about a change in their lives and in the society for the betterment of the country as a whole."
"We believe in the 'Power of being ONE'. We can only achieve our goals of Sustainable Development and an empowered Nation, if we will come together - work together and – live together. We urge young minds to come in large numbers and join us in this beautiful journey which is heading towards inclusion," concluded Singhal.
Important : If you are making an impact in the world, Please send us your story at : manoj@sociostory.in and we will try to cover you.