Meet Satya, a polio-survivor who has been making the lives of physically challenged people complete
May 4, 2021, 6:38 p.m.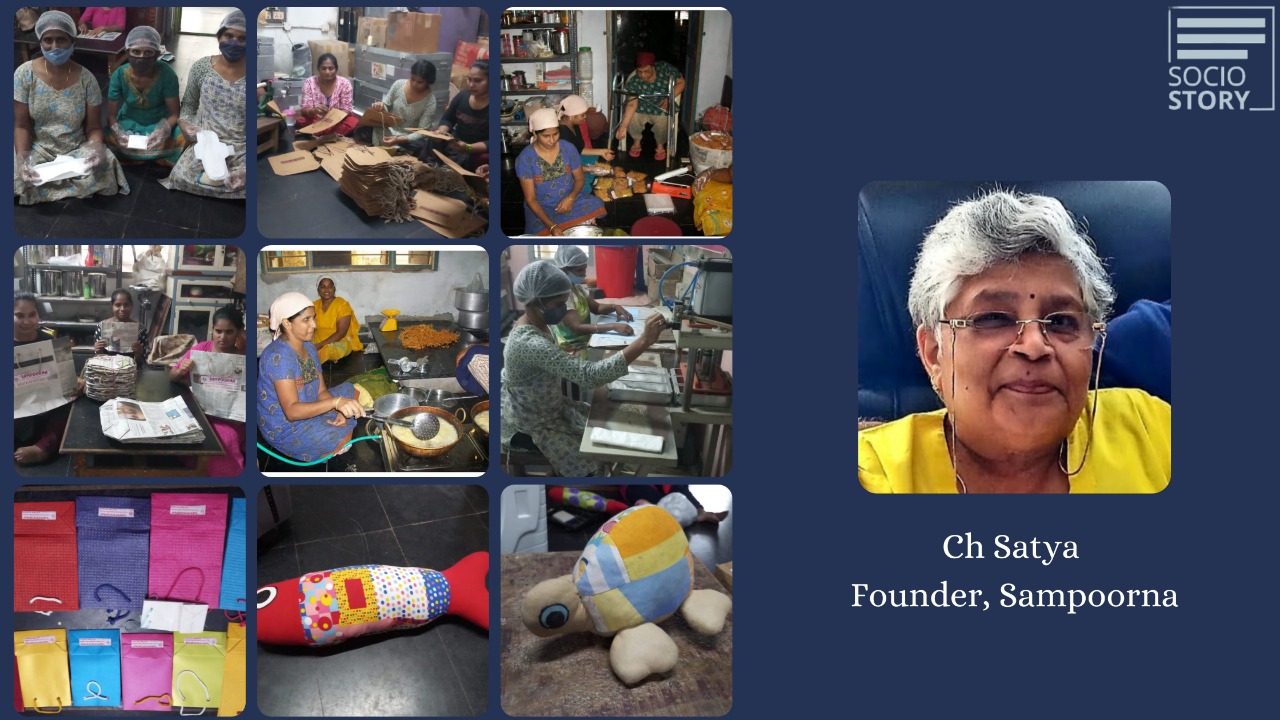 by:Reshma Jain
As I walked in, I was greeted warmly by all the beautiful women and as I took my seat, I was glad to see the bright faces gleaming with smiles. These women, unfortunately, are not as blessed as us but they find happiness in every little thing that they do. "Madam, here are your designed gift bags, soft toys and cloth bags made with love," said Ms Appalraju, a differently-abled woman in her 30's and a creative genius.
There are many such talented women in an NGO called 'Sampoorna', which is located in Visakhapatnam. Although I have been associated with this NGO for quite a few years now, I was curious to know it's history. So, I sat down to discuss with a kind-hearted soul Ch Satya, a polio survivor and the founder-president of Sampoorna.
"Having been on a wheelchair from my childhood, I could relate to the difficulties and challenges that the physically disabled people face. I always wanted to do something for them and that is when I decided to form an NGO which would work for the welfare of physically displaced people. Initially, I named my NGO as 'Physically Handicapped Welfare Association' in the year 2000. But a few Samaritans from the city did not want the term 'physically handicapped' as a name of an organisation. They suggested that being disabled is not a choice but God's wish. So, every individual is 'Complete' irrespective of how they are physically. Hence, the name 'Sampoorna'," shared Satya before she went on rounds in the hall on her wheelchair.
While observing the women in the hall (around 15 of them), I thought to myself 'I am blessed and gifted'. I started to count my blessings and my instinct forced me to listen to their life stories. The differently-abled women started narrating their experiences in making paper bags, cloth bags, craft material, diyas, home foods, etc. Every woman was self-reliant and I was proud to know that.
Meanwhile, my discussion with Satya continued. A determined Satya said that she had completed her home-schooling and had faced a lot of challenges. "After completing my graduation, I had appeared for interviews and that is when I understood the meaning of being financially independent. For women like us who are specially-abled, it was a dream to be financially independent because the society was not as accepting as it is today. The spate of rural women would be worse," she wondered.
Satya had started to organise training programmes for children, women and the underprivileged. Vocational training in candle-making, stitching, embroidery, toys making, etc were also given under her guidance. "We also used to organise awareness camps like 'polio awareness drives' in bus stands, railway stations and other public places back in 2000-2005," said 71-year-old Satya.
However, Satya realised that mere training will not serve the purpose. So, she decided to employ women and start small units so that they can earn their livelihood. "I wanted to bring a difference in the lives of underprivileged people. Hence, I wanted to instil that confidence among such women that they too can be self-reliant. Under the brand Sampoorna, we started to make a variety of items and homemade goodies. Gradually, the market expanded and women became empowered. Today, Sampoorna is known for its products and many organisations/ corporates purchase a variety of products from us," added Satya who got married at the age of 31.
Sampoorna organisation had also started to make sanitary napkins from 2014. Padman Arunachalam Muruganantham had then demonstrated the making of eco-friendly pads through sanitary napkin vending machines. These pads (containing 7 in a pack) were distributed in government schools as well as purchased under CSR projects of the corporates. Now, the organisation also makes compressed winged sanitary napkins through Double dye vending machines.
A grandmother of two kids, Satya had empowered more than 300 women in the past 20 years. While sharing about the new project being supported by Tech Mahindra, Satya said, "A few days ago, we started the production of LED bulbs. The women make different types of LED bulbs and till date, we have made around 300 of them."
On being asked what needs to be done, Satya who has made her centre disabled-friendly, said, "The biggest challenge that we face is lack of accessibility. A barrier-free environment is important for an inclusive society where finding a job and other employment opportunities should not be a challenge."
While I concluded my conversation and was taking my leave, all the women wished me best in my future endeavours and said, "Madam, please do come again and spend some more time with us. Thank you for making our day." Indeed, they made my day and made me realise that 'Life is beautiful and it's up to you how best you can make of it'.
Important : If you are making an impact in the world, Please send us your story at : manoj@sociostory.in and we will try to cover you.