Meet Shobhika Kalra- An Indian Expat on wheelchair who is on a mission to empower the Divyang
July 27, 2020, 6:45 p.m.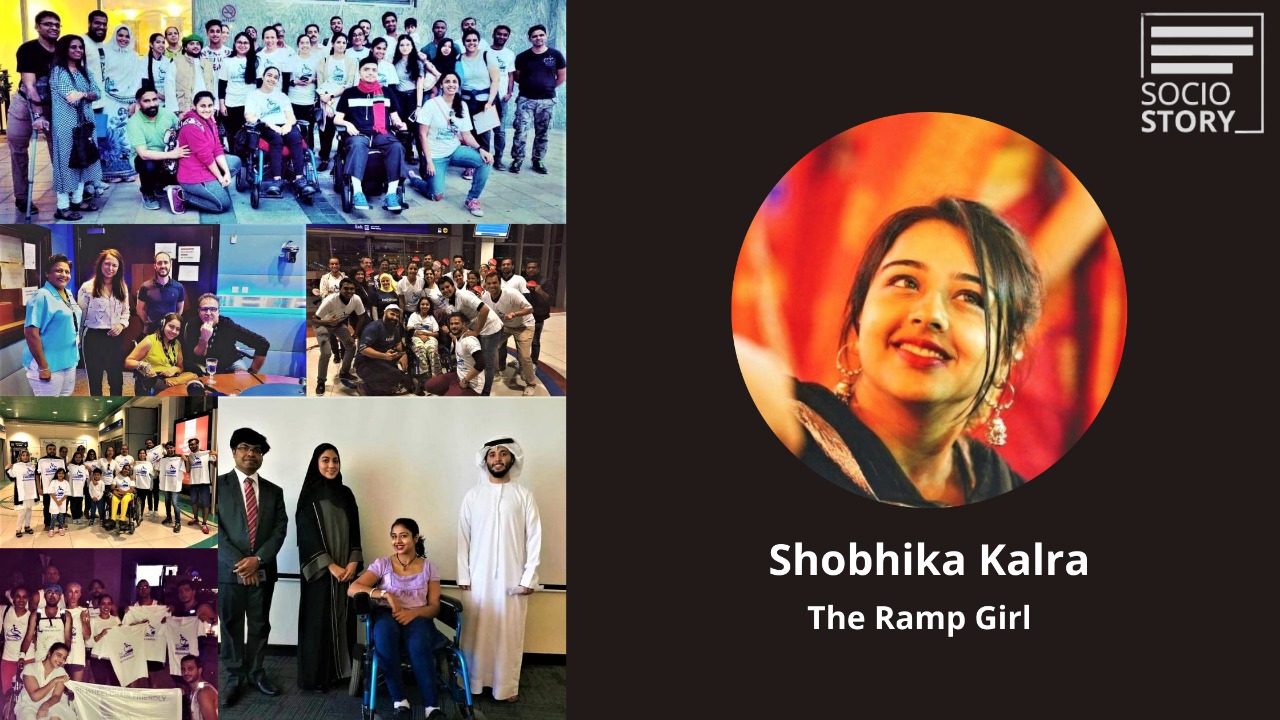 By:Reshma Jain
From being diagnosed with rare muscular nervous disorder called Friedreich ataxia to being the youngest Indian in the Middle East to receive 'She the Change - Udyami award' (during the Pravasi Bharatiya Divas 2019 in Kashi, Varanasi), the journey of Shobhika Kalra has inspired people around the world. Since then, there has been no looking back and dealing with challenges has become a way of life for this woman. Socio Story presents you the story of this brave young woman from India.
Hailing from Delhi and now based in Dubai, Shobhika (29 years) has been wheelchair bound due to the degenerative disorder which was detected at the tender age of 13. Shobhika was an achiever in both academics and extra-curricular activities in her school days. After Shobhika's rank started to slip, she decided to pursue her education in a boarding school in Hyderabad. However, her mother had noticed that Shobhika was not walking straight and sometimes tripped as she lost balance. Shobhika's life took a turn when her mother asked her to go for a comprehensive health check-up before she leaves for boarding school. Fate had other plans for her and the day she realised about the rare disorder, she was shattered and went into depression.
However, she realised that this is not the end. It took some time to muster the courage and confidence to face the world. She felt a strong need to contribute to something larger than herself. Although her body did not allow her to do everything, she had to decide on the way things should be for her. Being wheel-chair bound from the age of 15, she completed her education and nothing stopped her from pursuing her ambitions in life. She not only finished schooling, but also went on to pursue a Bachelor's Degree in Business Management and a Master's degree in Psychology. Shobhika is currently working with Eduscan as a Psychologist, she runs a beauty blog and leads a social initiative called Wings of Angelz. "After my disorder, I value my life a lot more," stated Shobhika.
So, what led to the launch of the initiative called Wings of Angelz that aims to make the world more wheelchair accessible?
"While visiting India a few years ago, my sister and I made a plan to go for a movie. Since there was no access to the wheelchair, I was carried by four men to the movie hall. I felt uncomfortable and embarrassed. I told my sister about how I felt and my sister went and spoke to the manager about the situation. Obviously, there was nothing that could be done. Hence my sister and I thought of creating awareness towards making public places wheelchair friendly and Wings of Angelz was set up in 2014. Based in Dubai, Wings of Angelz is a disability awareness group that works with organisations to help construct ramps in public spaces. We also work with organisations in Delhi, Bhopal and Bangalore," said Shobhika who recently went scuba diving to spread awareness about wheelchair accessibility.
Stating that Wings of Angelz has successfully managed to convince over 1000 places in Dubai to become wheelchair accessible including key organisations like RTA, Emirates NBD, Bab Al Shams etc, Shobhika added, "This initiative is in line with Sheikh Mohammed's vision of making Dubai disabled friendly by 2020."
Shobhika says that they are now keen to take their work on inclusion to the next level and they would be launching an app called 'HeyPOD' where POD stands for People of Determination. The app aims to empower and enable people of determination by providing information on accessibility and career opportunities available. They are also expanding their work beyond people with mobility impairment to people with vision, hearing and cognitive impairment. The app will be ready by the end of 2020 and they plan to have a big launch event for the app in 2021.
Speaking about her future plans, Shobhika who was awarded for her community service by H E Sheikh Nahyan bin Mubarak Al Nahyan, U.A.E's Minister of Tolerance, said, "HeyPOD app will be launched in the UAE but we hope to take it to India as well. The app will help people of determination identify the accessible places depending on which they can decide on which places they want to visit and secondly plan to connect people of determination with people who want to hire them for work."
Shobhika who was given a certificate of appreciation from the Mohamad Bin Rashid Majlis for helping build Dubai's future said that nothing is impossible to achieve. "Believe in yourself," she concluded.
You can follow her initiative at below link:
https://www.facebook.com/WingsOfAngelz/