Meet Shreelata Menon who is encouraging people to shift towards a sustainable lifestyle
Jan. 5, 2021, 2:50 p.m.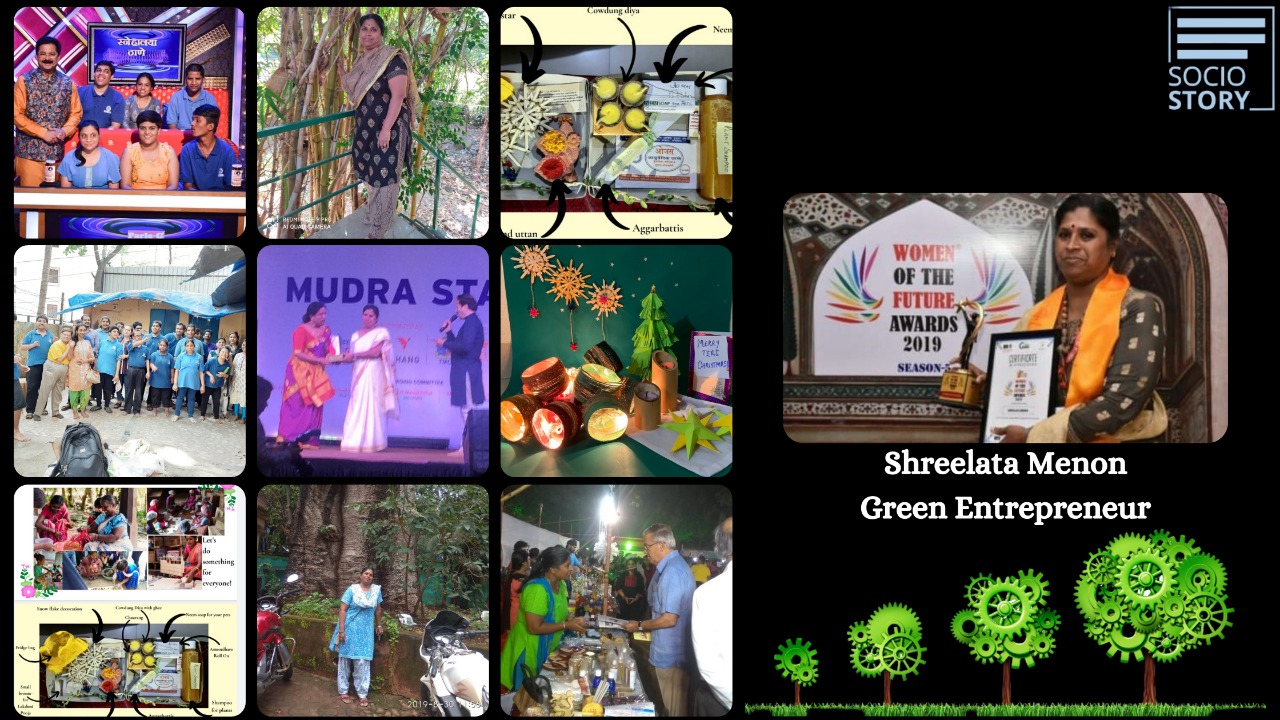 By: Reshma Jain
A nature lover and a passionate conservationist, Shreelata Menon believes that the need of the hour is to renew our relationship with planet Earth. Environmentalists, climate activists and other stakeholders are of the opinion that we need to adopt a sustainable way of living and on the similar lines, Menon appeals to people to change their approach and attitude towards planet Earth. All we need to do is bring a behavioural shift in our lifestyle by consciously adopting an eco-friendly living in our day-to-day life.
Menon who has been in the environment education sector for around two decades with focus on green entrepreneurship for the last eight years, says that her initiative is a practical venture to render green lifestyles through green livelihoods. The objective is thus, bifold.
While speaking to Socio Story, Menon said, "The primary objective is environment conservation while the second one is to support social causes by providing sustainable livelihoods."
She further explained that the initiative has three levels; the first one is promoting environmentally friendly products through a platform which provides alternatives manufactured by self-help groups. Menon has operated this platform under the name 'Green Shoppe' for the last eight years in which there are more than 100 products from around 30 groups across the country.
The second level is promoting concepts which are sustainable in the long term and are essential for conservation. 'Shree's Green Ventures' addresses this level. The third level would be more research and institutional based which is in the pipeline.
Menon is a post-graduate in Microbiology and has done a certificate course in environment education and a diploma in ecology and environment. Menon who is now a 'Green entrepreneur' sells eco-friendly products manufactured and produced by NGOs and social groups across the country. Menon said, "I actively network with 30 groups who manufacture more than 100 types of products. This enables them to be self-sufficient and helps in sustaining their families."
"I feel the two most important things I am trying to address are; to provide genuine eco-friendly products as many things are sold under the banner of 'Green' which misleads consumers and the second aspect is to try to make these products affordable so that it does not remain a privilege for a few. Only if the majority of people start using these products, true conservation and change is possible," shared Menon who is based in Thane, Maharashtra.
47-year-old Menon who promotes eco-friendly rachis, Christmas and Diwali gift kits opined that the preparation of these kits has provided livelihood alternatives to more people at the same time has helped in conserving our environment. She has initiated a campaign called 'Sell in India' to promote local goods in line with PM Modi's Make in India campaign.
"I aim to widen my well-wishers' base and be able to persuade more and more people to opt for green choices in their day to day lives. Your support will go a long way in sustaining the livelihoods of many worthy and skilled/ unskilled people who desire to make a sustainable living," concluded Menon who was awarded with the Women of the Future Award (WOTFA -2019) for the environment category from 455 nominations across the globe where she emerged as one of the 30 winners.
Important : If you are making an impact in the world, Please send us your story at : manoj@sociostory.in and we will try to cover you.