Meet Shubhendu Sharma who is on a mission to bring back lost forests by creating them
May 31, 2022, 10:46 a.m.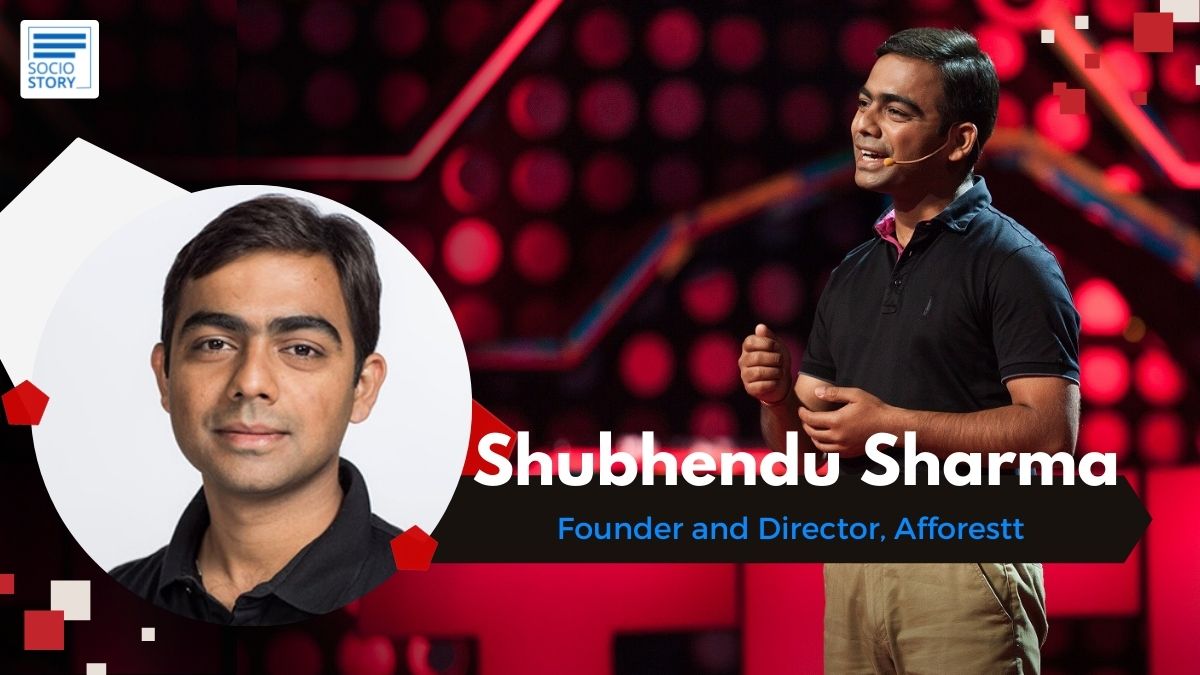 By: Reshma Jain
When Afforestt's founder Shubhendu Sharma attended a lecture by Dr Akira Miyawaki at Toyota Bangalore where he used to work as an engineer, little did he know that one day he will be instrumental in bringing back the lost forests to the world.
Shubhendu worked as a volunteer with Dr Miyawaki at his first forest creation project in India. In December 2009, along with his team, he started studying, researching and documenting the Miyawaki Method. This resulted in SOP (Standard Operating Procedure) documents on how to create a forest using the Miyawaki Method. To test his skill and knowledge, Shubhendu independently created his first forest in Uttarakhand (in his backyard) using the Miyawaki method. Miyawaki's technique has regenerated forests from Thailand to the Amazon, and Shubhendu thought to replicate the model in India. He tried and with slight modifications, he could see the change taking place within an year.
With a mission to implement this method on a large scale, Shubhendu left his job and launched Afforestt on January 2011. After showcasing Afforestt's mission and vision at various forums, they got their first project as a company to create a backyard forest in Whitefield Bangalore. This subsequently led to implementing other projects not only in India but also abroad.
Adding feathers to his cap, Shubhendu was awarded the INK Fellowship and given a chance to present Afforestt's work at the INK conference. Shubhendu was awarded the Ashoka Fellowship and Afforestt was recognised as a social enterprise in 2013. The next year, Shubhendu was awarded the TED Fellowship and he spoke at the TED conference in Vancouver, Canada. After the talk was released online, Afforestt received major international attention.
"We wanted to establish ourselves as professionals providing forests as a service and industrialise the process of afforestation. The organisation has planted around 5 lakh trees in 150 small, fast-growing forests in 50 cities around the world," said Shubhendu adding that Afforestt is a for profit social enterprise on a mission to bring back our native forests and an end-to-end service provider for creating natural, wild, maintenance-free, native forests.
Adding that his enterprises saw the real impact when villages came together to plant few acres of forest to improve soil quality, conserve groundwater, Shubhendu said, "Not only did the planted forests improve the natural resources in these villages, but also provided an entrepreneurial opportunity to the youth living close to the forests. These youngsters collected seeds of trees to germinate seedlings and we bought these seedlings from them for large-scale afforestation projects."
On being asked about the process, Shubhendu shared that the process starts with doing a soil survey and finding out what the soil is missing. The minimum land size should be 1,000 square feet and then a survey is done to study the native plant species and biomass. After the survey, saplings are prepared in a nursery and soil is mixed with biomass to make it more fertile. Then the process of planting 50 to 100 varieties of native species at a density of 3-5/sq. meter starts. The last stage involves watering and weeding the area for next two years, after which the forest needs no maintenance and becomes self-sustainable.
Shubhendu has a lot of plans to scale up and put this idea along with technology out there for more and more people to implement. He is planning to launch a monitored crowd-sourced software where people will be able to feed their native plantation species in the tool. So, in case someone wants to plant their own forest, they would know what all species to go for. This will make their task a lot easier.