Meet the duo who are on a mission to educate the rural girls and women on a taboo topic- 'Menstrual Health'
Dec. 27, 2020, 2:27 p.m.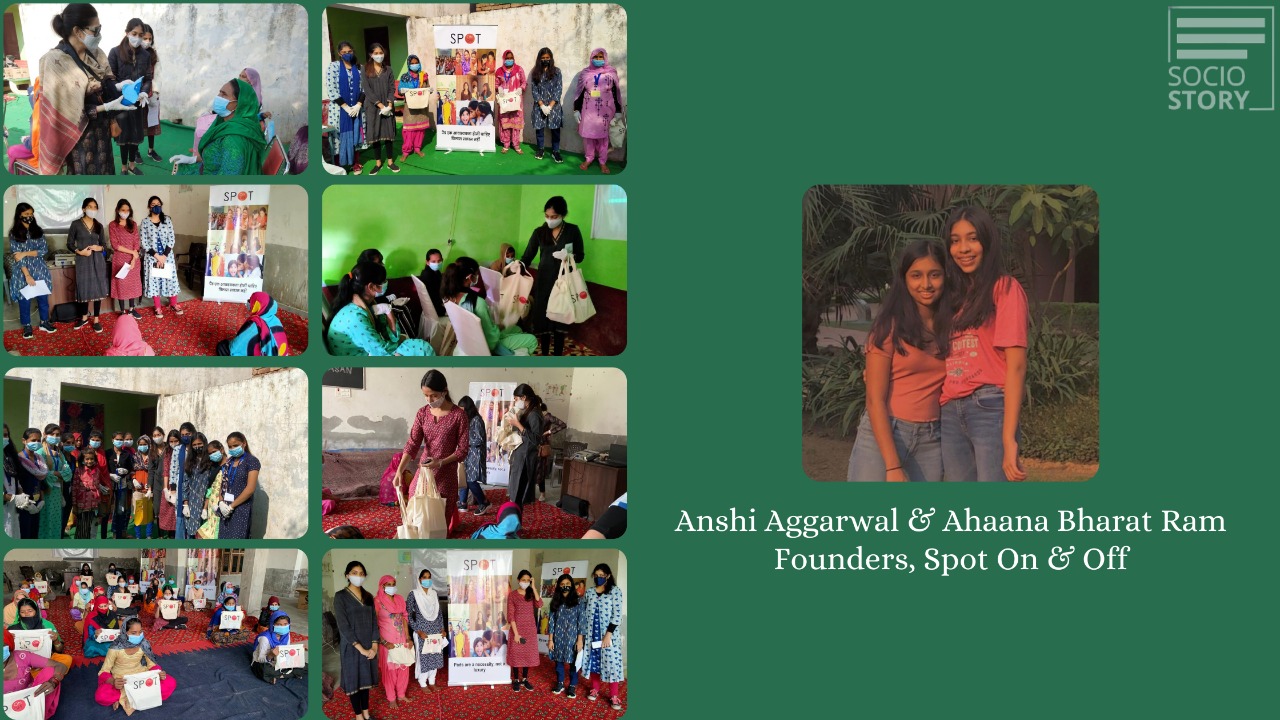 By: Reshma Jain
Millions of young girls and women in India struggle every month when they menstruate. From mood swings, menstrual pain, nausea to blood pressure fluctuations, fatigue and hormonal levels, these are a few problems which most of the women face during the menstrual cycle. Although menstruation is inevitable and inescapable, there are many more factors due to which women need to face a lot of problems. One of them is the lack of knowledge on what's happening in their bodies and the lack of hygiene during such times. So, what needs to be done? Spreading awareness, education and sensitising young girls and women on prioritising menstruation as an essential health need, especially in the rural areas is one probable solution.
So, to spread awareness, two little girls in their grade 9 from the Shri Ram School came up with an idea. But before we learn more about their idea, let us take a glance at their journey of making a difference. Having experienced the embarrassment of having to sneak around to change her pad during her menstruation at school, Ahaana realised that the situation is probably a lot worse in the 'less educated' India. On researching the status of the same in rural India, Ahaana felt the need to help young girls in making them feel more comfortable about the topic.
When Ahaana Bharat Ram and her friend Anshi Aggarwal were doing some research for a school project, they came across the statistics on how many women in India use sanitary napkins. They were surprised to know that only 20% of menstruating girls and women use sanitary napkins. That was the moment when they felt the need to initiate action.
They also researched a little more and realised that there was no organization in India raising awareness about menopause. They then took this topic into consideration and started an initiative called 'Spot On and Off' with a vision to make a difference to their lives by spreading awareness and empowering these girls and women. "We want to fight the taboo around menstruation. We want to improve menstrual hygiene through better access and availability. We will strive to empower women to embrace menstruation and menopause which is something very normal and natural in a woman's life cycle," shared Ahaana stating that the initiative was kickstarted in May this year.
To achieve their goal, they begin by adopting a village and then doing a survey with them. This is followed by a workshop and pad distribution. "Right now, we have adopted two villages - Kherla and Rewason in Haryana. We plan to go back and visit them in January 2021 and maybe take a gynaecologist along with us to give professional advice to the girls and women. Around March (three months later), we plan to do another survey to see the difference we created. We plan to expand our reach and do this in many more villages in India," stated the young girls while speaking to Socio Story.
As per survey reports, the current status of girls and women in rural India is extremely poor. A lot of girls and women don't buy sanitary pads because they believe they do not need it. While some do not understand the importance of menstrual hygiene, the others feel that it is too expensive for them to buy. In a lot of cases, their fathers or husbands restrict them from buying pads. When girls start menstruating, a lot of them drop out of school for various reasons. They are not educated on these topics from a young age and because of this they are extremely unaware of what happens in their body cycle. To improve the condition of girls and women from the grassroot level, the need of the hour is to spread awareness and bring about a change in the interior parts of the country.
Sharing their experience after having a discussion with 10-12 girls from Mewat in Haryana to understand their issues and what can change their lives, Anshi who is a national level long distance swimmer, stated, "Mewat is one of the most backward places in India and if we can bring a difference in these girls and women in this region, we can start a movement to make broader change. When we met a few girls in Mewat, they spoke about their experiences when they started puberty which can be extremely scary and confusing for girls who have their first period. They spoke about their environment – most often their mothers are not willing to buy pads for their daughters. Their mothers and aunts still don't understand the importance of hygiene and don't see the need for pads."
Ahaana who ran a campaign to raise funds for the Blind Relief Association (B.R.A), Delhi during the pandemic, further shared, "When giving and educating the girls of Mewat about the sanitary pads, the joy that was brought upon their faces was really heart touching. On our trip to Mewat, a group of young girls pulled us aside and told us that their mothers don't wear pads because they do not know how to dispose of them and they are ashamed to tell us. Upon hearing this, we educated the mothers on how to dispose of a pad. After a few days, we were informed that a few mothers started using pads."
Sharing their future plans, the duo mentioned that:
They would like to educate these girls and help them navigate this stage of life with confidence.
They would like to educate their mothers and aunts. They have prepared a video with professionals (gynaecologists) to talk about hygiene and menstrual health and the need to use pads.
They would also provide these girls reusable pads which can last 1 and a half years - 2 years, to help them take the first steps. Eventually, this can be a self-sustainable method for them to continue using a pad to maintain good hygiene.
Important : If you are making an impact in the world, Please send us your story at : manoj@sociostory.in and we will try to cover you.