Meet the duo who are on a mission to give 'Access to Hope' to people with disabilities
April 7, 2021, 8:41 p.m.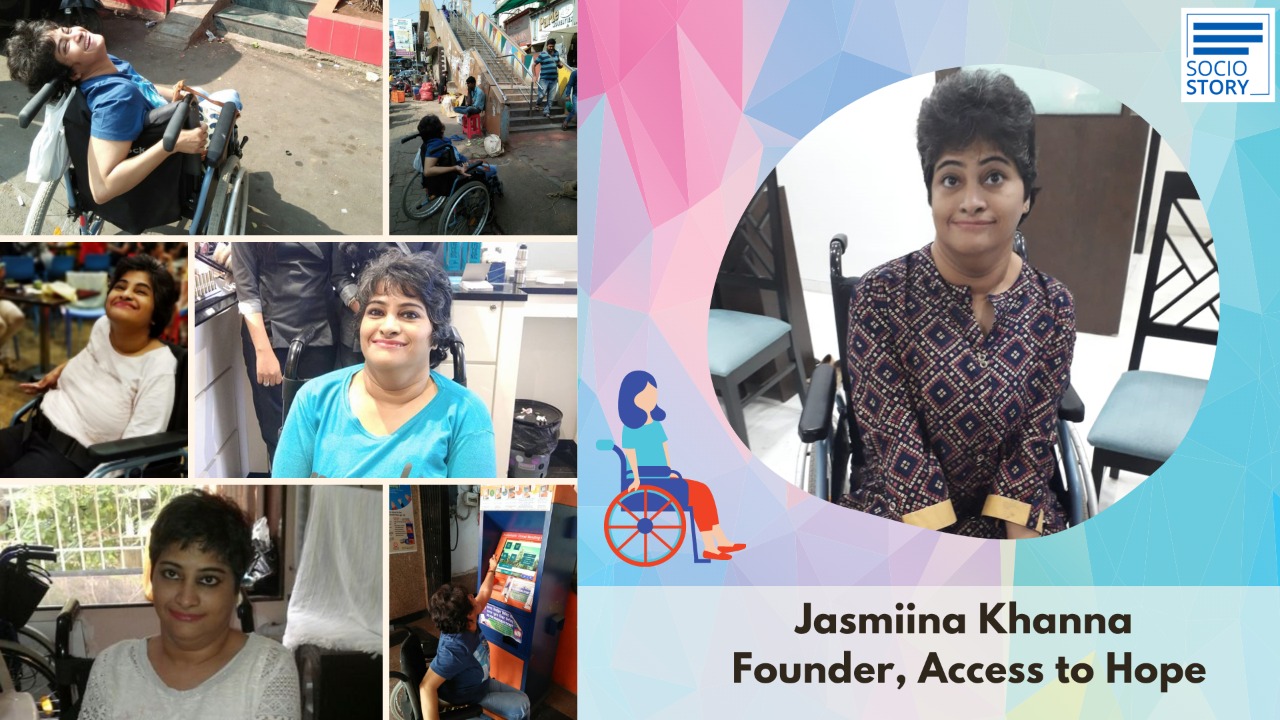 By:Reshma Jain
If people with severe physical disabilities can dance, trek, swim and play sports like cricket/basketball, etc, there is no question on their grit and determination. Hundreds of such people have set an example and have proved that any kind of disability will not deter their dreams. However, when it comes to day-to-day lives, life is quite challenging for them due to inaccessibility. Be it buying grocery/medicines/essentials or moving out to visit parks or shopping malls, people with disabilities are dependent for support and most of the time they feel embarrassed to be lifted by other people.
Be it any person with disability, there is a thin line between being disabled and inaccessibility. Most of the people with any kind of disability opine that it is not their 'disability' that bothers them, but it is 'inaccessibility'. When it comes to public spaces, people with visual impairment would look for tactile paving, hearing impaired would look for signages while people with physical disabilities would look for ramps and other supportive facilities.
While I was giving a thought on the difficulties that people with disabilities face, I happened to have a long conversation with Jasmina Khanna who was born with Cerebral Palsy- a neurological disorder, and has been on a wheelchair since then. Based in Mumbai, Khanna had always felt that the roads, footpaths, establishments and other public spaces remain inaccessible not only for people with disabilities but also for senior citizens and pregnant women.
Hence, Khanna along with her friend and physiotherapist Sanket Khadilkar conducted an audit in a few areas of Ville Parle East. To take it forward, the duo wanted to bring forth a universal design so that public spaces are accessible for all. In a bid to bring about a positive change in the disability sector in India and to bring infrastructural accessibility to the forefront, the duo started a non-profit organisation called 'Access to Hope' with the aim to make life accessible for all, irrespective of disability, age or gender.
"Currently, we are working with the aim of bringing infrastructural accessibility to the forefront of infrastructure designing. The larger goal is to make all roads and footpaths, bus stops, public toilets, and other public areas like parks etc. in Mumbai accessible to the differently-abled based on the accessibility guidelines provided by the government of India. Our pilot project is underway in one of the suburbs of Mumbai. It is being implemented by the Municipal Corporation of Mumbai and supervised/audited by the Access to Hope team," shared 49-year-old Khanna, a software engineer by profession.
While treating children with disabilities, Sanket usually pondered over the thought; 'what is the future of differently-abled children in our country'? "Having seen children with Cerebral Palsy (CP) as his primary clients, Dr Sanket said, "Knowing the fact that these children would grow to become adults with CP, Rehabilitation is definitely one of the components which will improve the quality of a child's life. The other components include inclusive education, employment and accessible infrastructure for a better future. That was when I realised, I would do something for the welfare of such people," shared Sanket.
"Accessibility in India is merely on paper", opines Sanket. "Almost 95% of the people are not aware of the accessibility guidelines laid down by the government of India. Sugamya Bharat Abhiyan that was launched in India in the year 2015 has not really taken off. Every individual who is aware of accessibility guidelines by the government of India should push the local government authorities to implement accessibility in their local areas. Also, the need of the hour is to bring awareness about accessibility amongst people in their environment. This way, we will be able to take accessibility at the grassroot level," said Dr Sanket adding that their mission is to provide the differently-abled various avenues to the world through accessibility, education, empowerment and rehabilitation.
"Lack of accessibility is a deterrent to the dignity of life. Although there are quite a number of people with some or the other disability, it's not very often that we come across them. This is because there are hardly any avenues or spaces where they can be independent. Hence, we want to give them equal opportunities as the abled-people and we are striving hard for the same," added Sanket.
Khanna shared that being a person with disability since birth, she has always been a part of disability activism- a thirst to bring about a positive change in the disability sector in India. "We have been able to sensitize the Mumbai Municipal Corporation officials about infrastructure accessibility. For most people, accessibility means just building a ramp. Accessibility is much beyond if accessibility guidelines of the government of India are followed," said Khanna by adding that there will be many projects that they will be working on in the future to make an inclusive society.
Note: Our stories have been making an impact! To create a larger impact, selected stories featured on Socio Story platform will get an opportunity to be supported by Donatekart.
Important : If you are making an impact in the world, Please send us your story at : manoj@sociostory.in and we will try to cover you.