Meet the duo who founded UNEAKO to share sustainable happiness
July 30, 2020, 9:07 p.m.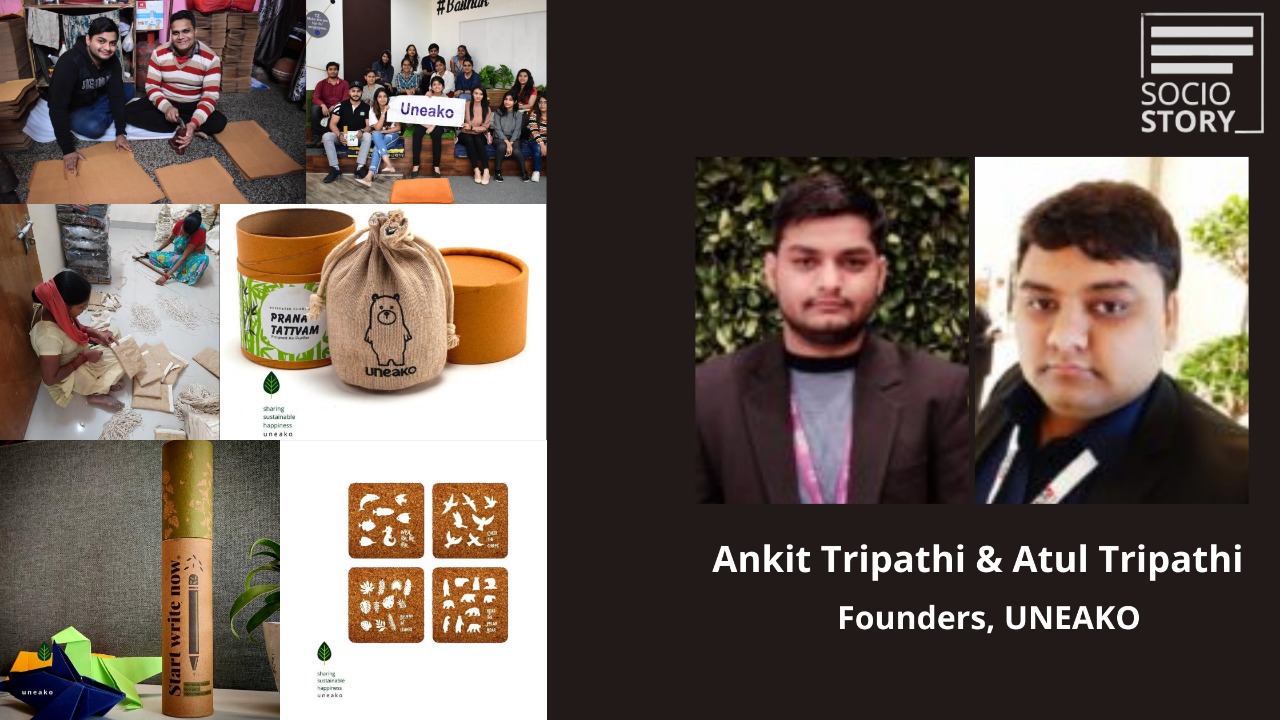 By:Reshma Jain
East Delhi is home to the Ghazipur Landfill that is set to become taller than the Taj Mahal. It is a space that now represents wasted potential. It takes up space that could be used for the creation of opportunities. It symbolizes the failures in waste management and equal opportunities. Animals choke on the waste that finds itself in the Ghazipur Landfill and ragpickers especially children choose to forage through its filth rather than go to school. The landfill is a testimony to the fact that waste management, climate change and the alleviation of poverty are problems that do not exist in isolation but must be combated together. The existence of landfills like the Ghazipur Landfill inspired the creation of UNEAKO.
Burning issues of rising climate change and the threatening problem of single use plastic, gave the two brothers Ankit Tripathi and Atul Tripathi a strong push to think about a way to save our environment. Ankit, a B Tech graduate and Atul, a design thinker together envisioned the concept of UNEAKO, where they decided to come up with unique alternatives for plastic to maintain the sustainability of our environment in the long term.
'Uneako' is an amalgamation of 'unique and eco' meaning that it provides eco-friendly and sustainable products never seen before. With its motto "sharing sustainable happiness", it strives to curb the environmental threats of climate change and plastic pollution by introducing an exclusive innovative range of climate positive product solutions, which are made using various organic, natural, industrial waste and biodegradable materials. Alongside they are also trying to support the marginalised communities of our society by employing them to heart craft their products.
Uneako produces eco-friendly products that cater to a variety of audiences. Since its inception, Uneako has constantly striven to coalesce ecological responsibility with utility. The high quality of products ensures that efficacy is not compromised for green production. Uneako employs members of marginalised communities and provides them with the tools for financial and social independence.
Stating that Uneako was started when Ankit was a student and is still in its initial phase of functioning, Ankit said, "Uneako has helped stop 3.25 tonnes of plastic from reaching landfills. More than 85 trees have been saved by the efforts of Uneako and this has curbed more than 1.2 tonnes of harmful CO2 emissions. Uneako has helped provide a livelihood to more than 24 individuals. Its operations have now saved more than 16 litres of water and 11 MWh of energy. As production continues, a higher degree of impact is created."
Adding that the team had engineered face masks that they supplied to the police forces of Uttar Pradesh, Ankit said, "Uneako has provided support for several clients and helped create conditions necessary for a green company. Some noteworthy clients include the WWF India, AIIMS, BIMTECH and the Uttar Pradesh police. Uneako hopes to create a positive change by supporting other movements for the same and we wish to inspire people through our passion for climate positive activism. We also wish to be a part of a global movement to achieve the UN SDGs for the future and we hope to inspire the change necessary for this reality."
Speaking on the future plans the duo stated that they hope to expand their company and create a better impact on the environment. They would like to make a mark on climate positive activism and they aim to benefit the largest number of people through their operations. "We see Uneako as more than just a company- we hope to see it become realized as a social movement and revolution for the planet. We would spread awareness about the sensitive nature of the problem of climate change and we aim to collaborate with like-minded organisations and individuals," said Ankit who is trying to encourage people to adopt a sustainable lifestyle.
Komal Goyal who has been involved with Uneako, said, "Uneako is a unique endeavour for a better future. Each of its products mitigate environmental damage and leave climate positive healing in its stead. I am grateful for the perspective that Uneako has allowed me- I have come away with renewed passion to end the use of harmful practices to the environment. Uneako provides an alternative creative solution while working for the social upliftment of society."