Meet the Golden Girl of India- Centenarian sprinter Man Kaur
Dec. 14, 2020, 4:07 p.m.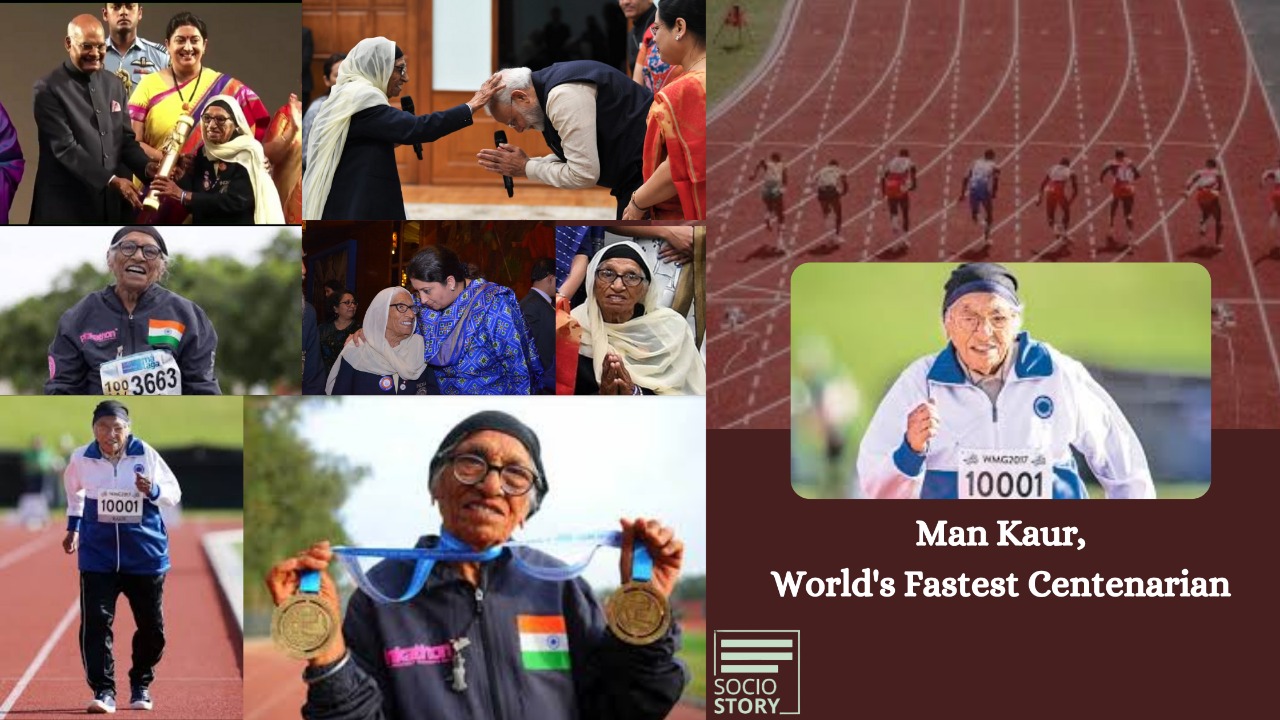 By:Reshma Jain
In 2020, she was awarded the 'Nari Shakti Puraskar' by the President of India. In 2019, she bagged four gold medals in the 21st Asia Masters Athletics Championship (AMAC) at Malaysia. In 2017, she competed in Poland winning four events in her category. In 2016, she became the fastest centenarian at a competition in the American Masters Game. She is the oldest person in the world to walk along the top of Auckland's sky tower. Unbelievable, right? But yes, the list goes on and on. Before we list her achievements, Socio Story brings to you the inspiring journey of a 104-year-old Indian track-and-field athlete.
The saying 'Age is just a number' holds perfect for Indian centenarian sprinter Man Kaur. Having started her sporting career at the age of 93, Kaur has won hearts all over the world. Inspired by her Octogenarian son Gurudev Singh, Kaur is someone who loves every step of every mile. "A few years ago, I realised that I am missing some things in life and it was time to realise my potential. My son who is an athlete has been my coach and I derive inspiration from him," expressed Kaur who hails from Patiala.
Singh who has bagged more than 80 racing medals, said, "With no health issues in her old age, I thought it is important to maintain fitness. So, I took her to the track when she was 93 and asked her to run 400 meters. She slowly did it and since then, she never looked back," stated Singh.
Being a little curious on how she manages her schedule at this age, I requested her to share her daily routine. To which she answered, "After waking up at 4 am, I wash my clothes, make my tea, recite prayers till 7 am. Once I complete my daily chores, I land up on the track for my sprinting practice."
Kaur further said, "You are what you eat, hence the most important thing is to live a healthy life. Once you are physically fit, you are mentally active and you will have a greater potential to work towards your life goals. Physical fitness is a value which needs to be inculcated in children from the beginning. Given the present quality of food and the rate in which lifestyle disorders are increasing, physical fitness is mandatory for both young and old people."
At an age where people think travelling overseas is impossible, Kaur has travelled to America, Canada, Taiwan, New Zealand, Spain, Poland and Malaysia, and has been adding feathers to her cap while making her country proud. Kaur who has participated in five World Masters Games says that running is like meditation for her. Kaur's son trained her for the 2017 World Masters Games in an effort to improve on her own world record which she set over the years (100 metre sprint in 81 seconds). At the 2017 games in Auckland, she completed the 100-metre sprint in 74 seconds. In 2019, she competed in Poland winning four events in her category - shot put, 60m sprint, 200m and the javelin.
However, Kaur has not only joined the league headed by Usain Bolt but also broke the Guinness world record for Javelin with a throw of 5.12 meters. The Indian super granny has nailed around 31 international medals (Sacramento, Taiwan, Canada, New Zealand, Spain, Poland, Malaysia, etc) and 13 national medals within 10 years.
Singh who cooks food for his mother every day, said, "Positive thinking and healthy lifestyle are the keys to lead a successful life. Age is not a constraint to chase your dreams."
Important : If you are making an impact in the world, Please send us your story at : manoj@sociostory.in and we will try to cover you.