Meet the mother-son duo who have been providing free tiffin services for Covid-19 patients
May 11, 2021, 10:42 p.m.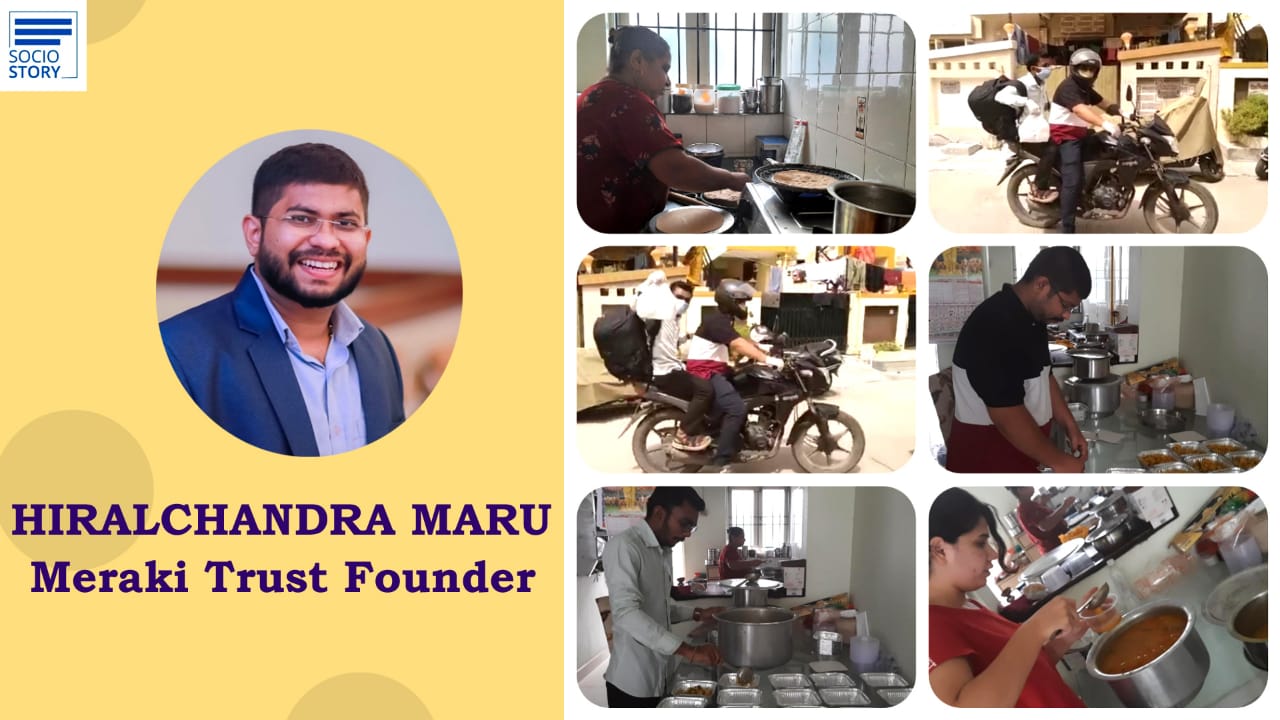 By:Reshma Jain
Amidst all the chaos when the pandemic struck India, Hiralchandra Maru lost his father last year. He realized the excruciating pain and the feeling of helplessness one goes through after losing a loved one. So, this year, after much thought, Maru decided to provide free tiffin services to those battling the virus and the ones quarantined at home. Since the pandemic struck, Maru had this intense feeling that he needs to contribute in whichever small way he can.
In a conversation with Socio Story, Maru said that he realized that those inflicted by the virus are fighting many battles-physical, mental and financial too. Therefore, he decided to take a step to reduce some burden of the expenses borne on food when the whole family goes into quarantine and when one does not have anyone to take care of them.
This service is being carried out under the Meraki Trust in Rajkot. Maru initiated this idea and started it with the active support of his mother Naliniben Maru (54 years) who single handedly agreed to prepare the meals at home. Maru, 28-years-old, shared this idea with his peers and family and everyone contributed in whatever form they could. Slowly it spread and requests for meals started, following which donations also started coming in. They got the helping hands of volunteers from the Vivekananda Kendra for delivering food and now two families have volunteered for cooking the meals. The whole project is run on donations received from kind-hearted people.
Stating that this initiative started on April 20 this year, Maru shared, "We had received meal requests from just one patient at that time and now our help has reached 110 patients. Till date, we have served around 1,100 meals and we plan to continue serving people in need in Rajkot. For a better meal, we have also started providing fruits in the afternoon meal."
"The patients reach us primarily on WhatsApp. We request their Covid positive report to ensure optimal use of our service to the needy. The confirmation of the day's demand of meals is received one day prior, following which we deliver accordingly. We have 5 volunteers who help us deliver the meals across the city," added Maru.
The mother-son duo has been helping a lot of people in their city. They take utmost care during the preparation of the meals and delivery. The food is prepared in hygienic, homely premises. Their volunteers deliver the meals by wearing double masks and hand gloves. The deliveries are absolutely contactless and they sanitize their hands after each delivery.
"Till the second wave normalizes, we will continue with this service. We have also been registered as authentic free meal providers in sites like Covid meals for India and Gujarat Covid support. We are all well aware of the possible after-effects of the pandemic and we are analyzing these effects to decide upon our next initiative," added Maru.
Sharing his journey on foundation of Meraki Trust, Maru said that it was 8 years ago when he got associated with Vivekananda Kendra which actively works for the welfare of people. That was the time he knew what he wanted to do for the rest of his life. "I believe the real purpose of living is to live for others. Swami Vivekanada also has said, 'They alone live who live for others, rest are more dead than alive.' Following which I decided to take a formal degree in Social Work. I also founded Meraki Trust in 2018 with an intention towards the holistic development of communities," concluded Maru.
Important : If you are making an impact in the world, Please send us your story at : manoj@sociostory.in and we will try to cover you.