Meet these two brothers who are helping farmers by their unique idea of social impact
June 2, 2020, 8:49 a.m.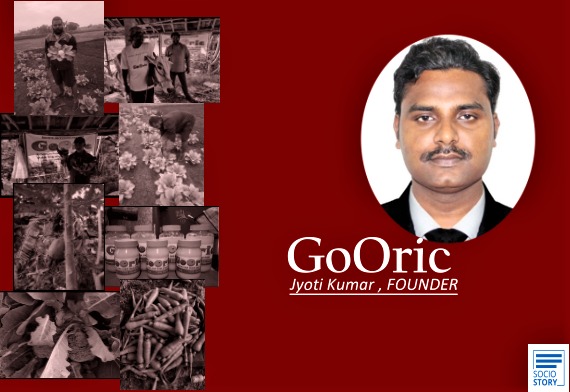 Around 3 years ago, Jyoti Kumar, a 35 year old born and brought up in Dhanbad,Jharkhand was struggling hard to get pious A2 milk for his pregnant wife, for which he had to travel 5-6 kilometers everyday from his home. It was then that he decided to help other pregnant women and children who were struggling as well by formulating the idea of A2 milk and A2 milk products. The mechanical engineer then presented his ideas to his brother, Deepak, a 37 year old MBA(HR), who also showed a positive response, which then gave birth to the core team of GoOric.
Jyoti had the opportunity to learn both sports and science as his father is a volleyball player and his mother is a high school science teacher. Both brothers had a hard time trying to convince their family to allow Deepak to follow his dreams by quitting his desk job as HR Admin Manager. They faced a lot of hardships in the initial stages but they did not give up. For starters, they had trouble communicating with the farmers as Bengali is not their mother tongue. Convincing farmers to take up organic farming and providing milk from Indian breed cows was a challenge. Deepak was facing uncertainty of success each day. It was very difficult to convince the customers to buy GoOric products because it cost higher than the usual products available in the market. Because of this they decided that their target customers would be the working/business class of the society. Since theirs was a door to door service, it took a lot of effort to shed all and act as a delivery boy.
"It's satisfying to see a happy customer and an equally happy farmer"
Nearly 1400 pesticides registered by the Environmental Protection Agency for agricultural and non-agricultural uses have been linked to brain and central nervous system, breast, colon and lung cancers. GoOric believes that although we cannot stop our children's exposure to toxins in the environment, we can limit their exposure to these chemicals by following an organic diet. They are working for the idea of providing the access of A2 milk from Indian breed cows to our growing children as they are our next generation who should be healthy. Through this initiative they also aim to promote Organic farming and Indian breed cow's milk.
Today, Jyoti and Deepak have invested around 20lacs in their business already and although they are continuously growing, their current revenue being 1.2 lacs per month, they are looking for an investment of 50lacs to grow their business by setting up stores across the country to help people get their organic and adulteration free products delivered to them. GoOric is different than other dairy product brands because they provide all organic products to fork so their product quality is unparalleled. Their business is currently managed digitally. They reach their customers through whatsapp messaging group and their business partners through organicmandi.in . The customers love their products, especially the kids are unwilling to try any other brand. They have been delivering milk, vegetables and grocery items as well (Which is called GoOricans).
"Through this initiative we urge people to come forward and buy organic farm products, even though it doesn't look clean as chemical based products. It will help local farmers"
The story behind GoOric is the story of two brothers who started a farming business with no prior experience in business trying to impact the society by helping farmers and their families, with the help of their mentors Mr. Ashutosh Burnwal and Mr. Abhishek Singhania. They believe that business should be inclusive, which is why they include soil, nature and cows as a part of their business progress. Their work will also inspire people to take good care of Indian breed cows, which will also contribute in their preservation.
-By Aayushi Singh

Important : If you are making an impact in the world, Please send us your story at : manoj@sociostory.in and we will try to cover you.