Meet this changemaker who is transforming the lives of homeless children by replacing begging bowls with books
May 31, 2020, 10:38 a.m.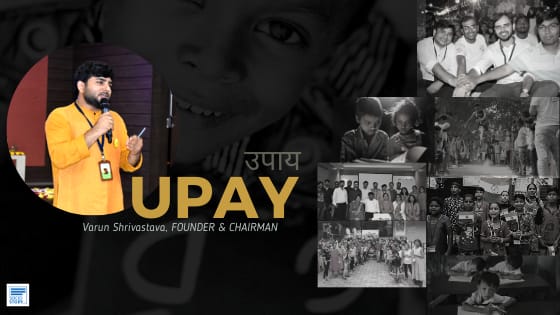 These days every parent aspires for their child to make it big, to see their dreams being fulfilled in their child, and to work towards providing the best of everything for their children. Every Indian parent desires that their child gets an excellent education, goes to the right college, gets a handsome paying job, and lives a comfortable life. But there are also parents in this society who can barely provide food for their children and can only dream of getting their child into school. These children are not so privileged like others and can't afford school education and a better life. We see children every day on roads and footpaths, begging for money and food, and because of their miserable circumstances, children who should have books in their hands are forced to beg on the streets with bowls in their hands.
They are forced to live their lives in darkness and misery far away from education, socially left out and ignored by society. But there are a few who want to change the plight by providing opportunities and guidance to them and working hard for their socio-economic upliftment. They care about these children and want them to get access to education and a bright future.
Varun Shrivastava, a 33-year-old social reformer who has studied from IIT Kharagpur and works as a manager at NTPC Limited, is one of them. He was born in a small village of Jhansi district in Uttar Pradesh. He could have lived a lavish life full of luxury after graduating from a prestigious institute like IIT. He still possessed this belief in his mind since his engineering days to do something for the homeless children. He decided to help those children who are rejected by society and took it upon himself to give them the best education possible and provide them with a better life. Varun remembers those days when he used to pass by traffic signals, observing the begging homeless children and their pain and strong will just to survive anyhow.
He used to wish that they could go to school and get an education like other children. One day after not being able to see their agony anymore, he decided to do something about it and took upon himself the responsibility of teaching those children and grabbed a blackboard, placed it near the junction pavement in front of the poor, homeless street children, and waited.
In the beginning, children and their mothers used to look at him with suspicion, but after a little while, they got used to him. After waiting for a long time, a little boy, around ten years of age with deep, confident eyes, suddenly came out of the crowd, escaping a fight with his mother. He glowed with an innocent smile, forgetting wounds caused by hustling with his mother. Watching this with deep satisfaction and happiness, Varun controlled his emotion and immediately handed him a pencil and a notebook. To his surprise, he grabbed them real fast. Varun was left heartbroken after knowing that the child did not even know his age or location; the only thing he knew was how to make a sad crying face in front of the passer-by while spreading his little palm to get some money. He was his first and only student that evening. Still, Varun knew there was something about this boy and felt more determined for his initiative.
He aspires to provide education to every child who is deprived of education and make them self-sustainable so that they can earn a livelihood and become learned and respectable members of society. Walking on this path of helping these helpless children with his friends, In 2010, he eventually started an NGO called UPAY, "Underprivileged's Advancement by Youth" in a small village Kumbhari, Near Nagpur. Varun and his friends established UPAY to solve two major issues that prevailed in our country for many years i.e. education and unemployment and has been successful in impacting the lives of 10000 children.
In his early years, the biggest obstacle Varun and his team faced was convincing the parents of these children. Parents used to resist because the children helped them by selling things at traffic signals and begging, and would have to stop if they went to school. But the resilience and perseverance were the only things that kept pushing him forward until he succeeded. UPAY currently runs two initiatives to uplift underprivileged children; The first one is 'Footpath Shala,' an open school for homeless children living on streets and footpaths. The volunteers organize classes for these children on the roadside. Most children who come under this initiative are uneducated. The second program is 'Reach and Teach' for the children living in slums and villages. UPAY has developed a pool of volunteers from those villages only, and now they are teaching the children in their own community.
They use school buildings and Anganwadis to educate these children. To bring children to the classes, they have to lure them with sports equipment, clothes, and the most important food. Till now, 5000 passionate citizens have Volunteered in various cities to teach in UPAY initiatives.
UPAY also runs an e-commerce portal, apnasaamaan.com, where they sell incense sticks, candles, and other handiworks made by the villagers and slum people. Money raised through the e-commerce portal is used by the NGO to fund the education of children of those villagers. UPAY believes that knowledge should reach every child of this country. It aims to replace begging bowls with books that bring schools to those who can't reach school and eventually create a model of informal learning.
It envisions to make its students as social leaders who can take up the initiatives on their own and carry on the spirit of UPAY. Initially, when Varun started with this initiative, he did not know how far he would be able to go with it. But within a span of 10 years, he has been associated with many like-minded people who have helped him to keep his spirit alive. By accompanying such people around, he has always felt motivated and more inclined towards the cause. Over the journey of ten years, UPAY, through its initiatives of 'reach and teach' and 'footpath shala,' has reached around 2300 children and brought them out of the vicious cycle of begging. Today UPAY has an army of more than 270 volunteers from all types of backgrounds, which includes doctors, professors, engineers, teachers, and other working professionals and has 38 centers in 7 cities, including Delhi, Noida, Pune, Bangalore, Nagpur, Mauda, and Gurgaon. Many of their students have made into government colleges,have enrolled themselves to get coaching for Higher studies, and at the same time, are now volunteers at UPAY and have started educational centers on their own.
Plans for the future of UPAY look very exciting, which includes starting theconcept of mobile 'footpath shala' so that a large number of children can be reached and educated. They aim to Reach 3000 children through 'Reach and Teach' initiative and uplifting 500 street youths and women through skill development programs. Along with that, expand their skill development e-commerce portal, sabkasaman.com, to provide livelihood opportunities to local artisans and women workers to promote women empowerment.
Varun says- "I want that no child should beg on the streets.
Every child should live a life he or she deserves. As responsible citizens of the country, we should realize the importance of education and help it reach every child and make an effort that hunger and poverty do not stop a child from being educated."Our society needs more heroes like Varun Shrivastava. He is an inspiration and is working towards a literate and better India, where "Every Child, no matter rich or poor, from the street or bungalow, must have the Right to childhood & right to education."
At Socio-Story we salute and celebrate the vision and the spirit of Varun, a true Changemaker.
Written By: Suvankar Das
Important : If you are making an impact in the world, Please send us your story at : manoj@sociostory.in and we will try to cover you.