Meet this couple from Madurai who facilitate consumption of sustainable products
July 21, 2021, 7:46 p.m.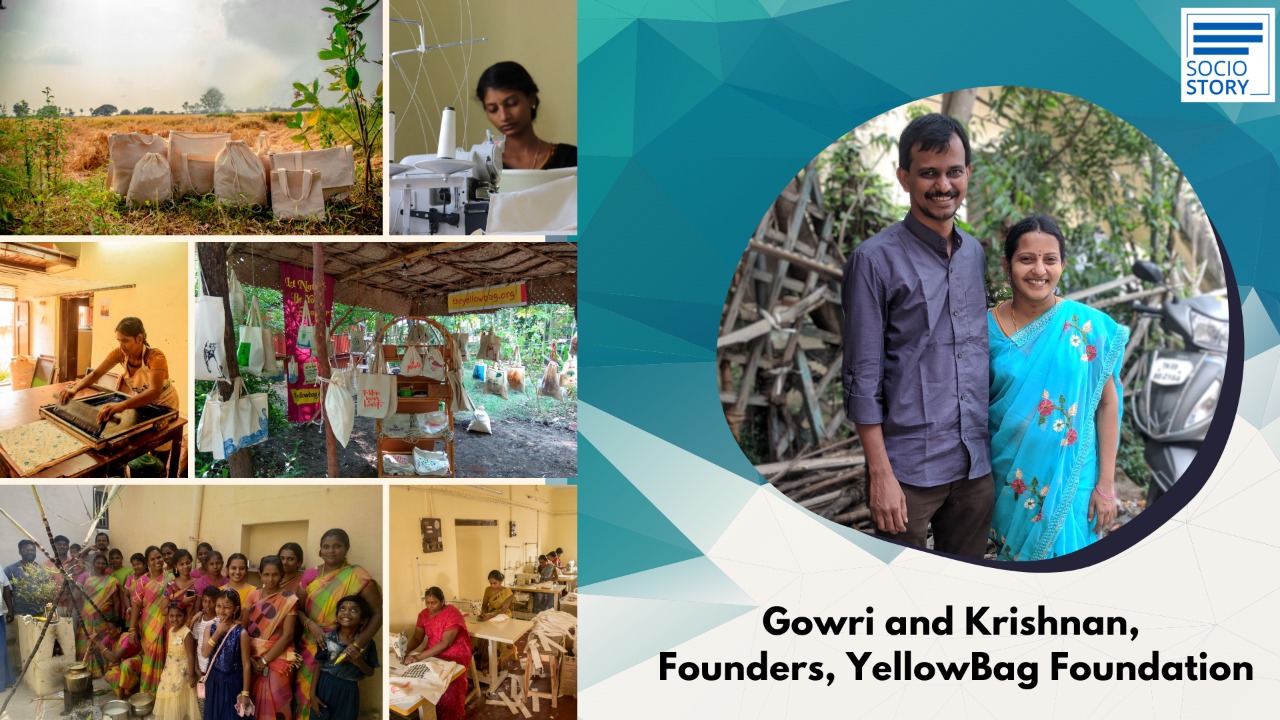 By:Reshma Jain
When Gowri and Krishnan's daughter was born in a metropolitan city- Chennai, little did the parents know that the environmental factors would impact the health of their child. The child had suffered from breathing problems in her initial years and in an effort to provide the best treatment, Krishnan preferred the practice of alternative medicine. Although his daughter recovered gradually, Krishnan forayed into the cause/source of the problem. He looked around and observed the pollution caused due to the callous attitude of people which was leading to respiratory and other health issues. Krishnan was working in the corporate sector but this incident made him realise his calling to bring a difference in the lives of people.
Hailing from Madurai where cloth-bag making is a tradition in every ritual, Krishnan was able to connect this tradition to one of the main sources of pollution and widespread problem- Plastic. "I could clearly see the amount of plastic in the garbage near our home. I started to research and I was horrified by the impact of plastic pollution not only on humans but also the entire ecosystem. I started connecting to like-minded people and also people who have taken various initiatives to address environmental issues," shared the young social entrepreneur. That was when Krishnan decided that cloth bags would definitely be the best alternative to plastic and producing cloth bags will make people self-reliant.
Within no time, the YellowBag Foundation was formed and garnered support from a lot of people. The foundation has been working in Madichiyam, a low-income community in Madurai. For the last few years, Madichiyam has been its central point of production for eco-friendly cloth bags. The community has helped the world avoid more than 50 million plastic bags so far and has impacted the lives of many.
"Over the years, the foundation realized that the children in the community are vulnerable to early marriage, drugs and other social malice. Being a crime intense community, the school dropout rates are considerably higher. Many children are first generation learners and the community knows completing higher education is a lifeboat for their children to come out of poverty and improve their lifestyle," shared 38-year-old Krishnan.
To address this need, YellowBag Foundation has facilitated creation of an educational support platform called 'Green Slate'. Green Slate operates an after-school activity centre in Madichiyam to ensure the first-generation learners avoid dropping out. It provides them with opportunities to improve their academic performance, life skills, leadership skills and finish their higher studies.
"This is an activity center for students in a vulnerable community where we run our tailoring center. Brainchild of Usha and Gowri, the center currently functions with around 15 students. We plan to sustain it with 40+ students and run the course as envisioned," added the social entrepreneur.
The latest initiative taken by a group of people is the 'Yaadhum's Market' in Madurai. Yaadhum market is an effort from a tier 2 city like Madurai to connect the positive and enthusiastic people who like conscious and good food, healthy families and live a nature inspired life. Yaadhum also procures organic food from farmers and distributes it to interested families. Yaadhum has so far conducted 23 online meetups connecting experts to families on topics ranging from millets, naturopathy, holistic medicines, child care etc.
"All the above activities are managed by a community of 6 families in Madurai. Each of us were in our own corporate career paths, came out of it to be of better use to the society and we got connected in our journeys. I am fascinated to see how a small community of people can bring in changes and sustain themselves and beyond," concluded Krishnan.
Important : If you are making an impact in the world, Please send us your story at : manoj@sociostory.in and we will try to cover you.