Meet this couple from Vizag who have been on a mission to provide free meal services to families suffering from Covid
June 10, 2021, 9:49 p.m.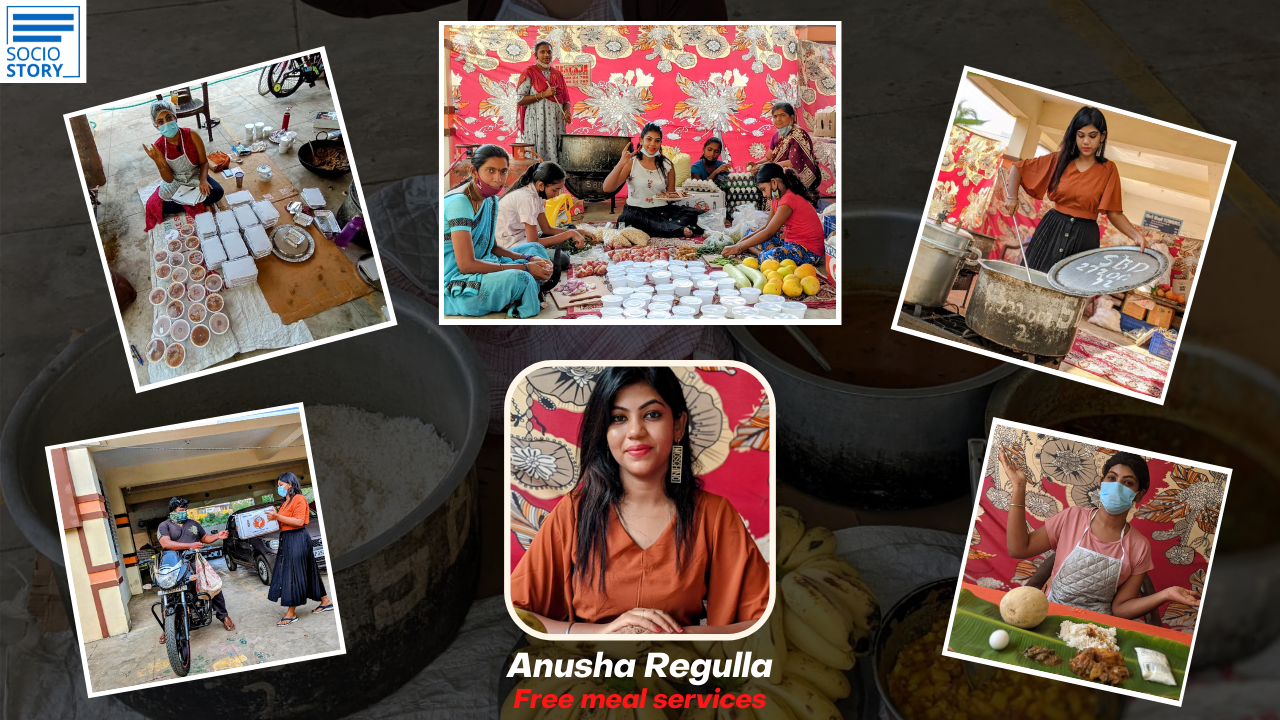 By:Reshma Jain
When Anusha Regulla and her family suffered from Covid-19 last December, little did she know that those difficult days would change her life forever. Not only in terms of serving people suffering from Covid but also as an individual. In a conversation with Socio Story, this young lady shares how and what made her take up an initiative which received tremendous appreciation from all over the country.
From buying vegetables/fruits, preparing lunch/dinner for Covid patients and their families to getting them delivered at the mentioned address, Anusha and her husband do it all by themselves. Moreover, cooking for around 150 people every day keeping in mind their diet requirements is no mean task. Working continuously and relentlessly for hours together during this crisis makes them the real 'Covid Heroes' in town.
Although things started improving gradually in the beginning of the year, the second wave of the pandemic took a toll on a lot of lives from April. While there was chaos all around due to shortage of oxygen and beds, there were many families where every individual had to isolate themselves due to rapid spread of the infection. There were families where there was no one to cook food, there were people living alone and no one to look after old-aged people. There were physically disabled people, people from marginalized communities, front-line workers where help from fellow beings was needed.
Anusha realized that it is time to serve people in need and to extend help to people around her. It was on April 23 that Anusha started to cook meals in her kitchen for Covid patients. After having posted on social media, her service of cooking and delivering food went viral. While she received 21 requests on day one, there were more than 60 requests on day two. 27-year-old Anusha understood the magnitude of the problem and to ensure that her services reach people in need, she started to verify the leads. Most of the requests being genuine, Anusha geared up to cook meals in large quantities in the cellar of her apartment. Within a week's time, she was able to cater to more than 170 people per day.
"I was surprised by the number of calls I received every day. While a few of them panicked, there were others who pleaded for food and help. I could not refuse any request because everyone was going through a rough time. Moreover, I could not outsource people because of the lockdown imposed in the city. Along with my husband, I managed to serve almost all the requests that I received and today, most of them have become my extended family," shared Anusha who is known as a RJ Anusha in the city of destiny.
Anusha realized the importance of nutritious food when she herself suffered from Covid. Keeping in view the need to provide a protein-rich diet, she ensured that every meal either consists of pulses/paneer, etc. "After understanding the requirements of a Covid patient, I designed the menu accordingly. I also included boiled eggs/ fresh fruits in every meal I served," shared Anusha, an entrepreneur and a youtuber.
Websites like Covid News India included her services in their website as verified leads for food services. Online food ordering and delivery platform Swiggy also collaborated in delivering food free of cost. However, with the curfew imposed, she started to request for volunteers and then hired two people to deliver food parcels in the outskirts of the city.
On a lighter note, Anusha said, "This was our first-hand experience in cooking. While chopping vegetables, there were cuts on my hand almost every day. However, now we have got a good experience from cooking to packing. My friends and well-wishers have also supported me in this initiative and I plan to continue rendering my services."
As an individual, Anusha said that these two months have changed her as an individual. "There is a major transition that has happened over a few days. I have learnt to be patient and understanding towards others. Moreover, I have learnt to be grateful for what I have been blessed with," concluded the good Samaritan.
Important : If you are making an impact in the world, Please send us your story at : manoj@sociostory.in and we will try to cover you.