Meet this duo who is bringing world class health services to the underprivileged children
July 11, 2020, 9:41 a.m.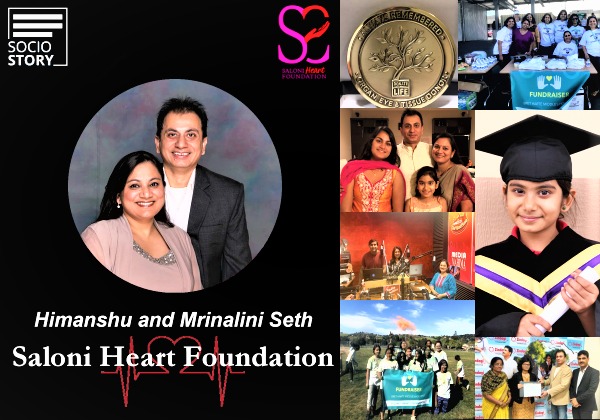 By:Reshma Jain
Can you ever imagine a rickshaw-walas son getting medical advice from a top doctor at Stanford Hospital? Or even an average middle-class family reaching out to the world's best children's hospitals to get consultation from the top-notch paediatric cardio-thoracic surgeons and cardiologists? SHF has made it possible!
Saloni Heart Foundation (SHF) is the only organization that is providing 'Free second opinion' from an illustrious advisory board, consisting of World's best Paediatric cardiologists and cardiothoracic surgeons, who don't charge any money, but are serving their country for nothing in return. Their second opinion is 'unbiased' and in the interest of patients, not hospitals.
Mrinalini Seth, Mother of Saloni, shares the SHF journey with Socio Story. Saloni, daughter of Mrinalini and Himanshu Seth, was born with a congenital heart defect in New Delhi, India. They had access to the good hospitals, doctors and insurance. When they took the fateful decision of putting their daughter's life in the hands of a very reputed Indian paediatric cardiothoracic surgeon at a high end private hospital, little did they know that this surgeon had no training to do the paediatric open heart surgery and kept them in the dark regarding the failure of the surgery. Saloni lost significant time and health.
After literally knocking on hundreds of doors, Saloni's parents met Dr V Mohan Reddy (then at Stanford Children's Hospital) with guidance from Dr P Venugopal, Ex- Director of AIIMS, Father of cardiothoracic surgery in India. "We were fortunate that Dr Reddy and his team at Stanford children's hospital performed a corrective surgery and saved Saloni's life, giving us additional seven golden years with Saloni. While we were able to save her life, most of the damage to Saloni's heart was done - first because of botched up surgery and second because of delay in corrective treatment. Finally, we lost her at the age of 13 in November 2018," stated Mrinalini Seth.
Saloni's loss led to the formation of Saloni Heart Foundation (SHF), a California, US based non-profit organisation seven months after Saloni's demise.
"We believe every parent whose child is suffering from heart ailment has the right to know the facts and seek best options to save their child. SHF brings world class medical advice from highly reputed paediatric cardiologist and paediatric cardio thoracic surgeons from US and India who are on SHF Advisory Board, to provide free unbiased second opinion to complex paediatric cardiac patients in India," said Seth.
SHF mission is inspired by Saloni's fighting spirit, lack of specialization for paediatric complex cases in India. Saloni aspired to become a paediatric cardio-thoracic surgeon like Dr V Mohan Reddy who saved her life multiple times. Speaking to Socio Story, Seth said, "We are living her dream through SHF's scholarship program for children (girl child preferred) from economically weaker sections of India, who aspire to study medicine and science. We would like to help brilliant scholars from underprivileged families who do not have adequate resources by providing them support for five years of medicine education."
Speaking on the impact that SHF is making, Seth, further added, "The first impact is saving and sustaining lives of children with heart ailments so that no parent suffers the mental and physical distress due to morbidity or mortality of their child. Another impact is by providing college education in the field of science and medicine to students from economically marginalized sections that would permanently change the life of their family and give India a genre of doctor who will treat patients with compassion. SHF's vision is to change the life of every child who has heart problems by creating world-class medical systems and skills in India."
Speaking on the future plans, Seth said that they would raise awareness about CHD in India and the role of SHF in better treatment plans for patients. "We are in active talks with major US children's hospitals and Indian hospitals to create a MOU for collaboration of medical skills, training and best practices. This will enable doctors and nurses from India to replicate best practices of world's top-notch hospitals so that children in India can get world's best care at home," stated Seth.
As per a recent research paper by a professor from AIIMS New Delhi, every year 9 out of 1000 children, that is almost 2,40,000 children are born with Congenital heart defect in India. Out of which 1/5th - 45,000 have serious heart defects. They require treatment within the first year. Sadly, only around 10,000 get treated. 35,000 children don't survive to see their first birthday. Besides premature deaths, 2,00,000 children born with heart disease struggle to live a normal life. They can't play, run, eat, sleep or enjoy life like other children.
Important : If you are making an impact in the world, Please send us your story at : manoj@sociostory.in and we will try to cover you.