Meet this family who are helping girls achieve their dreams by educating and empowering them
Dec. 20, 2020, 6:33 p.m.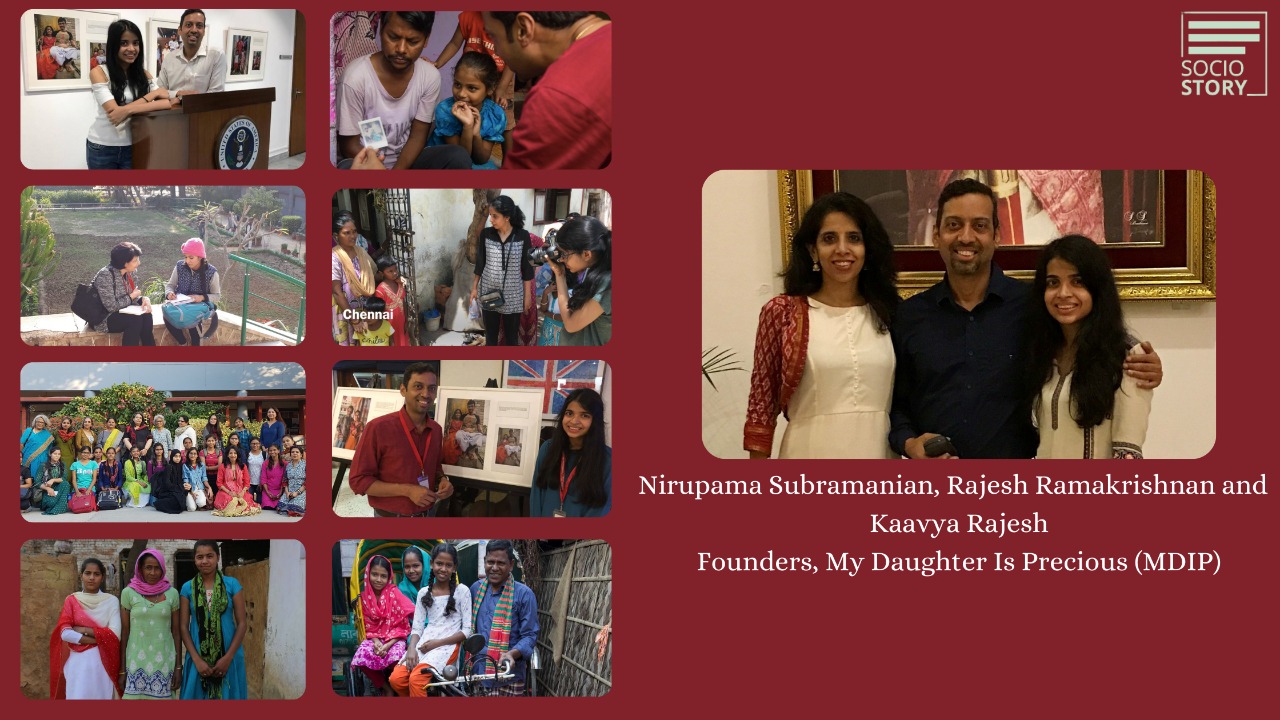 By: Reshma Jain
While Sania's father is unemployed, Ojasvi was raised by a single mother. Priyanka's father is a carpenter and she had to sponsor her own education. While Ranjani's father is a farmer, Monica's family is bearing the brunt of the pandemic. But, one common factor among all these girls is the financial constraint which has hindered their higher education.
While Sania aspires to become an IAS officer, Ojasvi hopes to work in the social sector. Priyanka is pursuing her higher studies and aspires to become a teacher. While Ranjani dreams to become a professor, Monica plans to get into marketing. But, one common factor here is all these girls hope to be financially independent.
They say, 'Your wings already exist; all you have to do is fly.' But I would like to add by saying, 'To fly high, you need to spread your wings wide.' And most of the time, to spread your wings, you require a strong support system. For some, the support could be from family, relatives, friends, etc. But for Sania,Ojasvi, Priyanka, Ranjani, Monica; it was the support from MDIP which gave them a strong support system and enabled them to spread their wings to fly.
After Kaavya watched a documentary called 'Girl Rising' in her school, she felt a need to do something. After watching the documentary which shared stories of girls who were unable to pursue their education, she discussed it with her parents Rajesh and Nirupama about the issue. Together, they brainstormed what they could do to support the cause.
Kaavya and her parents have lived in India and Bangladesh where gender and socio-economic inequality was all around them. They started going to lower socio-economic areas in India and Bangladesh to talk to families about the importance of girls' education. They took polaroids of fathers with their daughters that they could keep as a memento and a reminder to value their daughters.
Kaavya shared these stories on their FB page to generate further awareness for the cause– and the response was incredible. This motivated them to launch a fundraising campaign that raised Rs 3.5 lakhs, which was used to send 108 girls to school through an NGO (Nanhi Kalli).
However, after talking to over 50 families, they realised that school wasn't the problem. Most girls attended classes till 10th/12th grade, but then dropped out because of financial constraints. Their parents didn't think it was worth the resources to educate them if they were just going to get married and work in the house.
Hence, to bridge this gap, My Daughter Is Precious (MDIP) was founded in March 2016 to raise awareness about gender equality and provide funds for the higher education of underprivileged girls so that they can become economically independent. Today, they crowdfund through their social media campaigns and raise money from donors to pay the undergraduate college fees of selected motivated students.
"We also pair them with a GLOW (Growing Leadership Of Women) mentor who guides them and gives them life skills sessions to enable them to successfully complete their education and become career ready. We send applications, conduct interviews, and select a new cohort of students to support each year. We do this in partnership with the institution. We have successfully conducted a pilot project with Janki Devi Memorial College, Delhi University," said Kaavya Rajesh who is doing Liberal Arts at University of Southern California, LA.
"So far, we have supported 24 girls and plan to help many more achieve their dreams. Without a scholarship and mentorship, these students would not have been able to get a college degree due to financial restrictions. MDIP daughters who have graduated from the last few cohorts have got jobs and pursued post graduate studies," shared the duo Nirupama Subramanian and Rajesh Ramakrishnan.
Discussing further on the status of women in India, the duo said, "While there have been improvements in some areas, a lot more needs to be done to elevate the status of girls and women in India. More girls and women are pursuing their education today, yet labour force participation is dropping. Not only do social and cultural attitudes regarding gender need to evolve, but also systematic oppression needs to be examined. At the grassroots level, everyone can make an impact. This can be speaking out against a practice you notice in your society or neighbourhood, influencing parents to treat their daughters well, supporting education and employment of girls. If every individual does their bit to help strive for gender equality in their communities by reaching out to people they know, we could observe large-scale social change."
Sharing one of their most memorable experiences, Kaavya, shared, "While talking to families in Chennai about the importance of educating their daughters, we met Gayathri. She was the first person in her community to attend undergraduate college, but was on the verge of dropping out due to financial reasons. She was selling corn at the beach just to make ends meet. Her story is what made us realize how difficult it was for girls to attend and complete college– even if their families supported them. She became our first MDIP Daughter and we crowdfunded to raise the money needed for her to graduate with her BBA degree. Meeting her led us to focus our efforts on raising funds for girls' undergraduate education."
We plan to steadily increase the number of students we support. We are looking to partner with several colleges across the country and select, fund, and mentor a cohort of students from each. We also are aiming to engage more volunteers as mentors and fundraisers. In 2021, we will be partnering with a Nursing College and expand to another women's college," concluded Subramanian.
Important : If you are making an impact in the world, Please send us your story at : manoj@sociostory.in and we will try to cover you.