Meet this women entrepreneur who once battled with cancer now easing pain of many by her startup
May 29, 2020, 9:49 a.m.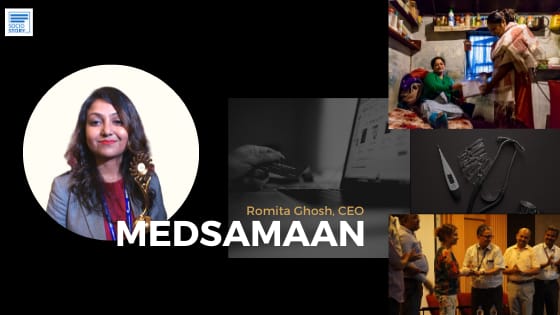 Romita was diagnosed with cancer when she was only 13. The next two years were a period of intense struggle due to excruciating physical pain, loneliness long absence from school, loss of hair, and ultimately, confidence. However, the sight of the multitudes of patients lining the floors of the Tata Memorial Hospital, some in the terminal phase, she increasingly became overwhelmed with gratitude that her parents could afford her chemo and radiation therapy, and more importantly, that she was still alive! She promised herself that if she survived this ordeal, she would definitely do something to help the poor patients who resign themselves to hopelessness and despair.
She succeeded in graduating with double majors from Kerala University in Biotech and Biochemistry and researched on cancer. She also earned an MBA degree in Biotechnology Management. But secretly she nurtured a zealous desire to see tangible changes in patients' lives. She had not forgotten the promise to herself to do something to alleviate the sufferings of those facing health problems. So she shifted from academia to industry.

She knew that India lags behind other nations in healthcare. MedSamaan, her startup, aims to address this pain point and make medical devices available, accessible and affordable, irrespective of social, financial or regional standing. Since the last decade, her startups have been in the field of healthcare, impacting several lives. The target markets are clinics, small hospitals, nursing homes, doctors, and sometimes the customers directly, online.
Romita has had her fair share of struggles in her ventures. Women entrepreneurs are not taken seriously. Then, the price rise on raw materials due to the worsening of bilateral ties with China also threw up a challenge that the young, 20-something inexperienced Romita had not catered for. The challenges have been plenty, but each one of them has been overcome. She has learnt more from each challenge.
Romita has invested nearly 40 Lakhs in the business.They have received grants from various sources and are looking for 50 Lakhs of investment/CSR to take their innovative, subsidised products to the tier III cities and small towns and villages, especially during this pandemic scenario. They are the only company that kept supplying critical items to government, private institutions, some units in the Armed Forces, and hospitals in their area while big players ran out of stock. MedSamaan aims to positively affect 10 million lives by 2025.

IIT Mandi, IIT Delhi, Ashoka University, Amity Incubation Incubator, Zone Startups India, We Hub Telengana and overseas organisations like the Cherie Blair Foundation (London) and US Department of State are supporting the work .Media houses like Hindustan Times, Entrepreneur, YourStory and Women's Web have provided national and international coverage. Romita is grateful to her instructors from IIM Udaipur who are her go-to mentors.
Having felt the hopelessness in patients as a cancer-survivor herself, MedSamaan is Romita's way of alleviating suffering and creating hope. The heartfelt gratitude she receives from patients keeps her going. MedSamaan deserves a heartfelt Salaam from all of us!

Important : If you are making an impact in the world, Please send us your story at : manoj@sociostory.in and we will try to cover you.