Meet this young changemaker whose initiative is educating people about organ donation
May 27, 2020, 2:26 p.m.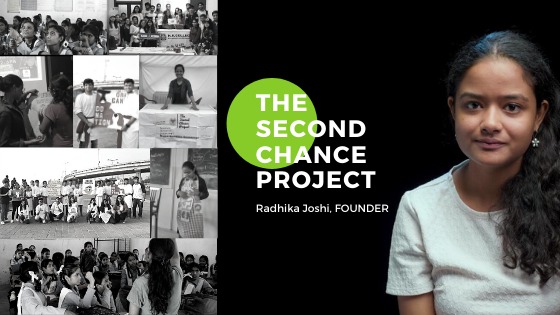 After losing a loved one to an organ failure, Radhika Joshi conducted extensive research on organ donation in India at the tender age of 17. During the research, she found out that about 5 lakh individuals in India lose their lives due to the unavailability of organs every year. She also realized that the organ donation rate in India is extremely poor- only 0.26 percent per 10 lakh people donate their organs due to ancient beliefs and lack of proper knowledge about organ donation. With 1 per million-donation rate,
India would have 1100 organ donors or 2200 eyes, 2200 kidneys, 1100 livers, 1100 pancreas, and 1000 hearts. This should take care of almost all current demands for organs. For someone who always wanted to bring about a change in the world, the urge of doing something about the issue took over her and at the age of 18- she founded
The Second Chance Project - a youth-led social initiative to spread awareness about organ donation in India. She reached out to organizations and individuals working for this cause in India, and seeked guidance from the NGO MOHAN Foundation. The Second Chance Project team has six core members, including Radhika.
The team members are geographically spread across the nation and all of them are very dedicated towards the cause, as they believe in second chances for organs that perish along with each individual. They manage research, technical and web-related aspects, social media and management of events, along with volunteering.
At present, they have started youth-led chapters in Uttarakhand and Maharashtra, and are planning to expand across India by involving more young people. Since day one, Radhika has had the support of her family. However, they were a little apprehensive about Radhika working for a cause like organ donation, as there were various news about organ trafficking and kidney rackets in media. Later, they understood the need for such a programme and have been the backbone of the venture along with her team members.
Radhika's ability to empathise and her entrepreneurial spirit was recently recognised by the Ashoka community. She is currently part of the world's largest network of Social Entrepreneurs and Changemakers as an Ashoka Young Changemaker. In India, it has been estimated that more than a million people suffer with an end stage organ failure, but only quite a few as 3,500 transplants take place annually. At the very least, about 15 patients die waiting for organs every day and in every 10 minutes, a new name is added to the waiting list. Undoubtedly, the demand for organs is far beyond its availability.
A cadaver or deceased donor can save upto 9 lives, but despite this, organ donation is a neglected issue. Some the major reasons why organ donation lags in India include lack of family consent even when the patient is declared brain dead which is irreversible even if the organs continue to function. This is what drives doctors to urge the family of the deceased to donate the organs and save someone's life. People in India also believe in thousands of myths and misconceptions which prevent them from pledging their organs. Also, the lack of organ transplant and retrieval centres especially in rural areas, is a serious hindrance in India. Not all hospitals are equipped to carry out the process of organ transplant and retrieval.
Out of 301 hospitals equipped to handle the process, only 250 have registered with National Organ and Tissue Transplant Organisation (NOTTO). Which means to conduct an organ transplant, there exists one fully equipped hospital for around 43 lakh people. Currently, in India, there is only 1 National Organ and Tissue Transplant Organisation (NOTTO), 5 Regional Organ and Tissue Transplant Organisation (ROTTO) and 6 State Organ and Tissue Transplant Organisation (SOTTO) are in the proposal state.
Lack of proper education to the attendants of a brain dead patient, lack of awareness among general public about organ donation, organ donor cards, process of organ donation, add to the superstitions and misconceptions associated with organ donation in our country and make organ donation a tedious task. Many a times doctors are also not fully aware about the process of organ donation and things related to it which makes it difficult for the family of deceased or brain dead person to take a vital decision.
Radhika Joshi realised that awareness and education on organ donation is, therefore, the only way out of this depressing scenario. Only when there will be an increase in the number of organ donors, there will be an increase in the number of lives saved. To put up with the cause of The Second Chance Project, Radhika and her team members came up with innovative, creative , easy to implement and cost-effective methods of educating and creating awareness around the importance of donating organs like street plays, art and information sessions.
The platform primarily conducts sessions with youth from schools and colleges. They have also conducted Meet-Up events in cafés, to start a conversation about organ donation in an informal setting and bring out the positive aspects of this cause! To engage young children, they design 'organ donation aprons' by reviving simple household kitchen aprons with colourful drawings of body organs which can be donated, to highlight the importance and function of each organ. To adapt to the current lockdown due to the COVID-19 situation, they are using online platforms to conduct awareness sessions and continuing to work towards this cause.

Within 23 months, they have sensitized 1500+ individuals and registered 300+ individuals to become organ donors through various online and offline awareness drives as well as workshops. Organ donation is a life-giving process and a decision to donate organs can not only change someone's life, but also have an impact on people associated with the individual waiting for an organ. Radhika's efforts are undoubtedly saving lives!
-By Saloni Agarwal
Important : If you are making an impact in the world, Please send us your story at : manoj@sociostory.in and we will try to cover you.