Meet this young girl who started a petition to launch a 24*7 national helpline number for suicide prevention
June 19, 2020, 7:06 p.m.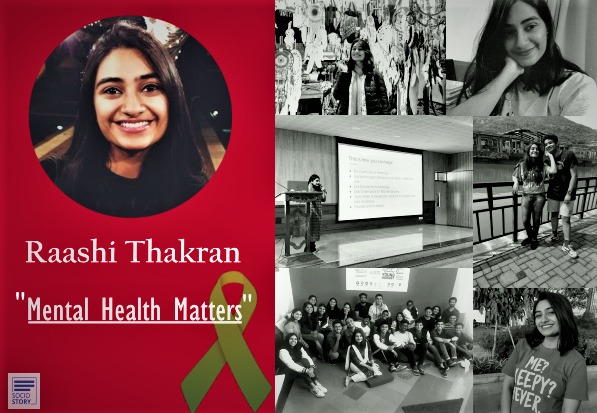 By: Reshma Jain
"On January 6, 2019, it was around 8:45 pm when the bell rang. I was in my room. I could vaguely hear my dad as he rushed out of the house. Confused, I called him. After a few seconds, he picked up and I realized that he was sobbing. I'd never seen my dad cry. And then, he said something that will haunt me forever – "Raghav is gone."
Raashi Thakran (22), while speaking to Socio Story, said, "My little brother Raghav was only 18. He was my best friend and my idol. He was the kind of person who wanted to help everyone but never asked for anything in return. But I lost a precious soul and now I do not want others to suffer."
After Raashi lost her brother to suicide, it changed her life forever and that's when she was introduced to the quantum of the problem that our country is facing – 'Suicide'- which is one of the most common causes of death in India. This is when she decided to fight for this cause and work on various campaigns surrounding suicide prevention.
The death of actor Sushant Singh Rajput recently, has hit her hard. "Just like it's important to educate people on how they can take steps to stay physically healthy, we need to talk about the steps people can take to improve their mental health so that there comes a time when people are not ashamed to reach out and seek help," stated Raashi who is an engineering graduate and mental health advocate currently based in Bangalore.
She started a petition on change.org asking the government to launch a 24/7 national helpline number for suicide prevention in India and this petition has received more than 3 lakh signatures. She had also met various government officials including the health advisor of Niti Aayog Alok Kumar.
The young girl has also conducted workshops and sessions on mental health and suicide prevention in order to raise awareness of its challenges in today's society. She has taken these sessions in schools, colleges and organisations including - Delhi University, Christ University, Bangalore and AIESEC Pune. This has impacted 200+ students and professionals.
Raashi further says, "My story is not unique, this is the story of a million families who lose a brother, a sister, a father, a mother or a friend to this silent prey. According to WHO, suicide is the second leading cause of death among young adults."
Data released recently by the online journal Lancet Public Health, as part of its Global Burden of Disease Study (1990 to 2016), revealed, for the first time, the quantum of the problem India is facing: In 2016, it had the highest number of suicide deaths and it's only increasing every year.
"Another disturbing truth that I came across while doing my research was that most of the suicide helpline numbers do not work. I dialled around 15 numbers but most of the calls went unanswered, some numbers were switched off. Only three responded," added Raashi.
It is now her goal to create a safe space for anyone struggling with suicidal thoughts and invoke a sense of will within the government to address mental health issues.
Speaking on the need to educate youngsters, Raashi, said, "It is crucial to talk to the younger generation about what mental health truly is, how it is just as important as physical health, how they should not neglect it, various coping mechanisms that exist etc. Parents and teachers need to be proactive and talk to them about such sensitive issues. Creating safe spaces will help young adults reach out in case they need help."
"My family has been my biggest support system, so many out there are not as lucky. Which is why I do everything in my power to create an online support system and pray that those who need it, can find their way to us. I also run my own blog called "All about mental health" where I write on mental health and self-care," said Raashi who is preparing for higher studies as well as rallying for this cause.
Raashi urges, "Sign my petition asking the Ministry of Health and Family Welfare to launch a national helpline number for suicide prevention and also address this issue at a national level so that one knows that help is just a call away. We cannot remove stigma without all the forces working together recognizing that mental illness is an illness that needs treatment. Join me and take a #StandAgainstSuicide to save a life because #MentalHealthMatters."