Meet this young man who is striving for health for all
June 16, 2020, 12:24 p.m.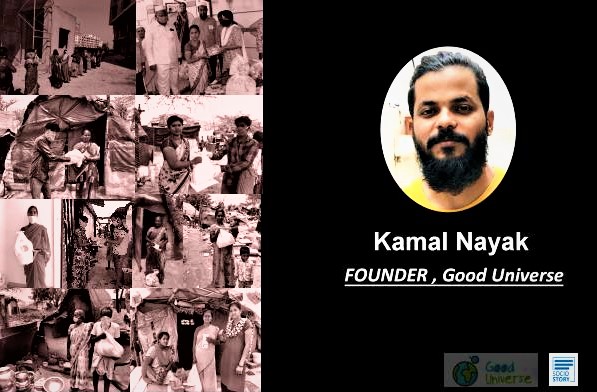 By: Reshma Jain
When Kamal Nayak came across daily wage earners, (especially women) from Odisha, Bihar and Jharkhand and noticed that they did not have access to basic hygiene, a thought struck him. He realised that apart from food which is a daily need, basic medicines and hygiene kits are equally important. So, Kamal who hails from Odisha set up a team and decided to provide medicines, hygiene kits and pregnancy care kits to people who were in dire need.
This eventually led to the foundation of Good Universe, an NGO based in Hyderabad with a vision to create a free and equal world where women, children and transgenders can lead a dignified and secure life. The volunteers at Good Universe have been working with marginalized women from the last four years helping them with their health and empowerment. Good Universe team consists of highly educated physical, mental health professionals and social workers who are committed to impact people's life through various health programmes.
To achieve their goal, volunteers at Good Universe work with schools, colleges, corporates, communities and various women support groups. Good Universe provides these organizations with comprehensive support around menstrual health, gender roles and sustainability. Besides providing support to other organizations, they also work directly with girls and women.
Sharing a few insights, Kamal, 28 years, says that according to a survey, the prevalence of anaemia among pregnant women was found to be over 60% in Telangana. Pregnancy increases the nutritional requirements for some vitamins and minerals, particularly iron. Doctors opine that adequate vitamin and mineral intake is important for the health of women of childbearing age, both for themselves and for their infants. Hence, the team decided to reach out to women in need and cater to the health needs for pregnant women. The pregnant women were provided with the required additional nutritional supplements and other essentials. Hygiene kits consisting of menstrual observant, disinfectant, oral cares and detergents, etc were also distributed during the lockdown.
Kamal further added, "Sanitation and hygiene were becoming the biggest problems for poor people affected by the COVID-19 crisis. These groups were most vulnerable when it came to hygiene and health during the COVID-19 lockdown. Their basic hygiene and health needs were being overlooked, putting them and others around them at great risk. So, the team at Good Universe focused on providing a simple, yet useful hygiene and health kit to those who needed it the most."
The team did face a few challenges as people were busy giving food and groceries and there were very a few who understood the important of hygiene for women and condition of pregnant women. While distributing the products, the people were not ready to stand in a line and wait and hence, they had to do a home delivery.
"Until now, Good Universe has helped 1,300 women with hygiene kits, 650 families with grocery kits, 60 elderly people with medicines and 55 pregnant women with pregnancy care kits," stated Kamal.
Good Universe will continue working in the intersection of climate change and health. They strongly believe that every woman has the right to take her own decision regarding her sexual and reproductive health, free from social stigma and bias. Though in today's increasingly intolerant world, the belief of a fair and equal world may seem like wishful thinking, Good Universe will continue to work for access to quality health care and social equality for women, says the founder.
As the domestic abuse cases are in surge, an initiative called "Invisible scars" has been developed for women to help them get out of the stigma. One message that Good Universe wants to convey is that people should support women and girls to manage their health effectively across all sections of society, especially the slum dwellers and marginalized women.
Important : If you are making an impact in the world, Please send us your story at : manoj@sociostory.in and we will try to cover you.