Meet ultra-runner Sufiya Sufi who has been proving and conquering herself by chasing her dreams
March 5, 2021, 9:36 p.m.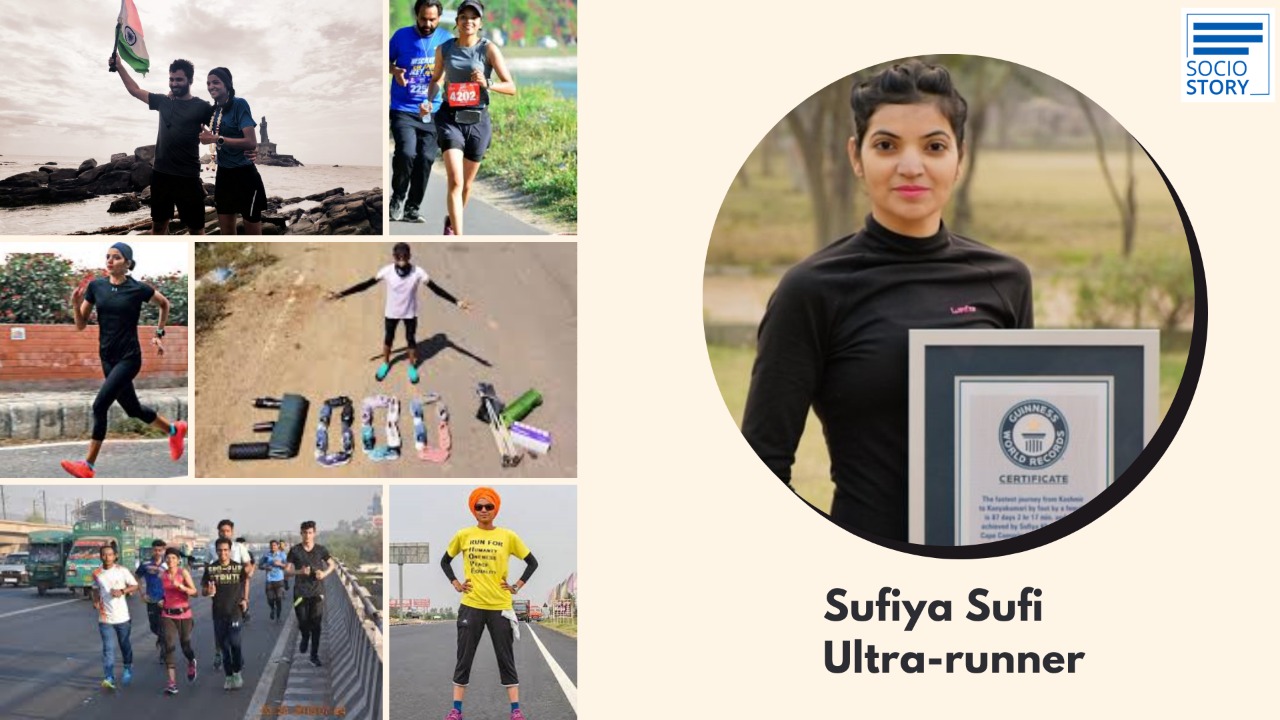 By:Reshma Jain
Every woman who approaches life with confidence and has tapped their potential, leaves an indelible mark on society. And if the success of every woman is an inspiration to another, the saying women are the real architects of the society will be much more relevant. As a part of Socio Story's initiative to feature stories of inspiration in line with the IWD theme 'Choose to challenge', here is a story on a young iron-willed woman who has created history and has achieved a Guinness world record in the long run.
Hailing from Ajmer, Sufiya Sufi is a professional ultra-runner with three years of experience in ultra-running and long run expeditions. In 2018, Sufiya became the fastest female runner to complete the Great Indian Golden Triangle Run (720 km in 16 days) and entered the India Book of Records. Taking forward the message of 'Humanity', Sufiya took the next challenging step to run from Kashmir to Kanyakumari. She completed the run of 4,000 km in 87 days in 2019 and entered the Guinness Book of World Records.
Sufiya was in the aviation industry for almost 10 years before she started her running career in 2017 when she ran her first half marathon in Delhi. After that running became her passion and she won various competitions and made many records in ultra-running. She has been promoting the message of Humanity, Equality, Unity and a healthy lifestyle through her runs.
After stepping into running, Sufiya said that she was always curious to know how long a human can run. So she started participating in ultra-run events and she got the idea of ultra-running expeditions which interested her. "The best thing about these running expeditions is that they are the best way to explore different places, meet with people from different cultures and spread positivity among them. That is where the idea of 'Run for Hope' came from," shared Sufiya who is now based in Delhi.
"My every expedition is an opportunity to take a message forward. HOPE (Humanity, Oneness, Peace, Equality) is an initiative to share positivity and bring people together through running to contribute for a society where everyone is equal, healthy, loved, respected and happy," added 35-year-old Sufiya who interacts with people from different walks of life during her expeditions.
This ultra-runner who was awarded as 'Star Believe Hero' by Star Sports in 2019 is presently covering the Great Indian Golden Quadrilateral Road by running. She is aiming to complete this run within 135 days and make a new Guinness World Record. The distance of The Indian Golden Quadrilateral road is 6000 Kms and it connects the four Metro cities following Delhi, Mumbai, Chennai and Kolkata with each-other.
Believing that running equips an individual to deal with life, Sufiya started her run called 'Run for Hope' from India Gate, Delhi on December 16, 2020 and has covered hundreds of villages and cities of Jaipur, Ajmer, Udaipur, Ahmedabad, Mumbai, Pune, Bangalore, Chennai, Visakhapatnam, Bhubaneswar, Kolkata, Varanasi, Kanpur and Agra. Sufiya is running with an average of 55-60 kms per day. The cause behind this run is to spread the message of Humanity, Oneness, Peace, Equality, promote a healthy lifestyle and support girl child education.
Speaking to Socio Story during a halt in Bhubaneswar, Sufiya who is a Course Record holder in Chambal Challenge said, "Running is a mind game. Apart from being physically fit, running has helped in changing my mindset. It has not only boosted my confidence levels but has also taught me to stay positive. Every run is a new journey and teaches me to overcome hurdles and face challenges."
Sharing a few challenges that she had met with a strong will, Sufiya said, "There are situations when the body does not support and requires hospitalisation. For example, I had developed a breathing problem in one of my earlier runs due to inhalation of a lot of dust and smoke. Also, there are times when the weather poses a challenge during the long runs. For instance, when I started from Delhi in December, the temperature was 4 degree Celsius and when I reached Rajasthan, it was 40 degree Celsius. But I never gave up and I believed that every experience is a learning experience."
Sufiya who has run well over 11000+ km as a professional runner, concluded, "I wish to see a more inclusive world and my next plan is to run across the world to spread the message on 'Vasudhaiva Kutumbakam' (The world is one family)."
Important : If you are making an impact in the world, Please send us your story at : manoj@sociostory.in and we will try to cover you.