Meet Vansh Tibrewal who is encouraging the underprivileged girls to choose a path less taken
March 17, 2021, 9:51 p.m.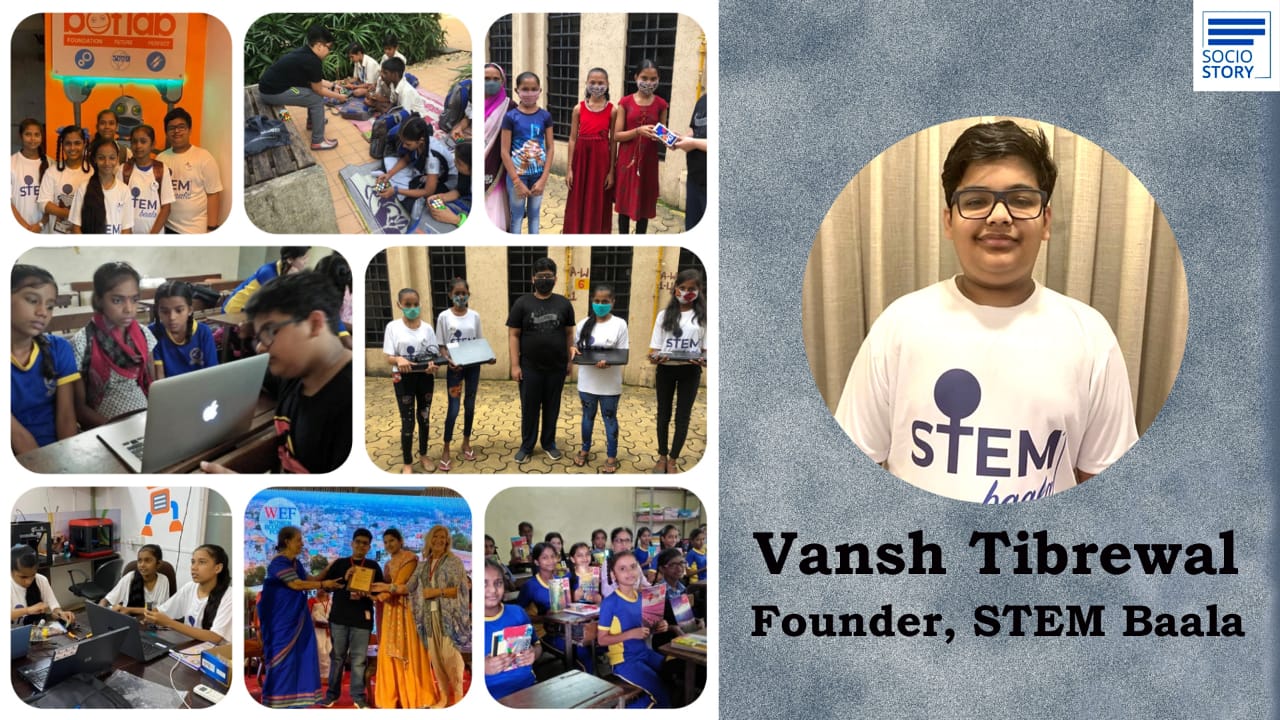 By:Reshma Jain
Since a very young age, Vansh Tibrewal has been volunteering with organizations working towards providing education for underprivileged children. During one such experience, he observed that all the children he was teaching were extremely interested in Maths and Science. However, while having a conversation with the girls, he learnt that they don't want to pursue a career in STEM (Science, Technology, Engineering, Mathematics) because they believe that these fields are only for men. This conversation deeply disturbed Vansh as he realised that a field he is extremely passionate about has a huge gender and class gap. This drove Vansh to begin his own initiative, 'STEM Baala', which is an organization focused on fostering confidence in underprivileged girls through STEM education.
STEM Baala was founded in July 2019 with a purpose to reduce gender gap in STEM. Tibrewal said, "We want to encourage Indian girls to study and pursue careers in STEM fields. Through our various projects like computer science classes, online maths and science classes, digital literacy for older women, monthly webinars by eminent personalities from STEM field, coding classes, robotics classes etc, we make these girls realize that they too can have a successful career in the STEM field."
Through STEM Baala, Vansh encourages underprivileged young girls to engage in STEM subjects by teaching them simple at-home experiments that they could perform and learn from. He further organizes regular Computer and Robotics & Automation classes, as well as teaches them basic and advanced Science and Maths, providing the girls with opportunities of participating in competitions and fairs, competitive exams and scholarships.
During the pandemic, digital access and literacy became essential for learning. To support the students in such tough times, Vansh raised funds to provide them with laptops, smartphones and Internet data packs. He also built a team of over 20 volunteers who collectively taught 1500+ hours of Maths, Science and English to underprivileged children to ensure that their education didn't halt due to the pandemic. Vansh optimally used digital platforms by organizing monthly webinars for 300+ underprivileged children, often partnering with other organisations such as GirlUp Bombay, Connect 2 EQ, Rotary club etc through which the children interacted with Indian women currently working in STEM fields and career counsellors to guide them through higher education.
The exam-focused education model has limited students when it comes to innovation, problem-solving and creativity. With the whole world almost becoming a connected global village, there is a need for a shift in education - to prepare students to be global citizens while providing them with the skills and abilities for them to survive and grow in the new economic and social order. This is where the well-designed STEM curriculum should be adopted and implemented as per the needs of the industry of the future.
According to the National Science Foundation, it is predicted that 80% of the jobs created in the next decade will require some form of math and science skills. These skills are appropriately labelled as 21st-century skills or STEM skills.
But there are certain hard pressing challenges to overcome in order to develop STEM skills at scale before India can really tap on the benefits of these global opportunities. One of the biggest challenges involved in the implementation of STEM education is to design infrastructure, curriculum and to equip children with the best guidance and support. Another biggest hurdle is our unitary reliance on marks – focused and exam-oriented education system. We definitely need some sweeping changes in our teaching-learning and evaluation processes. The third big challenge for STEM education is the quality infrastructure and the funds needed to create such infrastructure.
It is high time to equip children with the skills required for the 21st century that promote creativity, critical thinking and innovation. A sound foundational knowledge, mathematics and science, critical thinking, creativity, communication and collaboration skills would then be the minimum required education for every student. The problem is huge that it can't be solved without the coherent effort on the part of the government, corporate, society and general masses.
"So far we have managed to touch the lives of 300 girls. My future plan is to touch the lives of 1,000 girls this year," concluded Tibrewal.
Important : If you are making an impact in the world, Please send us your story at : manoj@sociostory.in and we will try to cover you.