Meet 'Wheelchair warrior of India' Dr Kaustav Dasgupta who is on a mission to spread positivity and happiness
Aug. 26, 2021, 5:17 p.m.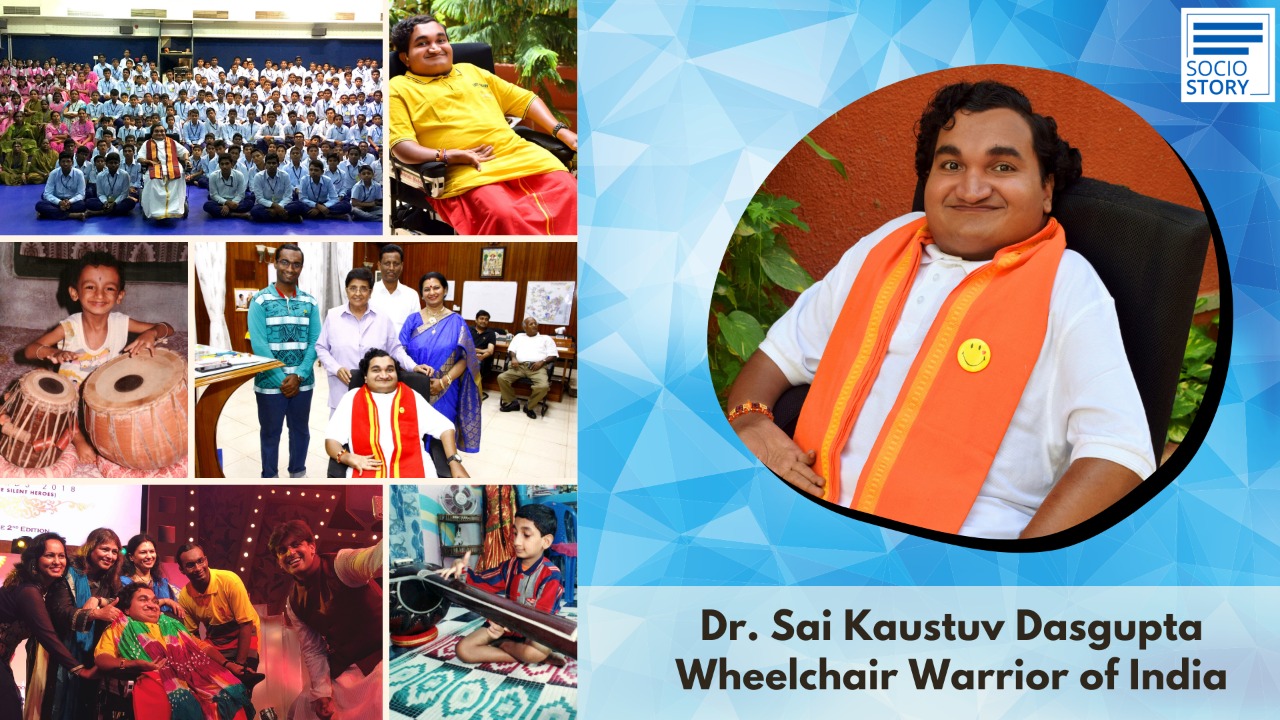 By:Reshma Jain
When Dr Sai Kaustuv Dasgupta realised that he was suffering with a disease which limited his mobility, he accepted his irreplaceable condition and decided to be a beacon of hope for the differently-abled community rather than crib about disability. Speaking to Socio Story, 30-year-old Dasgupta shares his story of Ability which transformed him into a global motivational speaker, a happiness coach and a goodwill ambassador.
At three and a half months old, Dasgupta's first fracture appeared. Within a year, he had fractured three more bones. The doctor, after taking a series of tests, explained to his parents that he suffered from Osteogenesis Imperfecta (Brittle bone disease). The doctor also said that they will need to prepare him for life in a wheelchair because his body was not creating the collagen or protein required to develop bones. On hearing this, Dasgupta and his family were devastated. It was not easy for a hyperactive child like Dasgupta who loved dancing and singing. He often saw that the other children were healthier, so he just thought he needed to pay more attention to his steps - until at age ten when he fell and broke both his legs.
Subsequently, a person diagnosed with OI can experience hundreds of bone fractures for no apparent reason. An OI diagnosis would seem daunting and living life in such a delicate state is even more intimidating. But, Dasgupta has suffered with more than 50 fractures and this strong man had to cope up with 3-4 fractures every year. He has had numerous fractures till date, but when the count touched 50, he stopped counting as he knew his bones are brittle but it cannot break his heart.
Sharing one of his memories, Dasgupta said, "I remember an incident from my school days when I secured the first position in my class and a friend came forward to shake my hands. The only thing I remember next is that I had a major fracture in my hand. Fractures were very unpredictable in my case; I never knew when it was going to happen and that was the scary part."
"My mother Dr. Shila Dasgupta used to teach at the same school I was enrolled in so that she could also take care of me all the time. Whenever I had to change schools, she had to leave her job too. My family has done everything possible for me throughout. They completely accept me and love me for who I am and I am thankful for that," added Dasgupta who had pursued his B.B.A from Chhatrapati Shahu Ji Maharaj University, Kanpur and has an Honorary Doctorate from London University.
Every single day and moment has been challenging in Dasgupta's life. He has been confined to a wheelchair now, and all that functions is one hand and one finger. "My life experiences have helped me a lot to understand and learn how to be positive no matter what. That is why I want to focus on my ability rather than disability. It's incredible to think just how much of the body's ability lies in just one finger of mine; a tiny organ that most physically able people take for granted is my most invaluable asset," shared a smiling Dasgupta.
This young and iron-willed man has inspired millions of people; especially global leaders, scholars, doctors, students, corporate people & young IT professionals with live and online webinars in various institutes like Microsoft, Accenture, Marriott Hotels, Medicover, Rotary International, Jain University, etc. in different states of India, as well as those in countries like the US, Australia, Malaysia, Singapore, Thailand, Indonesia, Nepal, etc. "I have given hope to many people who needed that right window to open up, to see their sufferings from a different perspective, and helped them cherish life. At present, I am actively researching how to improve accessible travel in India, especially travel by air. I want to put an end to the types of problems I faced during my trips to Goa, Chennai, and Bangalore by working with concerned authorities. I am trying to spread the light of hope to all those who have confined themselves due to a lack of accessibility," said Dasgupta who hails from Puttaparthi, Anantapur, Andhra Pradesh.
Sharing that disability is not a weakness, Dasgupta said, "Disability has given me an extra dimension, additional skills, and a new outlook. When you start including your abilities in your life, you actually create inclusion around you. To put it in a few words, life has taught me- More smiling, less worrying. More compassion, less judgment. More blessed, less stressed. More love, less hate. Love all. Serve all."
While there is so much to do in the disability space including inclusion and accessibility, the real change is unlikely to come unless Indian society becomes more accepting of people with disabilities and realizes their potential. However, the rapid growth of disability self-help groups appears to be empowering disabled people on a huge scale, enabling them to engage in economic activity.
Directed by Dr Kushal Dasgupta, a short film on Dasgupta's journey called 'Incredible Insight'- The story of his ability was also shortlisted at the Bengaluru International Short film festival.
Important : If you are making an impact in the world, Please send us your story at : manoj@sociostory.in and we will try to cover you.