Meet young activist Aarav Seth who believes in 'Each One Teach One to Plant One'
Oct. 15, 2021, 8:01 p.m.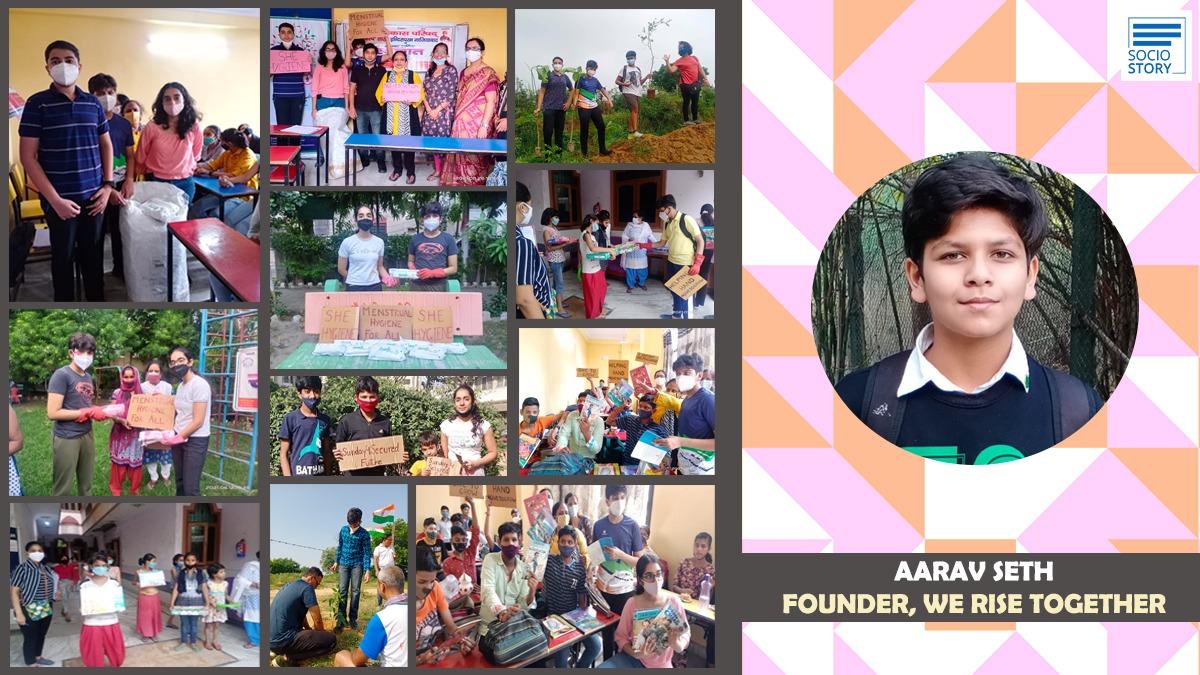 By:Reshma Jain
Aarav Seth, a 13-year-old student activist from Delhi NCR is an ordinary kid with an extraordinary vision to save our environment. Disturbed by the plight of his surroundings due to the prevailing environmental conditions, Seth made up his mind to do his part for a sustainable living. He has a mission to avoid the usage of plastic and plant a greater number of trees for the future generations to come. Seth thinks, "Enough is said than done for saving our environment, now is the time to take action to ensure clean air and clean water for my generation as well as the future generations to come. It is possible only when we imply 'Each One Teach One to Plant One'."
In the age of internet, Seth uses the medium of social media for promoting awareness about the pressing issues of environment through his various blogs (Destruction of Beautiful Planet, Trees Are Our Best Friends, Say No to Plastic and Save Environment and so on), YouTube channel 'Un-earth' and twitter handle. His compassion for trees drives him to plant trees every weekend. For him, it is not only about planting trees but also watering them regularly and cleaning the trash from the plantation area.
Seth along with his team have planted more than 4,000 trees in Delhi NCR. He has also made it mandatory to gift plants on special occasions to his friends and he also motivates his parents to gift plants on their relatives' birthdays and anniversaries. "Till date, I have distributed more than 3,500 plants. Inspired by this thoughtful gesture, many of my friends have started gifting plants as return gifts on their birthday and to their relatives on special occasions," shared the young activist.
Seth has contributed to the 'Clean Yamuna Drive' and 'Clean Hindon Drive' in Delhi and Ghaziabad, respectively. Being a young environmentalist, he aspires and inspires many individuals to change their mindset by taking baby steps to contribute towards the wellbeing of Mother Earth.
Seth got the opportunity to be the Child Ambassador of SDG Choupal which is dedicated to support the national and state Governments, and institutions on advocacy and community engagement for SDG implementation in India.
Seth is also the ambassador of SDGs for Children, an organization that has an extraordinary vision to give a platform to children across the globe to Connect, Create and Collaborate. "Creating awareness is the key to educating people around us. I, along with my team stood at metro Stations holding placards to promote Eco-friendly Diwali. I also started a campaign #RingTheBell in my society wherein I went door to door wearing placards to urge my neighbours to celebrate pollution free Diwali," said Seth.
Seth received the Environment Saviour Recognition by Navprabhat Jan Sewa Sansthan(NPJSS) in the memory of Prof. G D Agarwal on the occasion of World Water Day. He also secured the first position in The Forest Marshals contest organised by FOWAC which provides several services in environmental conservation and efforts toward attainment of the UNSDGs with regard to the environment. Seth was conferred with the GEC Young Changemaker Award by Crowdera, a fee-free global online fundraising platform for nonprofits and social innovators serving individuals and communities.
Seth along with his friend Shreya Tuli have founded 'We Rise Together', a non- profit organization that aims to tackle social and environmental problems of our society through three initiatives. They include 'Sunday4SecuredFuture', 'Helping Hand' and 'She Hygiene'. 'Sunday4SecuredFuture' is a movement started by Seth to encourage young climate activists to take at least one climate action every Sunday. He has received an overwhelming response from many activists around the world.
'Helping Hand' is another initiative where he and his friends encourage people to give their used items such as clothes, books, shoes etc., to help underprivileged children. 'She Hygiene', one of his recent initiatives, focuses on distributing sanitary pads to girls who cannot afford to buy this basic necessity.
"Per month, more than 200 girls are benefitted per through this initiative. I have also come up with a podcast series #RingTheBell- to make people aware about climate issues present in our society by interviewing those people who are forerunners in finding solutions towards a healthier Earth. This has brought me wonderful opportunities to interview eminent personalities like Erik Solheim, Vikrant Tongad, Gerald Kutney and other activists who are cognizant in their respective fields," added Seth who is a committed activist of UN SDG Goals 2030.
Important : If you are making an impact in the world, Please send us your story at : manoj@sociostory.in and we will try to cover you.