Meet young entrepreneur Kanthi Dutt who curated a platform to sell 1 crore t-shirts and fund rural education in India
July 10, 2020, 8:08 a.m.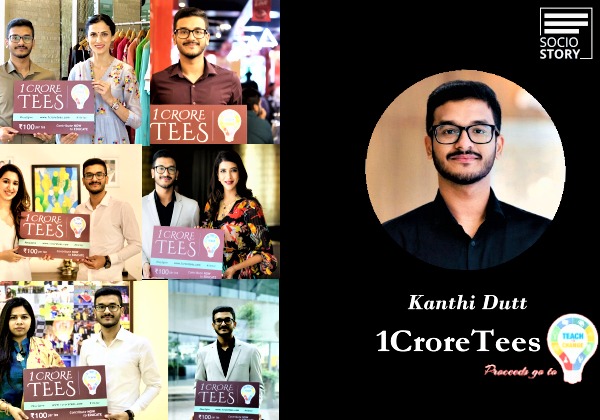 By:Reshma Jain
Illiteracy is one of the major reasons that impact the development and growth of our country. This being majorly a rural phenomenon that limits the opportunity to improve livelihood and to attain a better lifestyle, it is true that literacy has a direct effect on poverty. Like Nelson Mandela has said, "Education is the gift that none can take away", it is true that change should begin with educating the society.
With one such motive, Kanthi Dutt, a well-established businessman from Hyderabad, India and the owner of Spartans Media has launched a smart social campaign named '1CroreTees'. This is a social initiative to raise funds for creating better literacy standards in rural areas. Education is one of the prime requirements for a child's development, indirectly impacting the nation. 1CroreTees strongly believes that important social challenges like inequality, unemployment are also significantly addressed through primary education.
The initiative is to retail one crore T-shirts at a flat price of ₹100 each in a span of two years and contribute ₹5 crores towards "Teach for Change Trust" in Hyderabad, chaired by Actress Lakshmi Manchu that works towards quality education for all, particularly children studying in government schools, and for the future of children who are denied education due to poverty.
Entrepreneur Kanthi Dutt says that, "Growing up as an entrepreneur was very challenging. I wasn't that happy go lucky teenager. As I was venturing out, I realised how nepotism, ageism act on one's career. I think this has triggered me to create equal opportunities for all children from varied social backgrounds."
Dutt added saying, "Having seen the world and the ever-growing opportunities, I always believed that right education and mentorship could transform any individual. This social thought was born when I was in Singapore for my 20th birthday. I wanted to contribute towards the betterment of society and make a difference. Change in our society begins with literacy. So, I've decided to create a better place to live in."
Speaking to Socio Story on the target of the project, Dutt said, "We started off this campaign during the pandemic. So, the sale is now live on the website. We have sold 1,000 on the site and have more than 20,000 bulk orders already. We are planning to achieve the target in 2 years. We sell these t-shirts on www.1CroreTees.com for the general public. Also, brands are offered to contribute their CSR budgets towards this initiative so that they could indirectly motivate their employees as well."
Awareness coach Gulnar Virk Krishna who is a volunteer at Teach for Change, said, "Education is something that we begin at home. We are taking this initiative- 1CroreTees- to contribute to the education of underprivileged children, hence to make a difference."
Kanthi Dutt started his career at age of 12 and has worked with many leading brands like Freedom Healthy Cooking Oils, Telangana Tourism, Andhra Pradesh Tourism, Bajaj Electricals, Colors TV, Reebok, TruJet Airlines, Coca-Cola to name a few, over the years. Now at 20 years, Kanthi is one of the celebrated entrepreneurs from India who is best known as a business strategy consultant.
As a young entrepreneur, Dutt started off his journey believing that knowledge could help any person attain success. "Illiteracy is one of the major reasons for unemployment that limits the opportunity to improve livelihood and attain a better lifestyle. I believe that literacy has a direct effect on poverty. So, by helping rural children with enough opportunities, we can create a better society. I have once visited a government school near Hyderabad and I am surprised to see these kids to be very smart and enthusiastic. Hence wanted to help them achieve their goals, in my little way," stated Dutt.
Dutt has been personally visiting colleges and interacting with youth between 21 and 26, hoping that he could motivate them and create positive energy towards achieving any kind of goals they have. As a patron at Teach for Change, he supports all their regular activities.
"I strongly believe that a nice creative idea can change anything. So, I want to support, encourage and fund young budding start-ups that are actively involved in sustainable development and business models that create large scale employment opportunities for rural India. If we could change the way rural India is, then we are definitely a developed country," signs off the young talented entrepreneur.
Important : If you are making an impact in the world, Please send us your story at : manoj@sociostory.in and we will try to cover you.