Mission RutuChakra- a PERIOD to the menstrual stigma
June 8, 2020, 6:29 p.m.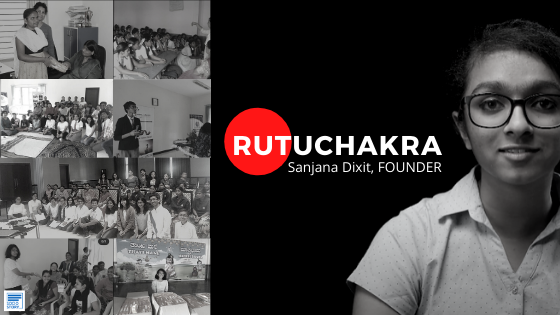 By: Reshma Jain
When Sanjana Dixit celebrated her 16th birthday in an orphanage in Bangalore, little did she know that she would be impacting the lives of hundreds of girl students and women. On visiting the Thayi Mane orphanage along with her family on her birthday, Sanjana happened to use their washroom. Although it was decently maintained, it immediately set off some questions in her mind. How do these children maintain their hygiene in a place that lacked adequate sanitation? How do they manage their menstruation?, etc. And yes, it was after this visit that the idea behind RutuChakra (which translates to menstrual cycle in Sanskrit) was born.
Sanjana (18 years), immediately called up the founder of the orphanage and asked her the questions that struck her after the visit. On answering her questions, Sanjana learnt that while several people would come forward to donate books, toys, stationery, no one would come forward to donate or fund something as important as menstrual products. Moreover, a majority of their funding went into administration and education, with limited funds towards healthcare. The girls in the orphanage, in the absence of resources, would resort to using unhygienic alternatives.
"That really struck a nerve", exclaims Sanjana. She says, "As a girl myself, I can't imagine having my periods without the right resources or information on how to manage them. I believe that every individual has the right to manage their period with dignity. Thus, to tackle this issue, I started an initiative on menstruation which became RutuChakra- an organization promoting personal and menstrual hygiene amongst menstruators of all ages and backgrounds," added Sanjana, founder and executive director of RutuChakra.
On being asked the mission of RutuChakra, Sanjana who has been actively involved in social service since the age of seven, stated, "We aim to build a society where menstruation is not thought of as a curse, nor a disease but rather as a welcoming change in an individual's body. We do this in three ways: 1-Provide a regular supply of menstrual products to areas and individuals in need. 2-Empower individuals through knowledge- through workshops and follow up sessions (with special workshops designed to cater to the needs of menstruators with disabilities, down syndrome, blind, etc. along with their families). 3-Promote better awareness amongst all genders to overcome embarrassment, cultural practices, taboos around this topic."
Sanjana's mission has yielded amazing results so far. RutuChakra has so far distributed over 1,16,800+ menstrual products, helping over 6000+ menstruators, with over 54,800+ products distributed in response to the coronavirus pandemic. By providing menstrual products, RutuChakra is able to ensure that menstruators have a safe and hygienic period thereby reducing the risk of infections and other detrimental effects on a menstruator's health.
Speaking on the challenges faced, Sanjana who comes from a family that places a lot of emphasis on community service and giving back to society, said, "The biggest challenge was in changing the societal narrative surrounding menstruation. So, we faced a lot of resilience from society as we questioned the existing flawed belief system that a large section of society has adapted from multiple generations. Even within my immediate circles, I initially faced some resistance which faded away as we began to normalise the topic."
"I come from a rural background (from Kolar), where periods are not discussed openly. I used to use a cloth to manage my periods which I would wash and dry in the shade so that others couldn't see it. I didn't realise that this was unhygienic. The session helped me understand safe practices and bust taboos around it," stated a lady who attended a session on menstruation organised by RutuChakra.
In the future, RutuChakra plans on expanding and starting more chapters in different areas to spread this movement. They plan to work with the government on a more comprehensive policy to ensure menstrual awareness and resource accessibility for all individuals so that they can put a PERIOD to the stigma.
A few interesting points on Menstruation:
1. In India alone, over 88% (360 million) menstruators don't have access to hygienic menstrual products.
2. In the absence of which they resort to using several unhygienic alternatives such as hay, mud, clay, etc.
3. 45% of the people still believe that menstruation is a curse/disease
4. One in every 5 menstruators drop out of school on getting their period.
Important : If you are making an impact in the world, Please send us your story at : manoj@sociostory.in and we will try to cover you.