Mobile Sh'E' Toilets- A boon to women on the move
Sept. 25, 2020, 2:18 p.m.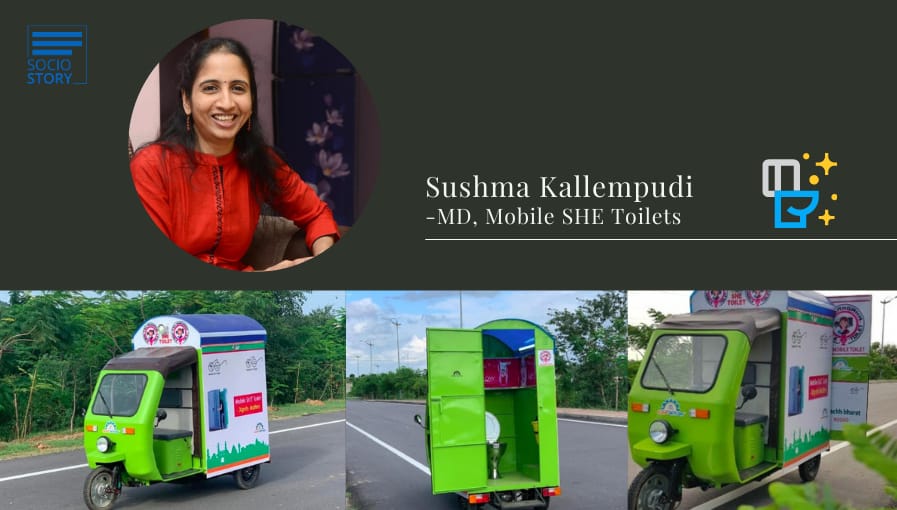 By:Reshma Jain
When Sushma and her friends went shopping in busy areas (bazaars/open shopping markets, etc) during the weekends, they found it difficult to find clean and hygienic washrooms. This led to a lot of other problems as either they had to search for a clean accessible public toilet or wait until they got back home. Sushma noticed that it was not only her who was facing difficulty to access washrooms, but also the other women who visited the crowded areas.
One fine day while thinking about the problems women face with regard to sanitation in public spaces, a thought triggered Sushma's mind. This gave birth to a novel idea and led to the launch of a pilot project - Mobile Sh'E' Toilet on Electric Vehicle which is claimed to be the first-of-its-kind in India.
Speaking to Socio Story, Sushma Kallempudi based in Hyderabad, said, "Sanitation these days is a major problem in India which in turn leads to numerous other issues, one of them being the reluctance on the part of women to use public toilets. Poor hygiene in public restrooms and lack of needed facilities dissuade women from using public toilets. As a result, they avoid drinking water to the extent possible, prior to a planned travel and this in turn poses a threat to their health."
"Hence, I came up with an idea to develop a mobile Sh'E' toilet that promises to address the lack of public toilets for women. The objective to develop an electric mobile toilet is to offer the required flexibility and convenience of usage during travel. It has been designed on e-auto to curb the pollution caused by traditional diesel and petrol vehicles," added Sushma, director of Jalagam Associates, a social enterprise.
So, how does it work? Single user toilets will be set up on an electric auto. The vehicle will be halted at crowded places in order to meet the needs of the people and depending on the usage of the same, it will be charged accordingly. As the vehicle is a compact one it can be placed anywhere very easily, keeping in view the traffic on the road. The vehicle will be operated and maintained by a woman and the usage of these vehicles is restricted to women.
The eco-friendly 'Mobile Sh'E' Toilet' system comprises an electric vehicle that houses a toilet for the convenience of women. This project is planned to be implemented in phases. The first mobile She toilet as a pilot project was launched in Kodad, TS on the 20th of August, 2020. They are planning to add vacuum flush technology as used in aircrafts to minimise the water usage. In addition, plans for generation of electricity from urinals through MFC technology are underway.
The present pollution-free mobile toilet has a drain system with 70 L capacity tank and a water storage with 70 L capacity tank. The proposed additional features include GPS tracking, sanitary napkin dispenser, diaper changing station, power charging station, feedback form, panic button and vacuum flush technology.
J Sudheer, one of the founders of Jalagam Associates, said, "Around 80% of public toilets are defunct because of lack of maintenance. This made us come up with an idea to meet the needs of people. After charging the vehicle, it can be placed in crowded places. The toilet will have a water tank overhead, which will provide water for flushing. Costing about Rs 5 lakh per unit, the idea was developed with support from University of West England, Bristol."
"We have submitted similar proposals to the Government of India and Government of Telangana, AP and Karnataka," added Sudheer.
A few of the features of the Mobile Sh'E' toilet are:
Provides the needed hygiene and convenience
Easily rechargeable battery
No pollution threat, Sani-Dump and MFC technology
Allows for easy disposal of waste in kiosks/petrol pumps/ calling septic tank cleaners.
Enables re-filling of water
Minimal efforts for maintenance
Availability in crowded areas where access to the public toilets is limited
Vehicles can be used during events like 2k runs, exhibitions, small functions etc.
Provides employment opportunities to women
Potential revenue generation through hoardings (space can be rented out for advertisements)
Important : If you are making an impact in the world, Please send us your story at : manoj@sociostory.in and we will try to cover you.