Narrating India's rich history and reviving the lost glory, Ram Alladi shares the role of films in creating a social impact
April 18, 2021, 8:35 p.m.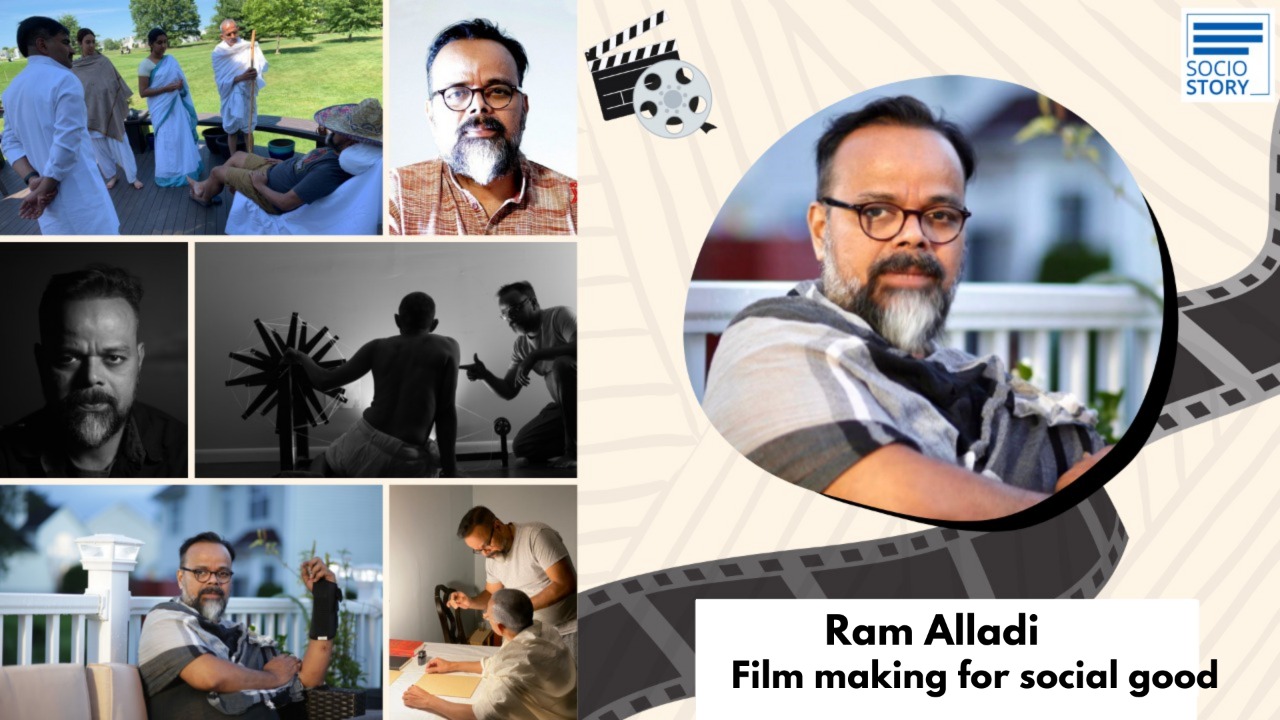 By:Reshma Jain
It is said that if there is one language of enlightenment, then it is Sanskrit. The oldest language in the world, Sanskrit is the greatest treasure given to the world by ancient India. While efforts are being made to revive this fascinating language, there are a few individuals who are taking a step forward to use this versatile language in their works. Socio Story brings one such story of an Indian-American film maker Ram Alladi.
A strong believer of language and considering it as a tool to deliver a message to the respective audiences, self-taught film director and screenwriter Ram Alladi shares his journey on why he chose Sanskrit in his upcoming film named 'Nabhamsi'. 'Nabhamsi' is a 100% Sanskrit spoken language film and the word 'Nabha' in Sanskrit translates to 'Sky' in English and 'Nabhamsi' translates to 'skies'. It's a romantic fiction plot of a wife and husband companionship, set in ancient India.
"I am a strong lover of any language and it is a great tool to deliver my thought process to audiences. The reason I chose Sanskrit as the film's primary language is because it is a deep conversational story that occurs almost 1,000 years ago in the sub-continent. I learnt Sanskrit for this film. It has magic in it," shared New York based film director Alladi.
He further added, "Alongside the language usage to narrate the story, I am using many forgotten dance forms to convey a few scenes. These dances are going to be a big addition to the film. Music in this film will take us to cosmic planets. We are working on each beat carefully because the music in this film is going to be generated from the skies to the earth".
Cinematography is going to bring million vivid colours in each and every frame to reflect the art of ancient India like, jewellery, costumes, hair, eyes and 'Nabha'. Nabhamsi is a classic tale and 75 % of the film is going to be shot in the USA and the rest in India. The movie is set to be completed at the end of year 2022.
Alladi is the producer and director of Chiseled (2017) a documentary about the remarkably preserved architecture of the Kakatiya Dynasty from his home city of Orugallu. The documentary Chiseled, was born from his frustration at the untold stories from his native Orugallu, a place filled with beautifully carved stone architecture that has survived several centuries. The imminently released semi-fictional biopic Ra's Metanoia (2020), an abstract and daring retelling of the life of Mahatma Gandhi and his philosophy was well received by the audience.
Hailing from Hanamkonda, Telangana, Alladi spent his childhood in a boarding school after his mother passed away when he was only nine years old. Alladi's father was a tahsildar in the Revenue department. Recalling his school and college days, Alladi shared that back in the 80's and 90's, cinema was the only social entertaining element in every kid's life in India. "I was one of them. I remember I started watching films when I was 4 years and I still remember the film I watched for the first time," he reminisced.
"While watching films, I used to ask my sister and brother, 'How are these actors performing on screen? And where do they come from?'. To which my sister answered, 'The actors live in the projection box and whenever it's their turn they come and perform on screen'. For almost a couple of years after, I learnt that they really don't live in the box. Then the science of cinema became a part of my life. That science is all about knowing that 'Whenever I watch films, it's not that I am watching the film, but the film is also watching me'. So, cinema and I became good friends from my childhood. Every moment I spent in my life; I have seen various stories around me. One of the stories out of them was "Ra's Metanoia", about Mohandas Karamchand Gandhi's last day," shares independent filmmaker Alladi who went to America 17 years ago as a software developer.
"Multiple award-winning Ra's Metanoia is a kind of film with a great social concern in modern India or the world. I wanted to discuss and portray a simple man with a great personality. Many stories were there about him in the form of books or films. I did not want to repeat them. So, after doing a good research of Gandhi (the protagonist of the film), I came up with many events which were not discussed in other films. Each chapter I chose was unique and conveyed greatness," added Alladi who makes both documentary and fiction features.
From the day one, any community with social concerns, will seek wide range education to resolve the conflict. Ever since modern mankind's evolution, there were many mediums to educate the society, in the form of art, religion, heritage, books, radio, cinema or television. Though each of them has its own prominence, cinema has more power in terms of collaboration with technology like visual and audio together. So, the cinema can deliver or narrate the plot together with multiple elements.
Throwing light on films as a tool to spread awareness on social issues, Alladi said, "Any spectator of cinema will have the impact of the message it delivers. Since the cinema is the messenger to society; it also has a negative shade- when the plot narration is in bad shape. So, a filmmaker has much social responsibility while drafting his screenplay." "I am going to work on one feature film and a political documentary from the 60's. The feature film will be based on a true dark event that happened in 1973 in India, with an alternative world fictional plot," Alladi added.
Concluding his talk, Alladi said, "I know a lot of people who wanted to pursue filmmaking careers but turned into different industries. I am one of them. All that I would like to say is 'Do not give up your dream!', because every dream of yours is a wakeup call. I know it's hard to choose or step in the second profession of your passion while doing a bread winning job. But with little time management and hard work, you can make your dream come true."