Nurturing wishes of the elderly through her grace, Geeta Shankar serves them with kindness
Nov. 2, 2022, 1:07 p.m.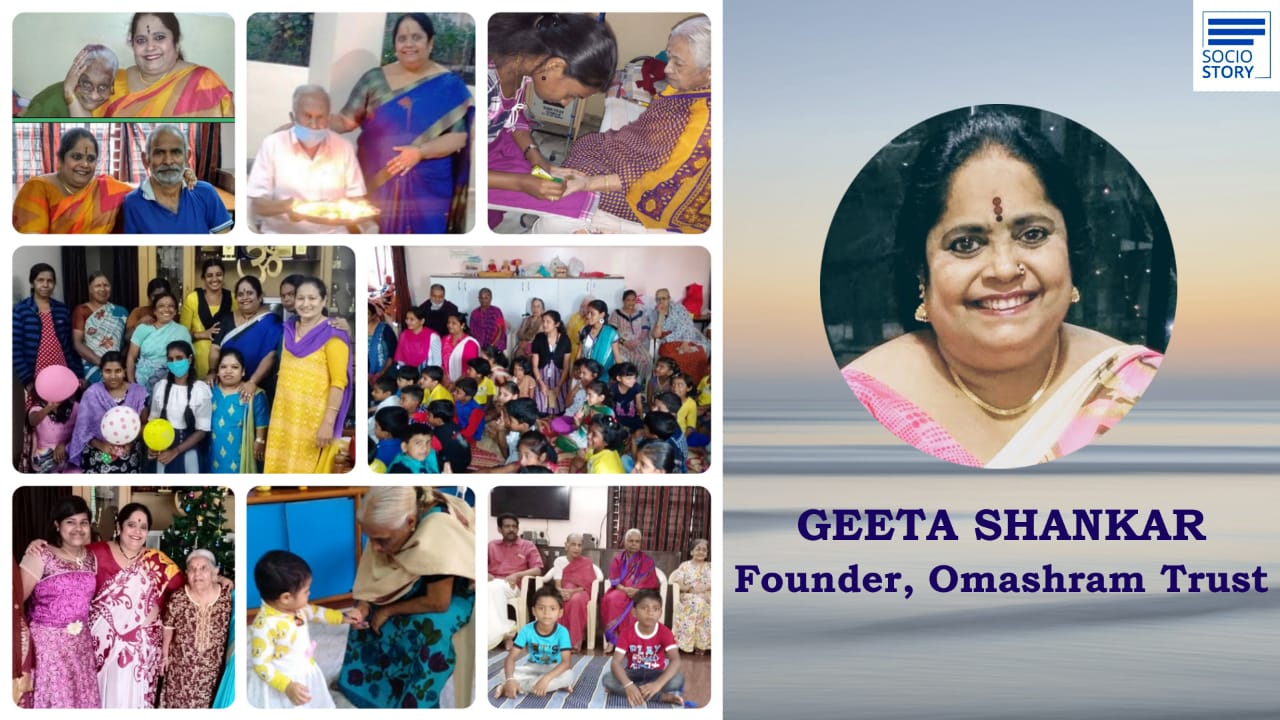 By: Reshma Jain
In order to demonstrate her selfless dedication to serving the old, Geeta once claimed to be engaged to the son of one of the patients, who was suffering from dementia and had forgotten that Geeta is married and has a child. The resident was quite concerned about her lone son, so Geeta went as far as to stage an engagement. The resident passed away peacefully the very next day. "Giving myself for the happiness of others has been my motto for years," shares Geeta Shankar who established an old-age home named Omashram Trust-Old Age Care, in Bangalore with Mr. Mohan Pai.
Hailing from Mysore, Geeta was exposed to the varied cultures and customs of our nation which broadened the horizons of her mind and personality. Soon, she took the plunge into social work with Mr. Mohan Pai in Bangalore. In 2001, she established an old age home named Omashram Trust where 500 senior citizens have been given a home and care since the inception of the organization.
Geeta Shankar-Founder and Managing Trustee-Omashram Trust-Old Age Care-Bangalore, said, "The major challenge is when the elders either fall sick or need to undergo surgeries due to falls which occur because of non-availability of care takers. Hence, we formed Omashram Trust as a day care centre, where the elders could come and spend a day or days together with various activities and food provided. Subsequently, owing to their comfort levels and non-compatibility with extended families, the elders refused to go back home and we were blessed with a permanent home for elders."
Omashram Trust supports the elders by providing nutritious food as per their requirements, hygienic environment with cleanliness maintained, medical and nursing care for those who are sick and bed ridden, physical assistance for those who are unable to move on their own, exercises, physiotherapy as and when required, counselling, visit by general physicians and specialists-twice a week. There is also an element of entertainment through bhajan recitals, celebrations of birthdays and festivals with the help of volunteer groups, school children visits, organ donations if not supported by families.
The elderly population, whether fit or not fit, miss their family members and grandchildren to an extent unexplainable. Hence, Omashram trust plans to combine the old-age home with an orphanage to enable the beautiful gel of grandparents and grandchildren under the same roof. This should ease the deprivation of both the categories as such.
Many are willing to take care of a child, but few would offer to care for the elderly and senile. Her dream is to have an orphanage next to the old age home, so that the children and the elders can take care of one another. But until then, she fills the lives of the residents of her home with hope and compassion and remains committed to making the sunset of her "elderly children" a beautiful one.
"Be the person who makes others feel special and be known for your kindness and grace, she concluded."