On a mission to make the world pothole-free, PotHoleRaja has also been saving lives simultaneously
May 5, 2022, 7:19 p.m.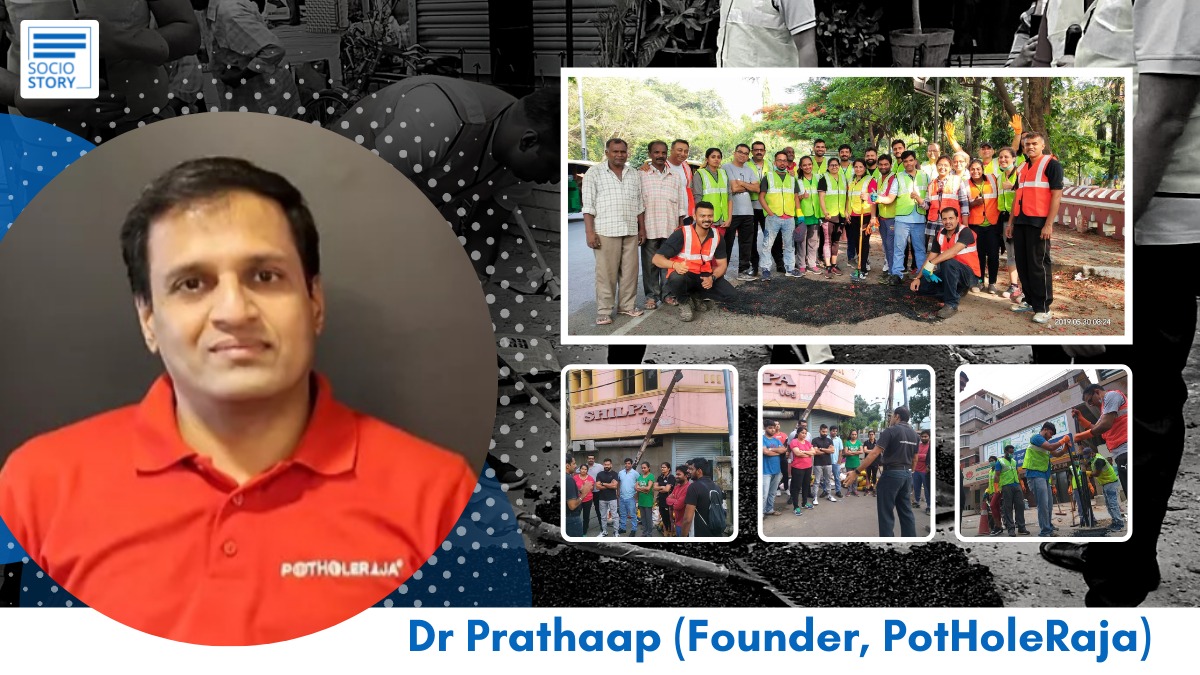 By: Reshma Jain
Usually, the thought of an NGO starts with the reason being a personal tragedy. However, with PotHoleRaja, both the directors identified that this is a problem that needs a lot of attention. They started this with the thought of saving as many lives as they can because of poor road infrastructure.
It all started when Dr. Prathaap B. Rao accepted the situation of bad roads in India and thought if he as an individual can do something about it. An ex- Indian Airforce pilot, after a crash-land, had to move out of the Airforce and thus started his corporate journey. With 11 years in corporate, the time when he decided to leave the job in 2011, he was the Global VP of HP.
After that, his entrepreneurial journey started initially as a management consultant. He started working with a lot of companies that were towards road management and construction leasing him to understand the reason behind the bad roads. That's where the research started in terms of road safety and potholes became one of the biggest reasons for death on Indian Roads which led to PotHoleRaja's formation. And the first pothole fixing happened in 2016.
PotHoleRaja's Director, Sourabh Kumar's journey started while he was working with HP as a Software Developer. One news article related to a pothole accident caught his eyes, shook him, and led him to ask, "Is pothole really worth taking someone's life?" And with that, he initially joined Prathaap as a volunteer for 7 months and then decided to leave his job at HP and decide to continue the mission of making our world pothole-free.
PotHoleRaja has come up with its innovative product 'PotHoleRaja GridMats' which is made of 100% recycled plastic waste and which can be used to make roads with a minimum life of 30 years. "The more we are able to use the waste material, the less we use natural resources; this is an eco-friendlier approach," shared Prathaap.
PotHoleRaja GridMats, made from 100% recycled plastic is not only able to create a cost-effective road with minimum life of 30 years, but it comes with additional benefits of 80% less CO2 emissions and usage of less fossil fuel. With the use of technology, they reduce the usage of natural resources by reducing the thickness of the road by almost 50% and still having the capacity to hold 400MT load.
Speaking to Socio Story, Dr Prathaap said, "The two things that India is lacking in terms of road safety are Awareness and Accountability. We as riders are also least bothered about road safety and in following the instructions. We tend to ignore the issues most of the time and do not even consider reporting them, also being the reason that most of us are not aware of the right place to report. But how aware we are in terms of our individual responsibilities is the major missing link."
"We, at PotHoleRaja, are trying to bridge this gap by volunteering. We have always focused on creating a community where once the volunteer comes and fixes a pothole with us, they understand what power one individual holds in bringing the action," he said adding that for better road infrastructure, there needs to be awareness in terms of behavioural aspect among individuals right from young age (during their school) regarding road safety. It also requires an increase in the road safety knowledge for truck and bus drivers.
Sharing further, he also said that Cold Asphalt is readily available in every city in India. The only thing that is lacking is the adoption of cold asphalt. Its usage is still thought to be a temporary fix and that's where PotHoleRaja is breaking this myth in creating a permanent solution with Cold Asphalt by fixing potholes for the past 5 yrs.
Experts opine that the road infrastructure is slowly getting better in India, but the need for pedestrian-friendly and disabled-friendly roads is the need of the hour. Things that can be done include better surveillance on the roads and more accountability from the drivers. The roads abroad are not different from Indian Roads. Potholes still remain to be a global problem. The only thing that differs with the developed nation is in the time of getting the issues addressed when brought attention to the right authorities. But the problem of potholes persists everywhere.
The "Electric BharatMala", is an initiative of StartupnREV, led by John Kuruvilla and Gautam Khot joined by the collaborations of various organisations including PotHoleRaja. This journey had cover 14000+ kilometers on an electric motorcycle with the mission to introduce the EV ecosystem and promote road safety across India through a world-record attempt. PotHoleRaja on this journey has fixed 1000+ potholes and had over 10000+ students addressed for road safety across the journey.
There has been a considerable impact on ground by the projects executed by PotHoleRaja in the journey of the past 5 years. They have fixed 13000+Potholes in 10 cities, impacted 20L+ Lives directly, 15L lives are safe on the road daily and 150 tonnes of CO2 emissions have been reduced.
Sharing the future plans, Dr Prathaap concluded, "We have a few plans and among them are; 1. Rural Road Project: Transform the complete village into a model village in terms of road and road safety thus allowing to generate employment for the youth. 2. Solar Roads: This is under R&D. The focus is to build roads which will generate electricity."
How Can Someone Report Potholes? And what after that?
The community can send the pothole picture & GPS location of Potholes for review and assessment to PotHoleRaja at +91- 81476 84653. Once the cost assessment is done, the fundings are done either via corporates, online crowdfunding platforms, or individual donors.