​On a mission to spread Patriotism, Umesh Jadhav has travelled across India to collect soil from the home of martyrs
Aug. 11, 2022, 1:41 p.m.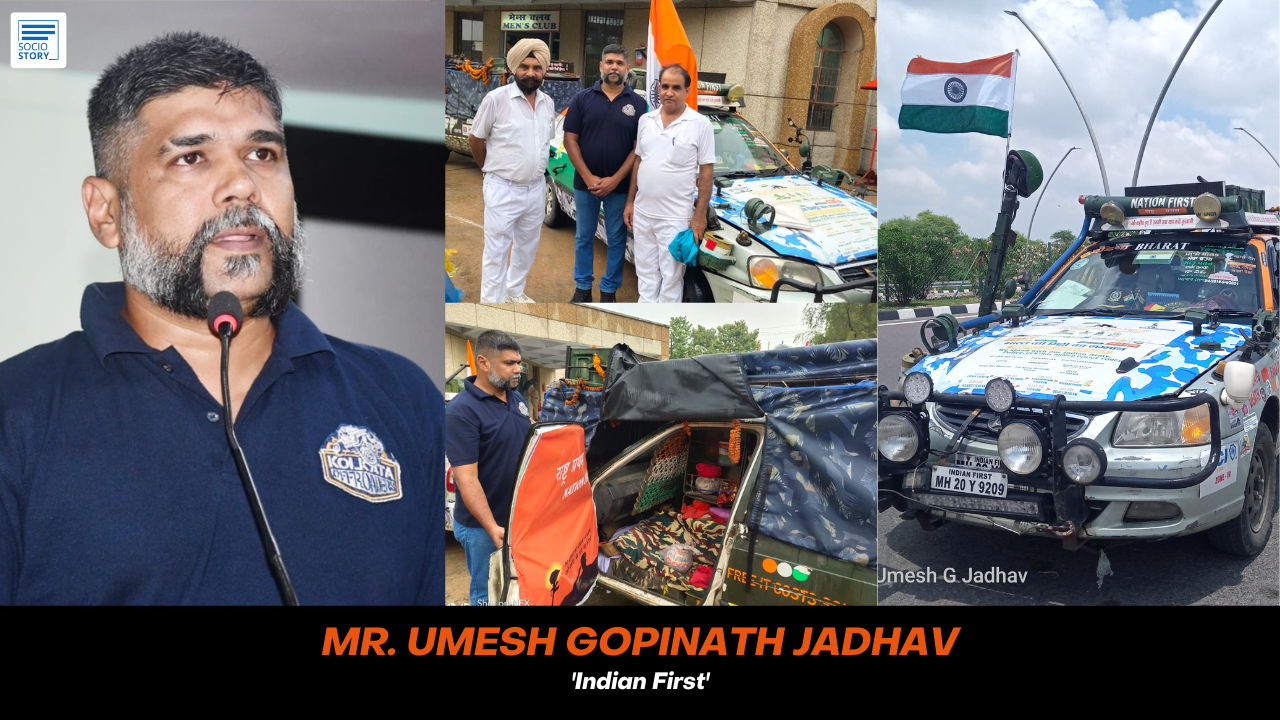 By: Reshma Jain
"Independence is not free, it costs soldiers", read a caption on a Maruti 800 (trolley fixed as tow to keep the Martyrs soil) attached to a car parked near a Cafe. The Hyundai Accent car with stickers and captions on patriotism looked like an army vehicle while many people were seen clicking pictures and selfies. And when I happened to enter the premises where the event (organised by JCI club) was going on, I could hear a brave and a valiant man speaking about the people who sacrificed their lives for the nation.
And then when I met him personally, I felt proud of his initiative. Umesh Gopinath Jadhav, the man who travelled thousands of kilometers to collect soil from Pulwama attack Martyr's home has been recognized across the country for his work. Hailing from Sambhajinagar (Aurangabad) Maharashtra, Umesh Gopinath Jadhav is settled in Bangalore since 2004. Jadhav pursued a Masters in Pharmacy and was a professor, a Hindustani trained Tabalist (Percussionist) who had a music school in Bangalore.
As a responsible Indian citizen, Jadhav said that he initiated and embarked on the 'India's first Patriotic Road trip to meet India's Martyrs /Fallen Heroes across 28 states 8 union territories. The ride was flagged off by CRPF DIG Sh. Sanand Kamal on April 9, 2019 from GC CRPF Bangalore.
Speaking to Socio Story on the occasion of Azaadi Ka Amrit Mahotsav, Jadhav said, "The Mission of this ride is: 'Janmabhoomi Karmabhoomi' (Respecting soils of India/ Bharat ke Mitti ka Samman) & Indian First (Bhartiya Pratham). My mission which is supported by the common citizens explains the gravity and enormous sacrifices, pain and burden our forces takes to keep 130 crore Indian citizens to be safe and sound. Realising the ground reality of what the martyr's family go through, I have always believed that a soldier dies only when we start forgetting about them."
It's definitely a selfless service to meet the 'Veer Pariwar (Martyr's family)' and paying homage and salutations for their ultimatum sacrifices. Jadhav has collected soil from the martyr's homes to make an 'India Map' as a symbol of a tribute to the martyr's and to spread the message of 'Unity in Diversity'.
Jadhav has travelled over 1.20 lakh kilometres in 3 years 2 months across 28 states and 8 Union territories. Jadhav has reached Delhi to culminate his ride on August 15, 2022 as a part of the 'Azadi ka Amrit Mahotsav' celebrations and #harghartiranga movement.
Jadhav has met families of 150 Indian Armed forces martyrs. This includes the families of 40 Pulwama Martyrs, Cobra commandos, War heroes of 1947,1965,1971, Ops Rakshak, Siachen warriors to name a few. Jadhav has also collected soil from the Cellular Jail, Flag point from Port Blair, Andaman Nicobar Islands. Jadhav has also shared that he has received soil from the families of martyrs of World War 1 (Mysore Lancers), Haifa war in Israel, U N peace Mission and from the memorials of Field Marshal Cariappa sir, Field Marshal Manekshaw, Maj Sandeep Unnikrishnan (26/11) among the others.
Reminiscing one of the best memories of his life, Jadhav said, "I was the only guest invited on the first anniversary of the Pulwama attack (14/2/2020) at the Pulwama Martyrs Memorial, Lethpora, J&K. The martyrs soil was handed over in an Urn (Kalash) to CRPF SDG Sh.Zulfiqar Hasan, IPS which is now an integral part of the memorial."
Jadhav believes in; 'Ask not what your country has given to you- ask what have you given back to your Nation.' He also shared that the values of Patriotism should be so strong that it should be seen in actions and not only in words or paper. This shows that Jadhav's mission is selflessly driven to spread awareness among citizens to show our Patriotism in Action.
The strong pillar are the youths of the country and the need of the hour is to bring back the wave of patriotism in Action toward Nation Building. Sharing his views on 'The Har Ghar Tiranga' campaign, he said that it is an important opportunity to educate and spread Patriotism and sincere feelings towards our martyrs and their sacrifices.
Army has only one Religion and that is 'Nation First'. "When we see our soldiers /veterans, I request people to show them respect at public places, trains, flights by saying atleast 'Jai Hind' or thanking them for their sacrifices," concluded the patriot.