One noble act in childhood led to forming an organization to serve people at large
Oct. 24, 2020, 12:06 p.m.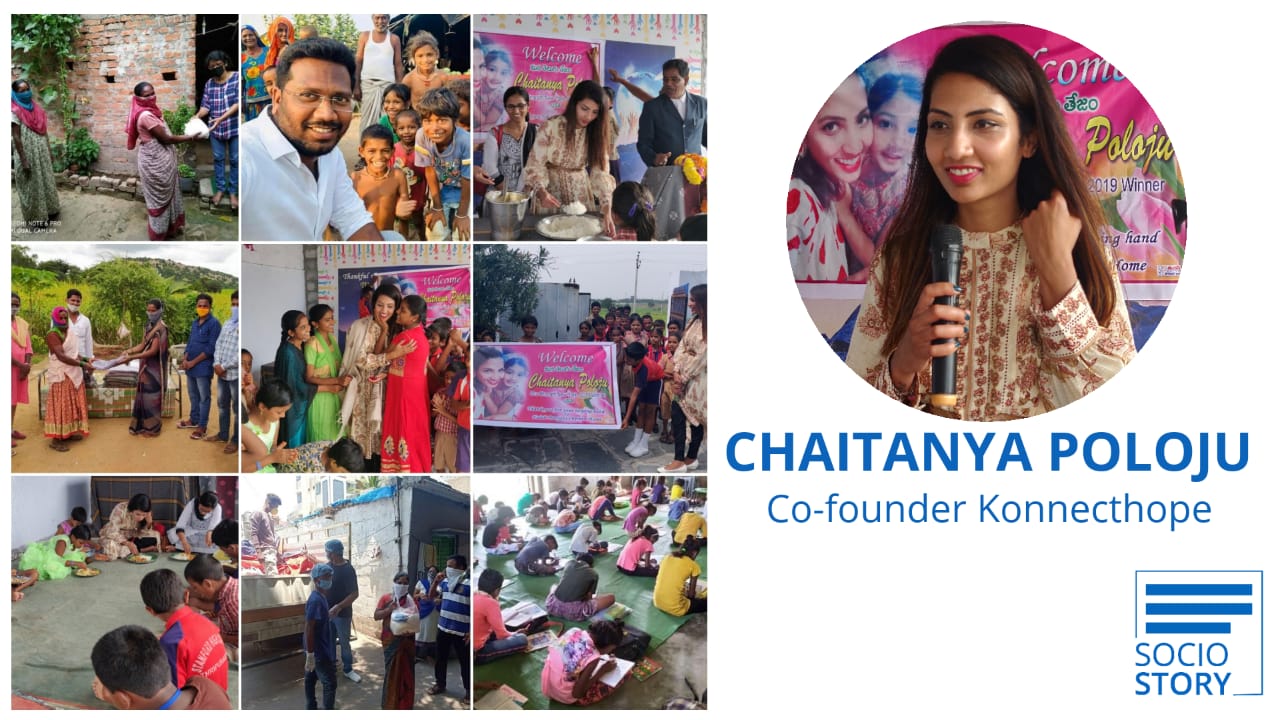 By: Reshma Jain
When she was young, her grandmother gave her a 100 Rupee note to buy herself a favourite snack from a bakery. But the altruism in this little girl made her to donate that 100 Rupee note to an old lady who was begging at a bus station. They say charity begins at home and these small acts of the little girl made her envision a dream for the larger good. So, gradually as years passed by, her small deeds led to forming an organisation to serve people not only in India but also abroad.
In an interview with Socio Story, Chaitanya Poloju who is an IT engineer, an actor, and a philanthropist, further shares that the old lady instantly cried and hugged her. "This sparked a thought that true happiness lies in sharing what we have with others. This thought has been close to my heart and I believe that each of us can contribute in some or the other way for the betterment of the society," said Poloju who is the co-founder of KonnectHope.
The objectives of KonnectHope which has been co-founded by Anjaneyulu Poloju and Malleshwar Rao include upliftment of underprivileged communities by providing free food, clean water, clothing, education, medical attention and health services. They also take up schools and villages renovation that are neglected, provide the required help for talented kids, free funeral service for abandoned, free blood donation camps, tree plantation, volunteer management, animal welfare, etc.
"It's been six months we started KonnectHope with an aim to serve and enrich any lifeform in need. I have been supporting underprivileged communities in collaboration with other individuals and NGOs. A thought why not have our own NGO lead our vision in initiating KonnectHope," said Poloju who is currently residing in Virginia, USA.
Sharing about their latest initiative on raising awareness and educating underprivileged women on the importance of using menstruation hygiene products, Poloju said that they are collaborating with other organizations to acquire machinery for hygiene pads production. The volunteers are undergoing training and their mission is to spread awareness on menstrual hygiene in villages and underprivileged communities.
During the global pandemic Covid-19, the volunteers extended their hands to help people with COVID symptoms, by arranging virtual calls with doctors and by providing aid to the needy patients. An initiative for cremation services for abandoned COVID-19 dead bodies was also taken up by the team.
Malleshwar Rao, co-founder of KonnectHope, performed the funeral rites of more than 50 such people. "Although there was a lot of criticism from my friends initially, I did not give a second thought. The present situation is out of control and there is a lot of stigma attached after the death of covid patients. So, I decided to take up the cremation services. Not only do I perform the funeral rites with all the safety precautions but also spread awareness among people to not panic," said Rao.
Adding that the organisation has served approximately 8000+ people, Poloju who won the title Mrs Bharat New York 2019, said, "Plans are afoot for a few upcoming projects which would generate income and employment to people below poverty line."
Chaitanya Poloju received the Business Mint Inspiring Women Nationwide 2019 award for her social initiatives in supporting girl child orphanages and organising free health campaigns in India. She also bagged the Viswa Samskruti Nandi award 2019. The felicitations she received include; Faith banjara orphanage for her contribution towards girl child education , Karunya 2020 Indian art form and charity for her kind sponsorship, ATA (American Telugu Association) and NATA (North American Telugu Association) for women empowerment.
Important : If you are making an impact in the world, Please send us your story at : manoj@sociostory.in and we will try to cover you.