Our fashion statement impacts the environment, so next time, let's pledge to be aware of the choices we make
June 16, 2022, 11:03 a.m.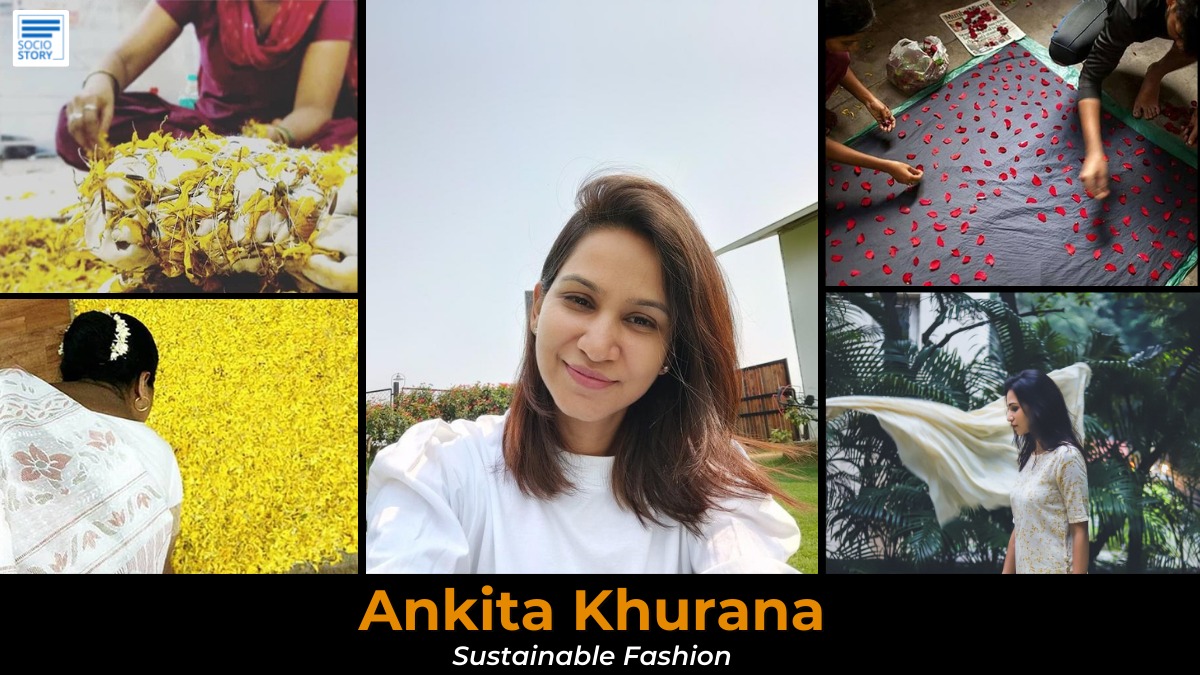 By: Reshma Jain
Fashion production makes up 10% of humanity's carbon emissions and textile dyeing is the world's second largest polluter of water. What's more, 85% of all textiles go to the dump each year (UNECE, 2018). These deadly numbers are enough to awaken any responsible person. Concerned about the kind of pollution in the clothing industry, Ankita Khurana was inspired to start up 'coeur' organic where she pledged to use only natural occurring fabrics, using only sustainable and natural wastes to dye the fabric. She has been running this successful home-grown label 'coeur' for the past 6 years.
One incident that ignited natural dyeing in her was a visit to a temple and the flowers she brought back. "As usual, I got some flowers to offer prayers. I put some in my pocket and forgot. Later in the day, I realised that marigold flowers left a strong pigment on the dress which made me realise how beautiful nature is. The rest is history," stated Ankita, a pass out from INIFD Surat.
Speaking to Socio Story, Ankita said, "Through coeur organic, we make sure we use only organic fabrics which in large reduces CO2 release by two tonnes a year. Conventional cotton which is planted on less than 3% of the world's arable land uses around 25% of the world's insecticides and more than 10% of the world's pesticides which are potential or known human carcinogens. We, at coeur organic use only GOTS Approved Natural Dyeing also known as vegetable dyeing and herbal dyeing. We also use innovative methods to dye or print the organic fabric with flowers, roots, fruites, etc. like turmeric, onion, myraballams, maddar, natural indigo, etc. This not only prevents pollution but also imparts medicinal and spiritual values to clothes."
Natural dyeing is much more tedious and precise. When it comes to chemical dyeing, the colour fastness is more and it's much cheaper and faster. Natural dyeing is a more creative process and requires much more attention, precision, knowledge and expertise.
However, natural dyeing is becoming quite popular in the niche of society. "One technique which was very successful was the one we started our first line of collection 'Tathastu'. In this process, we used discarded temple flowers from various temples in the city, which ultimately landed up in rivers. In this process, the organic fabric is first scoured (which is basically gently washing to wash off any starch or impurities). Then it is mordanted with measured quantities of alum. Post that, discarded marigold leaves are spread as desired and then fabric is folded. Thereafter, it's kept in a steamer for about 30min. Post that, the result you get into the fabric is fabulous," shared Ankita adding that Adiv pure nature has facilitated the art of natural dyeing and printing.
Speaking about the challenges, Ankita shared that getting skilled labour is a challenge in itself. Apart from the supply chain, another challenge is the consistency as we cannot expect the exact same design over and over again. The pigments from natural sources differ every time. Definitely, natural dyes are expensive and the process itself gets expensive because of labour involved. It's always done in small quantities which makes it costlier and there are huge chances of wastage as well.
It is very important for the younger generation to discourage the alluring fast fashion trends and choose sustainable fashion ways. Gradually it will help to reduce the environmental cost of fast fashion. Sustainable clothing industries follow the concept of 5Rs (Reduce, Repair, Recycle, Repurpose, Reinvent) to make their processes efficient and less cost - incentive. Youngsters should educate themselves about quality over quantity. Natural and sustainable ways of clothing also improve the standards of the work force as the labour is not exposed to harsh chemicals.
Stating that sensitising people is the need of the hour, Ankita adds that educating people about the ill effects of synthetic dyeing is crucial and education should start from the grassroots level. In today's world of fast fashion, sustainability and environmentally friendly fashion is a must.
Sustainability will seem a far-fetched dream if people and industry leaders do not come together. If big brands step into sustainability, there could be a significant change. Another way could be to spread awareness through various platforms and make the techniques available to various people in clothing industries.
Just the way people are getting more inclined towards organic foods, slowly they will be directed towards natural clothing too. "We wish to expand natural and sustainable clothing on a pan India level provided that we get good response. Along with that, we are open to teaching the techniques to the younger generation as well," concluded the Delhi based designer Ankita.