Overcoming all odds, Niranjan Nerlige V always believed to live a life of incredible achievement, success and fulfillment.
Feb. 26, 2021, 6:58 p.m.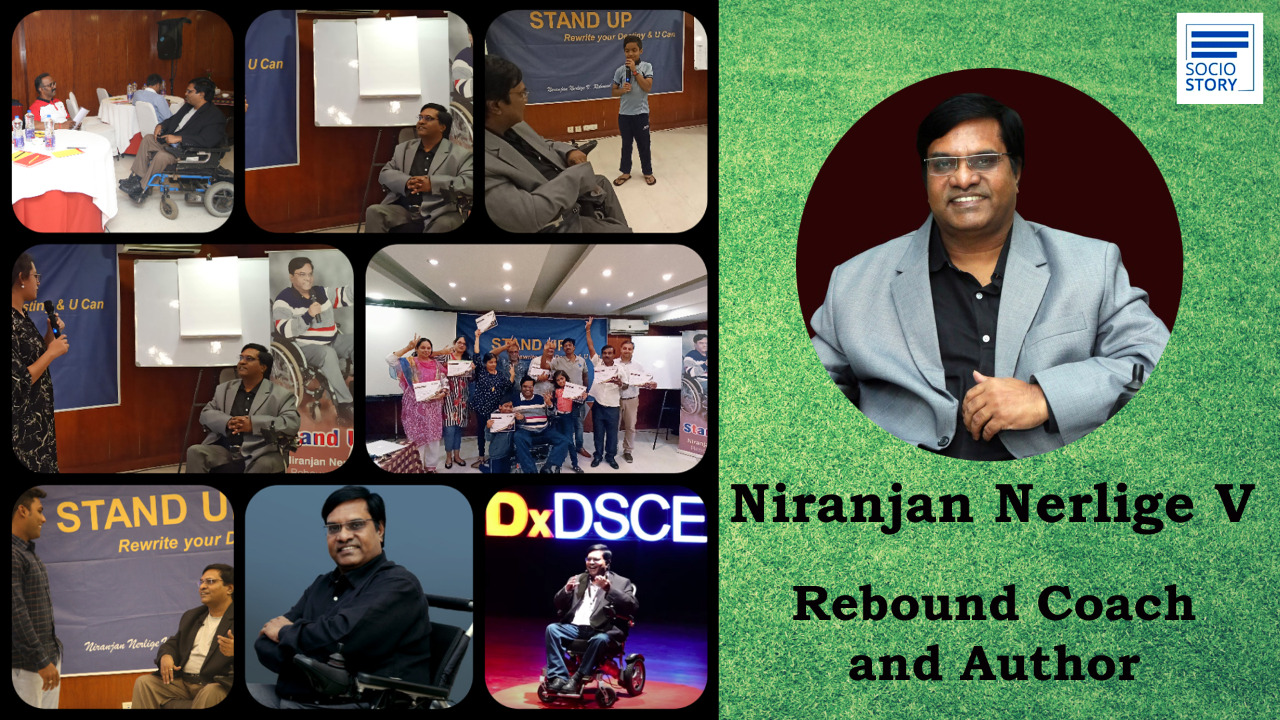 By:Reshma Jain
The Rebound coach, author, corporate trainer, inspirational speaker, TEDx speaker that we know today has an inspiring tale of grit and determination. Socio Story brings to you the story of Niranjan Nerlige V who never let his disability deter his passion. Niranjan's life changed drastically in 1994 when he fell off the 4th floor of his flat soon after he had passed Aerospace Engineering post-graduation from the prestigious Indian Institute of Technology, Bombay. Confined to a wheelchair for life, and seventeen operations later, it took him two years of a harrowing stay in a hospital; to know it was time to bounce back.
Filled with will power, strength, and determination, he set his mind to do something great; to be successful and not let hardships hold him back. Niranjan didn't want his legs to decide his future; instead, he knew he had the power to put his brain to the best use and lead his life as normally he could- to achieve what most 'abled' people can. Aiming towards success, Niranjan took up a job in a multinational company as a software engineer. Within two years, Niranjan became the senior manager and led a team of eight to ten people and was heading the Quality Assurance department. Soon enough, he received the 'Extraordinary Contributor Award' based on his performance and contribution in getting the company a coveted quality certification. He was also invited to deliver a presentation in the company's headquarters in the Netherlands to talk about how the award was achieved and how the experience had impacted him.
Sadly, due to lack of healthy understanding with the company management regarding his disability in the organisation he worked last, Niranjan had to resign in 2009. Shocked with how things were turning out, Niranjan knew he had to move on and achieve greatness yet again, and we all know- where there is a will, there is a way. Niranjan then decided to follow his greatest passion and decided to become a corporate trainer and teach. His new venture required him to travel a lot, and true, his disability was a challenge. But when the man set a goal, he knew he'd let nothing stop him. Niranjan's career as a corporate professional and corporate trainer spanned over two decades. He founded 'Exelplus Services Coaching and Training firm' and has trained as many as four thousand participants.
Author of the Best-Selling book "I Choose to be Unstoppable", Niranjan coaches and helps people realise that each one of us have inner power, but the only challenge is not to be bound by self-imposed limitations. "My idea is to make people earn a wonderful life and stand up and rewrite their destiny. I want them to become unstoppable in their life," shared 56-year-old Niranjan who is an inspirational speaker.
Niranjan has designed two programs- 1. STAND UP - Rewrite your Destiny & U can 2. Fearless and Unstoppable Digital Coaching. Through these programs, Niranjan who is based in Bengaluru has been transforming many lives.
Sharing his views on the need to empower disabled people, Niranjan who was awarded with Critic Space Journal Literary award as one of the top 100 Debut Indian Authors for his book, said, "People in wheelchairs or any differently-abled people do not need sympathy, but they need empathy. Lot of empowerment is needed to bring them to the mainstream. This can only happen if the government, NGOs, corporates and like-minded people join hands."
According to the Government's Census 2011, there are 27 million people in India with some form of disability. 20% of the population with disabilities have a mobility challenge, thus at least one million people need a wheelchair, further shared Niranjan who received the 'Rotary Diversity Award – 2018' for vocational excellence.
"My mission is to help five lakh people in the next five years by helping them realise their potential and improve their quality of lives," said Niranjan by concluding that he strongly believes in 'Challenge your limits rather than be limited by your challenges.'
Important : If you are making an impact in the world, Please send us your story at : manoj@sociostory.in and we will try to cover you.