Oxygen Cylinders or Clean Air? What will the future generation inherit from us, asks Pankaj Kumar
Feb. 27, 2022, 7:35 p.m.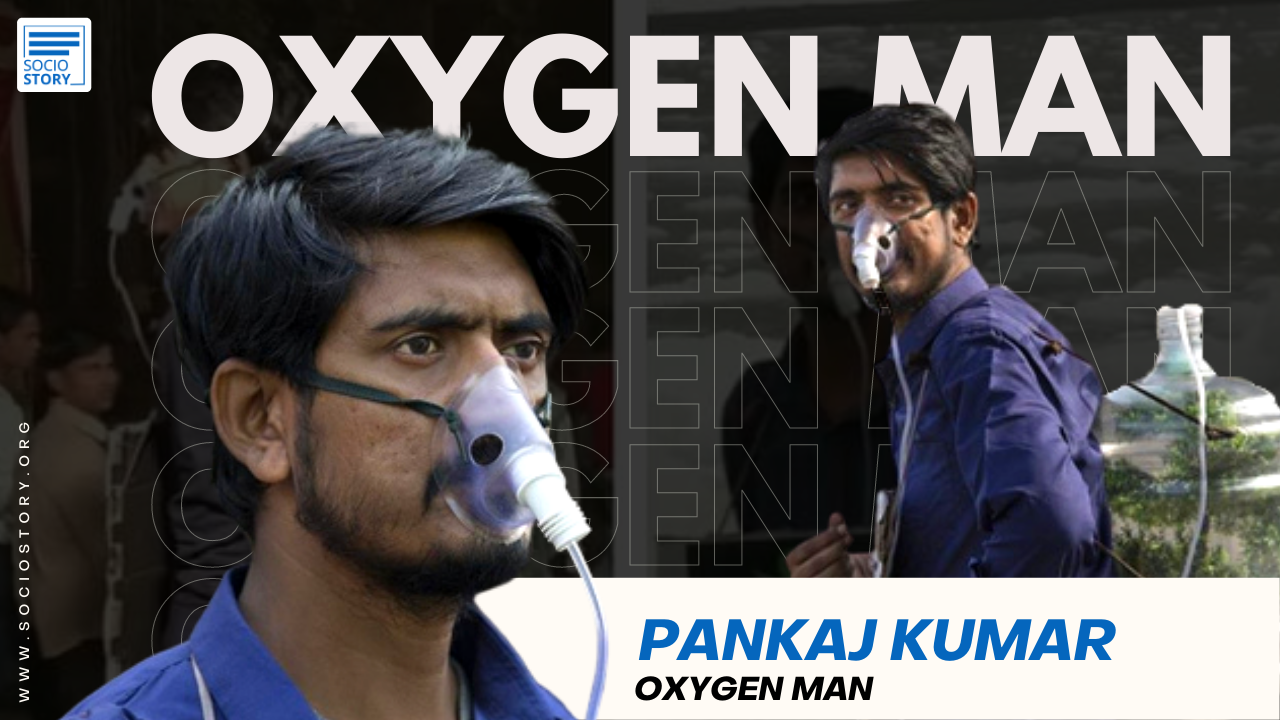 By:Reshma Jain
"We had inherited clean air from our ancestors, but can we think about what we are going to give to our next generation? I think we will be gifting them oxygen cylinders," asserts Pankaj Kumar popularly known as 'Earth Warrior' or 'New Delhi's Oxygen Man'. For a few seconds, I paused. I pondered. While thoughts flashed through my mind, I was clueless about our actions as the day is not far when 'oxygen' will also be sold as a 'commodity'.
Donning an oxygen mask attached to a 20-litre can containing plant which is strapped to his back and holding a placard that reads 'Plant trees, save trees', this video of Pankaj campaigning on reducing pollution went viral last year. But why does Pankaj depict his message this way? Because this stands as a symbol that the worsening air pollution will deprive the future generation of fresh air. They will have to carry oxygen cylinders to breathe- such a sad plight!
Today, people like Pankaj are dedicating their lives for the sole purpose of creating awareness and helping people to change their reckless attitude towards the environment. Do we really need people to keep reminding us of our actions? How beautiful the world would have been, had all of us done our bit. Unfortunately, the hustle-bustle of everyday life has made things worse and the after-effects? - I need not even mention.
Well, during the conversation with 30-year-old Pankaj who hails from Bihar, the story unfolds. While Pankaj's father was a vegetable vendor, his mother was a homemaker. Pankaj's parents could not afford for his secondary education. So, to make ends meet, Pankaj also started selling vegetables and managed to complete his tenth grade. Although Pankaj had a penchant to learn new things, the circumstances in his home did not allow him to pursue higher studies. But Pankaj was determined and after saving some money by working for 2-3 years, he again joined school and completed his twelfth grade. But while he studied, he also took math classes for students and earned Rs 1,200 per month.
"My childhood was rough. Unlike other children, I did not have the luxury to spend time reading, playing and doing things that children love to do. However, my father taught me life lessons and values which are still imbibed. I had always considered knowledge and values as real 'wealth'. My dream was to become an IAS officer," shared the Earth Warrior.
Recalling one of his childhood memories, Pankaj said, "Reading was my hobby since childhood. I happened to visit a book store in Noida and glanced through a general studies book for the civil aspirants. The book was slightly burnt and since I had little savings, I asked for the price with the hope that it would cost me less than the actual price. The book was priced at Rs 1,200 and when I asked the salesman what would it cost to buy this slightly burnt book, he said Rs 300. I was curious to learn and without a second thought, I invested Rs 300 for the book although I was not preparing for civils."
As Pankaj grew up, he heard people saying that English as a medium of language is necessary to learn to earn a decent living. "Hailing from a place where 'she' and 'see' are pronounced in a similar manner, it was a herculean task to learn English. I struggled to learn English by reading bit by bit and watching English news channels over the years," shared Pankaj. Today, Pankaj speaks fluent English confidently and works with an MNC in Noida.
Somewhere between selling vegetables and learning English, Pankaj grew up to become a responsible person who wanted to work for the welfare of the society. In the year 2015, Pankaj was distressed when he read about the closure of schools in Delhi due to air pollution. While he started doing his research, he came across senior citizens complaining about breathing issues.
He then came across, in the year 2017, an animated cartoon character of a boy carrying a plant on his back with an oxygen mask. Pankaj thought that this was a depiction on paper, there is a need to act on it. "Let me take the lead and breathe life into this depiction which is a burning issue worldwide. A difference needs to be made," exclaimed Pankaj who initially started creating videos to spread awareness on the perils of environment degradation.
Gradually, in 2018, Pankaj started campaigning in the streets with his oxygen mask and last year, his initiative had become symbolic to what all we went through and are still going through due to the pandemic. While his campaigns were making an impact, people understood his mission. He garnered support from a lot of people and then went on to raise his voice on a lot of issues including the Buxwaha forest issue and to clean the Yamuna River. Donning a tiger costume, Pankaj also campaigned to save the cutting down of lakhs of trees in Panna Tiger Reserve.
Reminiscing one of the memorable moments of his life, Pankaj said, "When I was campaigning in one of the sectors in Noida, an army van stopped by and all the soldiers got down to salute me."
Sharing his future plans, Pankaj who has inspired hundreds of people to take up this campaign in MP, UP, Maharashtra, etc, said, "I will scale up my campaigns to educate youngsters to be environment conscious. For instance, they can carry cloth bags to avoid plastic and can carry their own cutlery to cut down on resources. They can ensure that they do not litter public places or for that matter their surroundings as well. I will also take up cleaning of Kalindi Kunj located on the banks of river Yamuna."
An interesting point to note is Pankaj Kumar is seen for a few seconds in the movie 'Ginni weds Sunny' in a scene on plantation drive. Very soon, a short film being directed on Pankaj's journey will be released on the screens. Pankaj, indeed is a warrior in true sense.