Padma Bhushan awardee Dr Anil Prakash Joshi shares his journey on becoming the 'Mountain Man'
July 6, 2020, 11:40 a.m.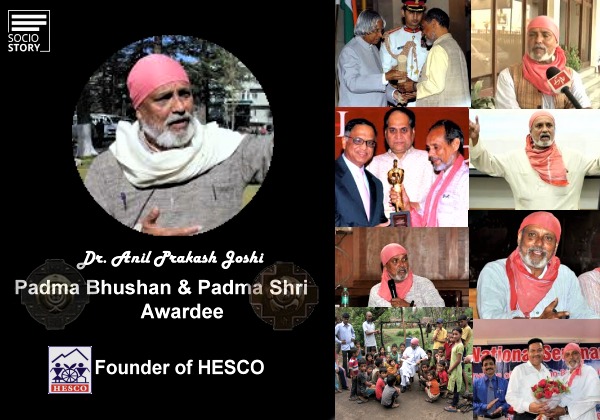 By:Reshma Jain
Known as the 'Mountain Man', he has truly lived up to his name. He is an Indian green activist and founder of the Himalayan Environmental Studies and Conservation Organisation (HESCO). He has initiated the celebration of 'Himalayan Day' and he was awarded the Padma Bhushan 2020 for his social work in Uttarakhand. This is just a short introduction. Any guesses on whom are we talking about? Well, it is none other than Dr. Anil Prakash Joshi who has devoted himself to resource-based rural development for the last 36 years and focuses on economic independence of rural India through community empowerment.
In an effort to spread awareness on the need to conserve and protect our Mother Earth, Dr Anil Prakash Joshi has initiated a series on YouTube named 'ARTH-A mini series promo on Environment and Ecology then and now' which is expected to be released shortly.
Dr Joshi's emphasis has been on inclusive growth of community by economy and ecology both. His concept "Local need, meet locally" has become popular across the mountains and other regions. As a teacher, he guided 20 Ph.D. students and motivated many more to work in the hill villages to use science and technology to solve the basic needs of the mountain community. An Ashoka Fellow, Dr Anil Prakash Joshi has authored over 100 research papers and 10 books dealing with sustainable development of the Himalayas through various means.
He quit his comfortable job as a reader in the Government P.G. College, and plunged himself whole-heartedly into research and development work for rural communities. He formed a voluntary organization entitled Himalayan Environmental Studies and Conservation Organization (HESCO), and concentrated on need-based science and technology developments, and their application for the mountain regions.
Speaking to Socio Story, Dr Joshi, Padma Shree Awardee-2006, said, "I strongly believe that by utilizing local resources, we can bring sustained economic development in rural India. Thus, development of local resources, upgraded wisdom, and local markets has been his focal approach. These efforts were designed to bring about a decentralized economy and have shown tremendous results."
Dr Joshi's work and technology to revive abandoned water mills have been adopted by thousands of water millers in the country especially in mountain areas. Economic and social changes of the villages after mill revival have brought revolution in many states like J&K, HP and Uttarakhand. New applications of mill for several local resource utilities have given a new ray of hope to neglected water millers.
Since the focus of Dr. Joshi was local resources, he motivated farmers to revive traditional agriculture with new inputs. He promoted hundreds of farmers to use better practices to increase productivity.
His effort has brought employment to hundreds of women and youth across various Himalayan states. He has also initiated Women's Initiative for Self-Employment (WISE), a social platform for women to generate employment and marketing opportunities, as well as to address other economy-related issues. The major strength of this group is to develop their own mechanism for loaning, productions and marketing. This group works on local resources and is an independent organization of women.
Another program popularly known as Technology Initiative for Peace (TIP) was instituted by Dr. Joshi which enlisted the assistance of the Indian Army security forces and Ministry of Youth Welfare. This program has been instrumental in bringing revolution in the villages of the border areas. It brought Dr. Joshi's watermill technology and electrified many villages throughout the border areas and LOC.
His one of the achievements in recent past has been on creating "Model villages" in different agro-climatic zones. These villages have been developed within the available resources through S&T intervention. About 38 villages have so far been developed in Uttarakhand. Another innovative and exciting programme introduced by Dr. Joshi involved school children and teachers from local renowned schools. The positive benefits of this project thus far have resulted in creating the "Adopt a village" concept which is being shared with 70 additional schools across the country.
"Similarly, Drying water springs and streams due to deforestation have been a major challenge in mountain areas. I, along with my team, were able to recharge the springs/streams through simple technology by identifying recharge zones and their treatment. We treated such zones with water holes and ponds which brought back water to spring and streams. About 125 water springs and many rivers/streams have been revived in three states serving more than 300 villages currently. This work has spread in various States in the country specially in J&K, Himachal Pradesh and Uttar Pradesh," added Dr Joshi who is an active social worker.
His contribution on disaster Relief and Rehabilitation is noteworthy. Uttarakhand has been a victim of several disasters varying from earthquakes to flash floods in the last two decades. Dr. Joshi (65 years) contributed both at policy level as well as in rehabilitation especially on low cost houses and immediate livelihood opportunities to flood victims. More than 180 villages have been benefited by his interventions both through midterm shelter construction and livelihood.
In order to offer tribute to Himalayas, Dr. Joshi has initiated celebration of 'Himalayan Day' on September 9th since 2010. This is to draw the attention of planners and policy makers towards Himalayan issues. This day has also been accepted and declared by the State Government of Uttarakhand as Himalayan Day.
His effort to bring Gross Environmental Product (GEP) as Ecological Growth Measures of the state has been accepted by the High Court. Government of Uttarakhand is following the high court verdict and working on GEP as an Ecological Growth Measure for the state. This is the first time in the world when Annual Ecological Growths will also be measured along with the economic growth.
A few interesting facts about Dr Anil Prakash Joshi:
Dr. Joshi publishes a children's newspaper entitled "Bachcho Ka Akhbar" to bring awareness to village-children about science and their local natural resources. This paper is distributed in 3,000 villages of the mountain areas.
He has undertaken Padayatra to raise the issues on community rights and their empowerment.
Considering the agriculture as a mainstay and farmer as the most important individual of the nation, he organized cycle yatra from J&K to Uttarakhand and from Kanyakumari to Uttarakhand (5000 Km) and from Jalpaiguri to Dehradun (2200km) to assess the environmental status of India. Due to his effort, the government of Uttarakhand has declared GEP (Gross Environment Product) as an ecological growth measure for the state.
In 2015, he also started the "Gaon Bachao Movement". This caught enormous community support and became a major movement of Uttarakhand after State demand.
Dr Joshi has received several prestigious awards i.e JawaharLal Nehru Award by the Indian Science Congress in 1999, Social Science Award for 2001 from Shri Ram Washshran Devi Bhatia Memorial Charitable Trust, Declared Man of the Year 2002 by the popular magazine "The Week", Dr. T.N. Khoshoo Memorial Award in Conservation for 2005 for his contribution to social upliftment.
He was awarded Jamnalal Bajaj in 2006, honoured as one of the Silvers of the Year 2007 achievers named By Harmony Magazine, Real Heroes Award, CNN-IBN and Reliance, 2008, National Award for women's development through application of science and technology, 2009, and Heroes of hopes by Times of India, 2010, Biotechnology social Development award, 2016, Achievers award, 2018 by India eye International Human rights observer etc.