Paraplegia struck Shams Aalam at a young age, but he leaves audience awestruck with his accolades
Oct. 27, 2021, 6:24 p.m.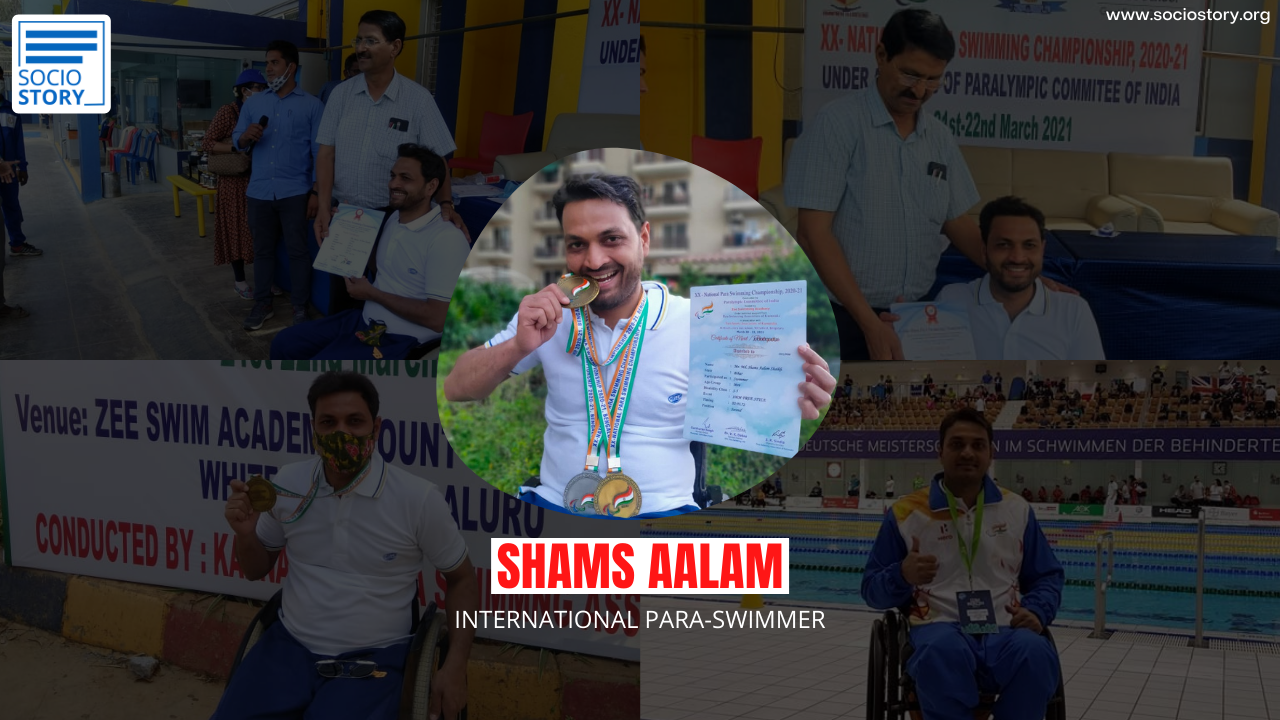 By:Reshma Jain
When Mohammad Shams Aalam Shaikh was as little as a 2-year kid, he used to swim in the pond in front of his house in his village. People would gather and stand on the edge of the pond to watch him swim. They would applaud and each time he heard them clap, it motivated him further. Many people were awestruck watching a little child cross the pond so passionately. This pond still exists in his village and recalling his childhood memories, Aalam shared that he enjoyed swimming as it was fun.
If I fast forward the life of Shams Aalam when he turned 23, there is a lot of similarity as well as a stark contrast. Now, if you ask me why, I would say similarity in terms of his dreams/aspirations and contrast in terms of his physique. Aalam, who was paraplegic at the age of 23, practised swimming in the pools near his home. In a span of few years, Aalam became an international swimmer and people from all over the world were often awestruck by his ability to swim. Little did Aalam know that one day his swimming skills will help prove himself and make his country proud on the global map. Today, Aalam is an international para swimmer with loads of medals in his kitty, and a bunch of titles to his name.
Hailing from Rathaus Village of Madhubani District of Bihar, Aalam was always surrounded by people who were active in sports and was in the forefront to participate in activities such as Swimming, Cricket, Tipcat and Wrestling. When Aalam was 6-years-old, he relocated to Mumbai for his studies and started his educational career from Mominpura Municipal Urdu School at Byculla. He went on to complete his Diploma in Mechanical Engineering and his MBA in Human Resource and Operations.
Aalam started learning 'Shito Ryu' style of Karate and got his black belt when he turned 23. There was no stopping and Aalam bagged 50+ medals in Karate at District, State, National and International level championships. While Aalam, a budding athlete, was preparing to represent India at the Asian games in China, life took a turn. Since there was a benign tumour in his spinal cord, doctors had advised him for an immediate surgery. With a hope that the surgery will solve his health issue, Aalam underwent the surgery and the doctors promised that he would be fine in a couple of weeks. But destiny had different plans and the surgery went wrong. Aalam became paraplegic- a type of paralysis that affects the ability to move the lower half of your body.
"After my surgery, life came to a standstill. I lost confidence and hope. The thought that I would not be able to participate in championships disturbed and haunted me. However, I believed that God had different plans for me and everything happens for a reason. After two years, I regained confidence and a hope that I can fight my disability. That is when I decided to take up swimming," shared Aalam
Stating that his parents were his strong support system, Aalam further added, "I started practicing and I got a chance to participate in Maharashtra State Paralympic Swimming Championship where I won a silver and bronze in freestyle and backstroke. I went on to participate in the national championship and I was a national record holder in my category. I won a total of 15 medals at the 12th to 17th Indian National Para Swimming Championship, and was selected for the Indian contingent for the 2018 Asian Para Games to participate in the S5 category for 50M and 100M Butterfly and Freestyle and various other categories. I also won Bronze at the 2016 Can-Am Para Swimming Championships held in Gatineau, Quebec in the men's 100m Breaststroke SB4 category."
Today, Aalam is an International medalist in Para Swimming and holds the world record in Longest Open Sea Swimming by a paraplegic person (8km of open-sea swimming in 4 hours 4 mins). In addition to this, he has also been featured in the Limca Book of World Records. Although Aalam could not make it to the Asian Games as a karate player in 2010, he became the first para-swimmer from Bihar to represent India at the Para-Asian Games, Jakarta, Indonesia, in 2018. This young and determined man who is an international gold medalist para swimmer was also awarded as the best emerging leader in disability sports and sports diplomacy by U.S. department of state global sports mentoring program 2018.
Aaalm has been interviewed by Kiran Rai in "300 most influential people in Asia 2020" published by the New York press news agency. He is also a sports diplomat, who has worked hard towards ensuring sports complexes in India are accessible. "My aim is to promote accessibility through sports in India so that people like us feel inclusive and heard. Our public transport system, banks, hospitals, schools, government buildings, and sports complexes are not disabled-friendly. Hence, venturing out is a nightmare for us. I wish to change this so that we can live our life with dignity and respect," shared Aalam who bagged the Role Model Award by the Ministry of Social Welfare Department Government of Bihar.
There is no end to Aalam's contribution towards his fellow beings. He has delivered various TEDx talks and motivational speeches, has been in various schools, colleges, universities and corporates as chief guest & keynote speaker on various occasions. Aalam who also participates in wheelchair karate was instrumental in making the Patliputra Sports Complex in Patna disabled-friendly. The Bihar government allocated Rs 14 lakh to ensure ramps and elevators are present throughout the complex after Aalam constantly wrote to one official after another for two years.
Important : If you are making an impact in the world, Please send us your story at : manoj@sociostory.in and we will try to cover you.