Performing the funeral rites for the deceased of helpless families, Lt Akshay is a real Samaritan
June 1, 2021, 6:21 p.m.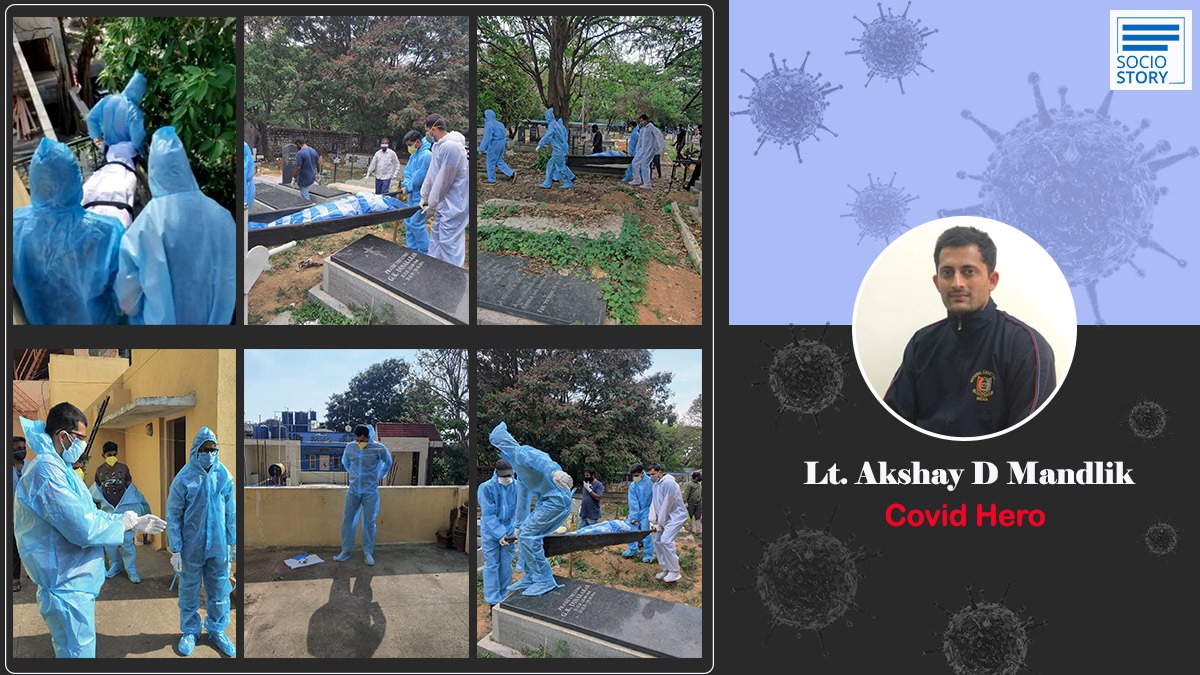 By:Reshma Jain
A normal day for a few volunteers starts with gearing up in the PPE suits and hauling bodies from ambulances to the pits in a dignified manner. They also volunteer at homes, where the deceased are laid at home and the team is tasked with packing the body and preparing it for the funeral along with sanitising the premises. The team arranges for the family to join through a video call for the funeral. And this has been going on for a few weeks now. This kind of an experience is more than service or humanity.
Unfortunately, Covid has devastated and shattered the lives of many. To encounter death on a daily basis and deal with grief and loss can be taxing and mentally draining but maintaining professionalism is the best way out. In social work, volunteers focus on the humanitarian aspect and it is more of an individualistic approach which dictates how they deal with this situation too. Before we proceed further, Socio Story recognises the efforts by these Covid heroes in giving the due respect to the lost lives.
This initiative has been taken by Lt Akshay, Head of Department, School of Social Work, St Joseph's College in collaboration with Planet Hope Asia Foundation in Bengaluru. With a dedicated team including, Mr N Tejashwin, Mr Rohit Rajiv, Mr Brandon Chettri headed by their director, Mrs. Karen Duys, they have been able to reach out and provide food and supply oxygen cylinders to the neediest. In dark times like now, it is a ray of hope to carry on doing what one can to reach out and help others.
In response to the clarion call to work for the packaging and distributing food packages for the marginalised, Lt Akshay joined the efforts at St. Joseph's College (Autonomous) when the first lockdown was announced in early spring of 2020. The plight of the lower income communities and families was harrowing and to be able to achieve what he could for them during that time has been a privilege. Lt Akshay is also an NCC ANO in 1 Kar armd SQN NCC, Blore B Group Kar & Goa Dte, and for the work he was able to carry out during lock down and "Ex- NCC Yogdan", he was recognised for his service and awarded the prestigious Defence Secretary Commendation Card by DG NCC, Ministry of Defence.
With the Covid restrictions relaxed, Lt Akshay joined his college where classes were moved online and the School of Social Work of St Joseph's College was one of the first to initiate an offline fieldwork program as they realised the importance of practical exposure for the students in their profession. Joining forces with his colleagues, Dr Alan Godfrey, Dr Fr Augustine Lourdu and the PRO of the college Kiran Jeevan, the team planned and implemented a government program from St Joseph's College. 'The Unnat Bharat Abhiyan' was a high impact project in Aanikal district where about 25 students stayed for one month in a government school working at grassroots level with a reach in four different villages. The students conducted a detailed initial research to ascertain strategies of intervention during a pandemic. Measures were taken to practice all safety regulation and protocol prescribed by the Government.
In the course of time, NCC activities which were conducted online were another highlight. The team started with creating digital content for various projects including the Fit India movement, offline statue cleaning and Tika Utsav and to encourage students on various topics. The focus was also to get the general public to avail of the Covid related information from the Ministry of Ayush and to help promote the govt guidelines and DG NCC directives prescribed especially with regard to the ongoing pandemic.
"As the second wave of COVID-19 devastates our country, various collaborations have been made. I have been working closely with the Archdiocese of Bangalore under the guidance of Rev. Fr. Rajesh. I consider it a noble mission to be able to contribute in providing a decent funeral to people who have lost their lives to Covid-19," shared Lt Akshay.
"There is invariably a huge stigma that a person infected by Covid-19 has to face and the family also falls victim to it. There is no debating the fact that caution needs to be taken but many people have been quite simply helpless with no one to support them. Generally, funerals are a social event where the family grieves the loss of a loved one with communal support and that is a significant part of our culture. Not being able to do that and also not able to say a decent farewell is an added stressor for the grieving family and the bereaved. Hence this work is incredibly important and as crucial as taking care of the sick in hospitals," further added 37-year-old Lt Akshay.
"My work has been a tribute to all the health care workers and medical personnel who are doing so much more. I believe in leading by example and I do what I do to show my students also how we can make an impact with whatever skills we have. It's possible," concluded the young Covid hero.
Important : If you are making an impact in the world, Please send us your story at : manoj@sociostory.in and we will try to cover you.